Amethyst Heart Ring, The Claddagh
CUSTOM JEWELRY IN GOLD AND SILVER, YOUR CHOICE OF DESIGN AND GEMS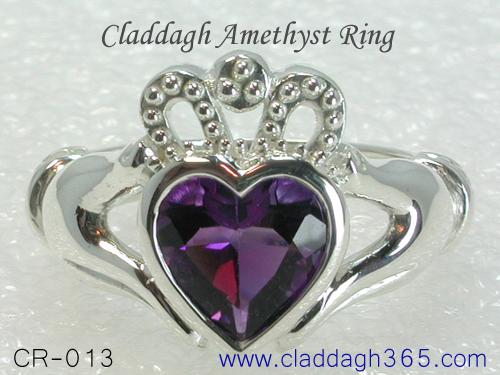 Known for many thousand years, amethyst is the pale purple to deep purple variety of quartz. The very first use to which amethyst was put is rather interesting, it also explains why the gemstone was given this name. The Greeks believed that drinking wine from a goblet carved from or studded with the purple quartz, prevented the drinker from getting intoxicated. The Greek word 'a-methystos' means 'not drunk', and was thought to best describe this variety of quartz. This was how amethyst got it's name - other folklore that gives reasons for the purple color of the stone also exist. Various civilizations have incorporated customs and traditions related to amethyst some of these had religious implications, the Catholic church always assigned special importance to the gemstone. Historic records reveal many medical benefits that amethyst was believed to provide - keep in mind that these are all tales and folklore with no scientific backing.
Amethyst was once a gemstone patronized exclusively by royals and wealthy, those were the days when the gem was rare and therefore quite expensive. The CR-013 amethyst heart ring is set with a gorgeous amethyst gemstone, our gem experts and cutters handle the gemstone right from mine procurement to cutting and polishing - you are therefore assured of the best gem for the money spent. The design concept for the ring is the tremendously meaningful claddagh ring, a jewel that is backed by a touching story and a 4 century history. The heart shape has always denoted love but, the amethyst claddagh ring has significance that goes beyond simple love. The claddagh ring by virtue of it's very unique and interesting features implies, love, loyalty and friendship (togetherness). So no matter whether you buy this claddagh amethyst ring for yourself or receive it as a gift, the memorable jewel is bound to fascinate you for many years and decades to come. Love is universal and is not restricted to matrimonial relationships, this obviously means that the claddagh amethyst heart ring is suitable for all occasions.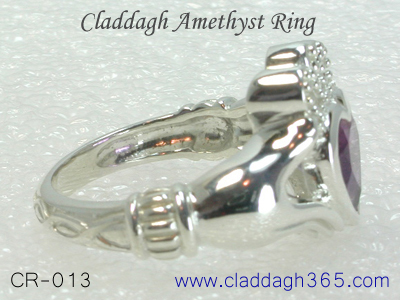 Before me move further into our discussion on this amethyst heart ring, let us briefly explain the story of the claddagh ring. You can view a more comprehensive report on the Claddagh Ring History but, for those of you who are interested in a quick brief, here it is. A simple fisherman named Robert Joyce lived in a small fishing village in Ireland, the time was about four centuries ago and the name of the village was 'Claddagh'. The boat in which Robert was sailing was one day raided by pirates, the captives were sold as slaves. The young fisherman was separated from his beloved who lived in the same village and was forced to work for his master, a wealthy goldsmith. He could bear the oppressive conditions of slavery but, the thought of not being with his beloved mentally tortured him. He kept telling himself that he would be a free man one day and be reunited with her but, the dream gradually started to appear impossible. It was then that he decided to ground his thoughts by making something for her. Using his newly acquired skills as a goldsmith, Robert Joyce started making a ring for her. When he was ultimately freed from slavery after a few years, he rushed back to his village with the ring and was overjoyed, to find that his beloved was still waiting for him. He gave her the ring and the couple were soon married and shared the rest of their life together.
The highlight of the claddagh amethyst ring is deeply rooted in the features of the jewel. The Claddagh365 ring is meticulously designed and crafted so as to retain all the features and meaning of the first ring made centuries ago. Take a look at the image and you will observe the heart, crown and hands holding the heart - Robert Joyce was neither a design specialist nor a fashion guru, in this jewel he literally translated his feelings for his beloved. The heart showed his love for her, the crown assured her of his loyalty, the hands signified that they would always be together - through good times and bad. You might come across the term love, friendship and loyalty to refer to this historic jewel, it is sometimes called the hands and heart ring.
Now that you have a fairly good idea about the significance of the claddagh ring, let's get back to the story of the amethyst gemstone. Amethyst is the traditional birthstone for the month of February, interestingly this month does not have any alternate birthstone. You could therefore slip on this gold or 925 silver amethyst claddagh ring on your finger to celebrate the month of February. You might be impressed to know that much of the ancient folklore related to amethyst, is believed even today - this does positively influence the demand for amethyst gemstone rings. It is not uncommon for people to wear this gemstone to keep away fear and gain confidence. Heart is also a popular theme for Valentine's jewelry and this is one more occasion where, you could gift this amethyst claddagh ring to someone special. Red and pink might be popular gem colors for Valentine's jewelry but, amethyst fits in well too. Saint Valentine is believed to have worn an important amethyst jewel and Valentines day, is celebrated with reference to the saint. If you have correctly understood the interpretation of love as depicted by the historic claddagh ring, you will agree that the claddagh amethyst heart ring could be gifted as a mother's ring too. Other events that can be made memorable by marking them with a claddagh ring gift could be a graduation gift, a promise ring or even a wedding or engagement ring.
Amethyst is found in a range of purple hues, it stretches from the pastel lavender shade, moves up to the medium purple color and then leaps right into the dark purple shade with (sometimes) red or blue flashes. Light purple amethyst is generally not the preferred choice, the color that most jewelry lovers go for is the medium purple shade. This color is not light but at the same time, allows light to enter the stone and then play around the inner facets before it jumps out from the table of the stone. We use custom cut medium purple gems for the gold and silver amethyst claddagh ring. Dark purple amethyst costs a bit more but, many jewelry enthusiasts feel that the darkness of the gem does not allow it's glitter and brilliance to be displayed. If you prefer to have the dark purple amethyst for your claddagh gold or 925 silver ring, please add another 15 U.S$ to the price mentioned in the table below.
We provide an interesting set of options for the metal in the amethyst heart claddagh ring. You can choose a gold or silver amethyst claddagh ring and the gold option, gives you a choice of 14k and 18k gold. Since style conscious jewelry lovers are getting more selective about gold colors, we have included yellow, white and pink gold for the ring. The demand for silver jewelry is robust and consistent, the Claddagh365 gold or silver ring is given the same level of craftsmanship, attention and gemstones - something that few jewelers can boast of. The issue of plating the silver heart amethyst ring needs to be understood. While the plating will prevent tarnish as long as it (the plating) lasts, the fact is that plating on silver is never permanent and will wear off over time. We therefore recommend that you leave the silver claddagh ring un-plated, cleaning tarnish will then be a simple operation that you can handle at home.
Claddagh365: Our rings are designed from inputs drawn through a thorough study of the history and meaning of the claddagh ring. We provide fine craftsmanship and handpicked gems for both gold and silver claddagh gemstone rings. Amethyst is just one of the gems that you can choose for your claddagh heart ring, we can procure and custom cut just about any gem that you need. You need not restrict your gem selection to what you see on our website. We can also provide an etching inside the band at no additional charge to you. Please keep the text or numbers to be etched in the band at a limited size. Squeezing too much of etched content inside the band of the ring, would make it difficult to read or comprehend.
You can get an idea of the pricing of our claddagh rings from the table. The price varies according to metal and gemstone selected. Let us know if you need a gemstone not mentioned in the table or shown on our website. With our direct network that extends to all gem mining locations on the globe, we can procure and custom cut just about any gemstone that you need.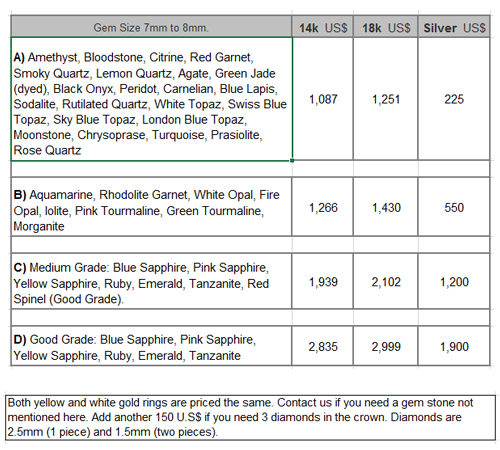 The amethyst gem ring pricing can be seen in the A) group of gems mentioned in the table. We can procure gems not mentioned in the list too so, please let us know if you need a gem not mentioned here. The ring is custom made in all ring sizes and we will let you know if a very large ring size requires more metal weight. A small text or numeric message or date can be etched inside the band at no additional charge.
While rhodium or gold plating can be provided for the silver amethyst heart ring, you should know that all plating on silver will come off after a while.
Production is 4 to 5 weeks from the date of receipt of payment and order confirmation. We accept payment through Paypal and Western Union but recommend that, first time buyers choose Paypal. Let us know your preferred mode of payment and we will provide details for the same. Do contact our support experts at sales@claddagh365.com with any queries or requirements that you might have. Shipping is through FEDEX with web tracking and there is an additional 35 U.S$ shipping charge to be added to the price quoted in the table.