Claddagh Ring With Green Jade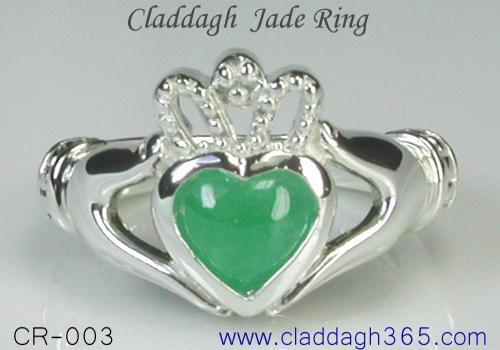 Jade was at one time taken to mean green jade, the fact that this classic gem was naturally formed in a range of colors was largely unknown. We will talk about a green jade claddagh ring here but, you could request for a lavender jade or white jade gem for your claddagh ring. Jade as a gemstone encompasses two gemstones, nephrite and jadeite and surely does not include other green gems that have been given names that can be confused with jade. You could order a gold or 925 silver jade claddagh ring and get the same quality of gemstone and craftsmanship. The demand for jade is supported by two sets of buyers. In most of Asia including China, jade has always been treated as a special gemstone, the beliefs related to this gemstone can be seen in Japan too. You can surely say that much of the finest jade that is mined today, finds it's way into China. The Americans and Europeans have their own reasons for loving this green gemstone, they are impressed by the folklore and mystique that has always befriended jade.
The finest quality jade with a lively green color that is evenly spread across the stone and supported by a fine transluscence is very expensive, these gems can be priced as high as 500 U.S$ to 2,000 U.S$ per carat. Left to the market mechanisms for price determination, very few of us would have been able to afford a fine green jade gem. Gem manufacturers had for many decades, tried to refine the appearance of jade that lacked substantial beauty in it's natural form. While the production of cheap substitutes and imitations did not impress many, a blessing came in the form of a jade dyeing process. By beginning with jade that was not of top notch quality, manufacturers treated the stone to acquire an impressive color shade and color spread. This breakthrough in the treatment of jade ensured that a much broader market base could enjoy the beauty of this timeless gemstone without, having to plunder their bank accounts. And this exactly is what allowed us to provide a very attractive price for this jade claddagh ring.
Jade as a gemstone is not very hard and ranges, in the 6.5 to 7.5 zone for hardness on the Mohs scale. But an amazing property of the gem makes it one of the toughest gemstones to be used in jewelry. The internal structure of jade resembles a dense interwoven structure of fine fibrous crystals, this is responsible for giving it a high degree of toughness. Man in the early days used jade to carve out tools, weapons and arrow heads - so you need not worry about fussing over your claddagh jade gemstone ring.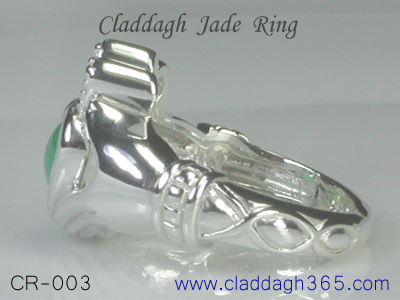 After the brief review of jade gemstones, we will now turn our attention to the gorgeous claddagh jade ring. With a 4 century history that tells of one of the most touching stories of sacrifice and loyalty, the claddagh ring is indeed a legend. Robert Joyce a fisherman by profession lived in the ancient village of Claddagh in Ireland. One unfortunate day was all that it took to turn a happy and humble fisherman into a highly depressed slave. The boat in which Robert was sailing in was raided by pirates, their belonging plundered the fishermen were then sold as slaves. Robert worked for his master a goldsmith, and kept dreaming of being reunited with his beloved who lived in the same village. Afraid that he would soon become a mental wreck, he decided to make something for his beloved - he continued dreaming of being a free man one day and going back to the Claddagh village. Some years later, Robert was freed from slavery and headed back to his village - to his utter surprise his beloved was still waiting for him after all those long years. He gave her the 'thing' that he had so carefully made for her, it was a ring with some interesting features and became the first claddagh ring. It certainly brought a lot of good luck for the young fisherman because, the couple were soon married and lived happily ever after.
The gold or 925 silver jade claddagh ring from Claddagh365 was designed after a thorough research was conducted into the history, meaning and significance of the claddagh ring. It is therefore obvious that our claddagh ring retains all the features of the first ring made around four centuries ago. The claddagh story narrates a tale of love, loyalty and togetherness between two common people, Robert Joyce and his beloved. While making the ring young Robert, interpreted his mind set and incorporated his feelings into the jewel - the features clearly support this statement. If you observe the claddagh jade gem stone ring shown above, you will immediately notice the heart in the center, this stands for love. On either side of the heart is a hand, the hands hold the heart and symbolize togetherness. The crown rests on the heart and denotes loyalty in true love. You could summarize and say that, the claddagh ring implies love, friendship (togetherness) and loyalty - it is often referred to as the 'hands clasping the heart ring' or the 'heart, hands and crown ring'. The ring is classified along with other rings devoted to love and friendship as a 'friendship' ring.
We custom make each claddagh jade ring in gold or 925 silver. If you order the silver jade ring, you can choose to have it plated (options for plating are white rhodium, yellow gold or pink gold) or leave it unplated. It is true that an unplated claddagh sterling silver jade ring would tarnish but another fact is that, a plated silver ring will not hold it's plating forever, you can expect the plating to wear off after a while. The process of polishing a tarnished claddagh silver ring is not complicated, and you could use any of the reputed silver jewelry polish options available - fabric, liquid or cream. On the other hand polishing a plated silver claddagh ring after the plating has started to come off, can pose a few challenges. Keeping this in mind we would suggest that, you leave your 925 silver claddagh jade gemstone ring unplated. We will leave the final decision up to you.
The claddagh gold ring with jade, can be ordered as a 14k or 18k ring. Technically 14k gold is a bit harder and therefore tougher as compared to 18k gold. But the important fact is that, our claddagh rings have a healthy gold weight which ensures that durability will not be an issue with an 18k or 14k gold claddagh ring. Gold is available in three colors white, gold and rose (pink), so you can specify the gold color of your choice when ordering a claddagh gold jade ring. Green jade looks equally attractive in yellow and white metals, pink gold would add an interesting twist to the metal and gem color combination. While we do list platinum claddagh rings as a standard option, we can handle requests for that metal - email us if you need a price quote for the jade claddagh ring in platinum.
Claddagh365 crafts the finest claddagh rings that retain all features of the original ring made about 4 centuries ago. Each ring is worked by highly skilled craftsmen and artisans and every gem, is closely inspected by qualified gemologists before it is custom cut to fit the ring. You can order your claddagh ring with the gemstone and ring size of your choice. Since each ring is fully customized, we provide all ring size options. The gold and silver claddagh ring has the same quality of worksmanship and gemstone, so the choice of metal can be based on your preference and budget. We can also etch a simple short name, message or a few numbers inside the band of your claddagh ring. This will be done at no additional charge so, let us have your requirements at the time of ordering the ring.