Mens Claddagh Ring With Garnet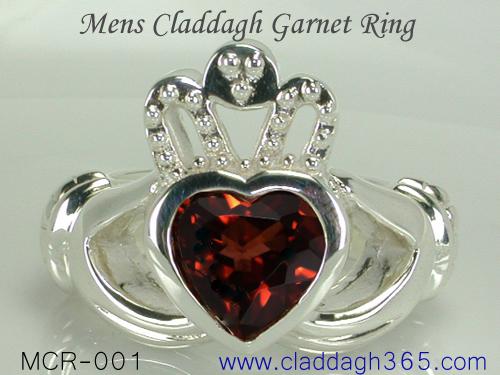 A men's claddagh ring is one of the very few heart rings that are suitable for men. The fact that is a man who wears this historic and meaningful jewel raises his personality to a higher level. The features of the claddagh ring remain the same for a lady's and men's ring, but for men there is an added element that needs to be addressed - this relates to durability. From our experience we can tell you that, men take very little care of the jewels and accessories that they wear! The Claddagh365 mens garnet ring, retains all features of the first ring made about four centuries ago. We have also incorporated advanced features to increase the long term durability of the jewel. Before we get into those details, let us first give you a quick summary about the history and meaning of this jewel.
The story of the claddagh ring takes us back in time to about four centuries ago, the time when slavery was rampant in Ireland. A young fisherman named Robert Joyce who lived in a small Irish fishing village named Claddagh, was one day captured by pirates on the high seas and sold as a slave. Robert's master was a wealthy goldsmith, the young slave was expected to quickly learn the trade and work for his master. The depressing conditions of slavery are well known and no detailed explanation is really necessary but, there was one other issue that truly tormented Robert Joyce. He was separated from his beloved who also lived in the same Claddagh village. For some time, Robert kept dreaming that he would be a free man one day and get reunited with her but, as time went by the mental agony took it's toll. The young man realized that he might never ever get a chance to see his beloved again.
It was necessary for Robert Joyce to maintain his mental composure, so he came up with an idea. He decided to make something special for his beloved - the idea was to give it to her when he was freed from slavery. A few years later, his dream came true, he was a free man once again. He rushed back to his beloved and was very glad to find that she was still waiting for him after all those years. He gave her the 'thing' that he had made for her, it was a ring and came to be known as the claddagh ring. The features of the ring were very interesting, they actually expressed his true feelings for his beloved. As you can see from the MCR-001 claddagh garnet ring, the jewel has a center heart that is crowned, two hands hold the heart. You might come across the name 'heart and hands ring' or 'hands clasping the heart ring', for this jewel. The meaning of this awesome jewel is held within the features of the ring. The heart symbolizes love, the crown shows loyalty and the hands are held out in friendship.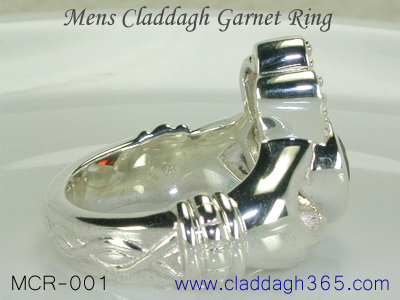 The gemstone in this men's claddagh ring is a natural deep red garnet gemstone, it is a 9mm - 10mm heart shaped gem that has been carefully inspected by our gem experts. We custom cut every gemstone that is set in our jewelry, we can procure just about any gem that you prefer for your ring. While it is true that, garnets are not always red in color the fact remains that, red garnet is the most popular variety of garnet. The red garnet that we will set in your men's claddagh ring will be left untreated, we will ensure that no gem treatment is applied to the gem. Red easy garnets are fairly easy to maintain, just make sure that you do not hit the gemstone (ring) against any hard surface or object.Red garnet gems are generally cut with facets, you can however request for a smooth cabochon cut red garnet if that is what you prefer. We can also provide a rhodolite garnet gem instead of a red garnet, let us know if you prefer that option. Garnet finds itself in the top position of the birthstone charts, it is the birthstone for the month of January.
We custom make the gold or silver, mens garnet claddagh ring with the same quality of craftsmanship and gemstone. The classic appeal of silver is appreciated by many men, this is one of the reasons why men's silver rings are very popular even among buyers who could easily afford a gold ring. If you order a mens garnet claddagh ring with in silver, we will suggest that you leave it un-plated. You can request for a white rhodium, yellow gold or rose gold plating for your men's silver ring but, keep in mind that no plating done on silver will last forever. An unplated silver ring will be easy to clean and polish, so this is what we would recommend. Since all Claddagh365 rings are designed and crafted with sufficient metal (gold or silver) weight, the choice of a 14k or 18k gold claddagh men's ring would not be a very critical decision to make. Irrespective of whether you choose 14k or 18k gold, you have all three gold colors to choose from - yellow, white and pink.
To deliver a jewel that can withstand wear and tear, it is necessary to incorporate some essential features into the design and construction of the piece. We design and craft our jewelry to look good and stay that way, this works to positively influence the durability of the jewel. The metal weight for the men's claddagh ring is in the range of 15-20 grams for silver and 20-25 grams for gold. This ensures that the ring will not dent or distort easily, it also makes it easier to maintain the jewel. The border of a gem is one area that can crack or break, we have taken care of this issue by covering the entire border of the gemstone with metal. Our design experts are aware that prong settings for gems, can often cause the prongs to stick in pockets and other places. Though garnet is not a weak or soft gem, we have made sure that the stone does not protrude too much beyond the surface of the ring. This reduces the chances of the gem getting hit by hard objects.
Claddagh365: We craft the legendary claddagh ring in gold or 925 sterling silver. You can choose the gemstone of your choice and also request for the ring size that you need. Our claddagh rings are custom made for men and ladies and we can also accommodate requests for rings without any gemstone. Let us know if you have any design concept in mind, we will gladly custom make that piece for you. Our support team at sales@claddagh365.com will be glad to help with any questions or requirements that you might have.
Pricing For Our Men's Claddagh Rings
The mens claddagh ring is available with two gem size options. The impressive dimensions and design for the gold and silver rings will ensure that, either gem size delivers that sturdy look and feel. When you choose the 9-10mm gem size options, you should know that the gem size would like in that range. We custom cut every gemstone to perfectly fit the finely crafted metal castings. The men's silver claddagh ring would have a metal weight of around 15 to 20 grams, the gold ring would be in the 20-25 gram range. We can accommodate requests for all ring sizes and in the case of large sizes, we will let you know if an additional metal weight is recommended. With our wide experience and reach in the field of gem procurement, we can source just about any gem that you need. We would therefore suggest that you do not, limit your gem selection to what you see in the price tables below.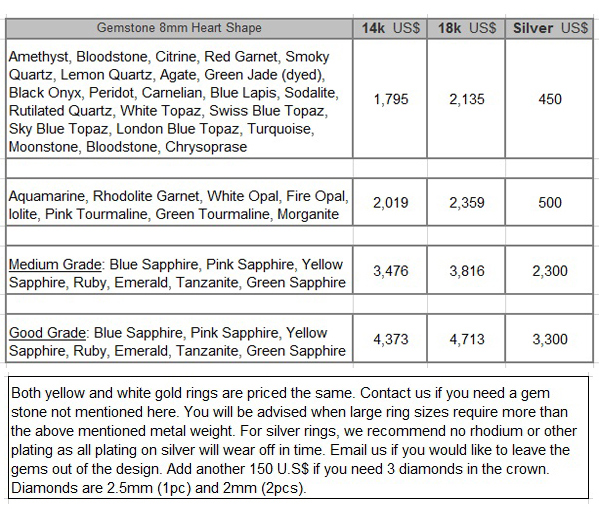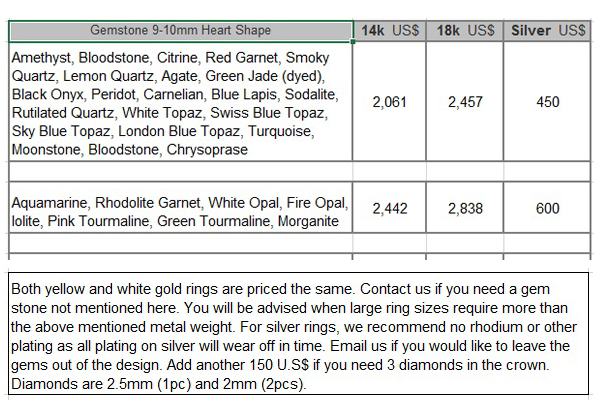 Production is about 4 to 5 weeks from the date that we receive payment. We accept payment through Paypal and Western Union but prefer, Paypal. Let us know the payment mode that is convenient for you and we will provide details for the same. Shipping will be through FEDEX and there is a shipping charge of 35 U.S$, this charge can handle a volume of 1 to 5 rings. Please email our team at sales@claddagh365.com with your requirements, they will promptly get back to you with details and a price quote. We will have absolutely no problem, if your order does not come to us even after communicating with our team so, please do not rush to place an order without getting all your questions answered.