Cufflinks For Men, The Return Of Style
Observe a man dressed perfectly for a formal meeting or business dinner, notice his wrist as he reaches out to shake hands. Do you see a stylish accessory peeping out from his shirt cuffs - if so, you could say that he has style and accomplishment written all over him. After a period of lull and absence, men have once again come to realize that cuff links underline style. When you put on a pair of cuff links, you send a clear message that you have confidence and determination in what you say, do and commit. Gone are the days when men had to spend heavily to own a pair of cuff links, you can today own a pair of finely crafted sterling silver cuff links with genuine gemstones for just around 300 U.S$ to 500 U.S$.
Cuff links come in various styles, shapes, metals, concepts and price ranges. While gold and silver will surely define cuff links that can be termed as 'jewel's, metals like stainless steel, brass, copper and materials like plastic, resin and wood are also used to make men's cuff links today. We have seen cuff links inspired by sports, cars, music and even the erotic but, a formal occasion demands a pair of simple and well crafted cuff links. Get a pair of elegant cuff links studded with natural gemstones and you can rest assured that, they would be perfectly fine for that important business meet or at the romantic candle light dinner after work. In general we would say that, the younger your age the bolder the design elements that you could choose for your cuff links. Having said that, we would suggest that you do not even think of wearing a pair of cuff links that are based on some poker game or pretty lady motif if, the event is formal.
While it is true that cuff links can be designed and crafted without any gemstone(s), the truth is that, the right gemstone can add interest and meaning to the accessory. For example, if you believe that carnelian gem helps you stay confident and focused on the task at hand, how about getting yourself a pair of custom carnelian cuff links in gold or 925 sterling silver. And if you plan to gift a man who seems to enjoy wearing blue shirts, trousers or coats, choose one of the shades of blue topaz for his cuff links. And remember that, birthstone jewelry always comes with a special message - it receiver of the gift knows that you truly feel and care. A pair of deep red garnet cuff links would imply the January birthstone.
Some fashion specialists suggest that, the metal color for your cuff links should match the metal color of your watch and wedding ring. In our opinion, this level of mix-and-match can get a bit suffocating, so just make sure that the overall look of your cuff links do not clash with the watch and ring. For example, a pair of plain cuff links that are shaped like human skulls, might look totally out of place when worn along with a high end wrist watch or a very sober diamond wedding ring. In general it is best to choose a cuff link design that leans on the side of being formal, these will look good even for a more casual dress style that include a long sleeves shirt and coat or blazer.
We have put up a small collection of our cuff link concepts for your reference. Do remember that we custom make cuff links and all other types of jewelry with your choice of design, size, metal and gemstones. So view these cuff links as a mere example of what we can do for you. The collection will also give you same ideas to develop on, design modifications can be done to meet your preferences.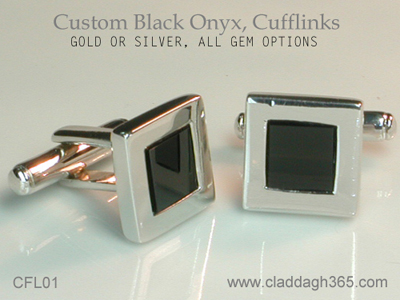 The CFL01 custom cuff links pair is one of the most successful design concepts for men's cuff links. These onyx cuff links can be ordered in gold or 925 sterling silver. Like all the other fine jewelry that we craft, you can pick the gemstones of your choice for these cuff links. The design and construction has been researched to ensure that they look good and are also easy to maintain. By keeping a low and flat profile for the black onyx gems in the center, we have made sure that there is little or no chance of the gems being hit by physical impact. The gold or silver onyx gem stone cuff links are meticulously crafted and maintain the same quality as far as gemstones are concerned. The black gems in these custom cuff links look impressive in all metal colors. The contrast between the gem and metal allow the pair to be suitable for all shirt colors and designs. If you are looking for a men's gift, cuff links make a great choice as they are easy to maintain and give years and decades of satisfaction. You should also know that men generally prefer gems in the darker color spectrum and this includes gems like, dark brown agate, blue lapis lazuli, london blue topaz, deep red garnet and even smoky quartz. Get a better look at these made to order black onyx cuff links here.
Claddagh365: Our custom cuff links are crafted with the design, gems and dimensions of your choice. We also offer silver, gold and platinum as metal options. If you wish to have your cuff links made in gold, pick 14k or 18k and then select, yellow, white or pink gold. For custom sterling silver cuff links, we suggest that you leave them unplated. While plating on silver can offer temporary protection against tarnish, no plating done on silver lasts forever. Un-plated silver cuff links will be fairly easy to polish and clean when they tarnish. You can email us at sales@claddagh365.com with any questions or queries that you might have. And if you wish to have a pair of cuff links custom made to your design concept, do send us a rough sketch or image of your ideas.