Ruby Rings, Gold Or 925 Sterling Silver
Ruby rings are very desirable, they look gorgeous and they can be durable and long lasting. The only thing that holds back back more jewelry and gem lovers from owning a ruby ring, is the price point. History tells us that this red variety of the mineral corundum, was the privilege of only people with royal lineage in ancient times. While such a class distinction in society is largely outdated today, a new group of privileged have emerged, the wealthy and rich. With decades of ruby mining being carried out in earnest, the output of both medium and good grade gem quality ruby rough is rapidly declining.
Since most buyers reserve big dollar jewelry purchases for special occasions, jewelers are still able to sell extravagant ruby rings in the 5,000 U.S$ to 15,000 U.S$ price range. Ruby has for many centuries been a symbol of devotion and love, some cultures also believe that this gemstone attracts wealth and wisdom. Young couples seeking to start a married life give a high preference to ruby engagement and wedding rings. The gemstone with it's rarity, unique color and rich traditional folklore is hard to resist. It is commonly believed that the man would spend around 2 months salary on the engagement ring for his lady. This might be a good indicator if you expect to shop for a good ruby engagement ring but, it is clearly visible that the same amount is increasingly buying lesser of ruby (in terms of gem size and quality) - and this trend is unlikely to change.
There is no reason why you should not wear a ruby ring as a regular style accessory because, it is possible to get a ring that is sturdy enough to withstand daily wear. And if you feel that the money invested on a ruby gem stone ring is too much for a casual wear jewel, you have a few more 'important' events that might give you reason to own one. Ruby is the traditional birthstone for the month of July. The historic belief related to birthstones is that, wearing a birthstone helps bring goodness near you and keeps away unsafe and bad influences. And as a celebration for those wonderful occasions, ruby makes an appearance on the anniversary gemstone charts too. You get to gift or wear a ruby gemstone anniversary ring to celebrate the 15th and 40th anniversaries.
Important: Here are a few facts that you should know related to the gemstone in ruby rings. The rubies we use are all natural but, if you require synthetic or lab created rubies, please note the following. To fulfill your request for a gemstone that is not natural, we will require that you email us and explicitly state that you have requested for such a gem. We do not feel comfortable working with gems that are not natural and need to ensure that you know exactly what you are getting. Heating natural rubies to enhance their clarity and color is a practice that has been going on for around a century - more than 90% of the ruby rings in world markets are set with heat treated rubies. Gem experts also accept heated rubies as the process does not lower the durability of the gemstone in any way. Our gold and silver ruby gem stone rings are crafted with heat treated ruby gemstones. We can provide a lab test authenticity certificate for your ruby from the Asian Institute Of Gemological Sciences (AIGS) for a nominal fee of 75 U.S$.
Claddagh365: We craft fine gold and silver jewelry with gemstones and designs of your choice. While you can pick a design from our website and request for it to be set with your choice of metal and gemstone, it is also possible to request for design modifications. And if you are a design enthusiast or have an image or sketch of an item that you wish to have custom made, email us the image and details at sales@claddagh365.com Our support team will respond and provide you with ideas, suggestions and price estimates.
Below is a collection of ideas for your ruby gemstone ring, just remember that you can make your selection without any limitation of design, metal or gemstone. View these ring suggestions as mere examples to inspire you to request for your preferences. While we welcome your own design ideas, we can also accommodate requests for design modification requests for jewels shown on our website.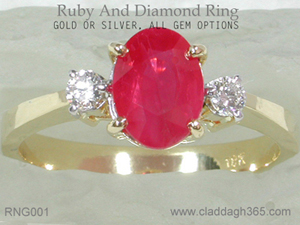 One of the timeless classics for ruby gemstone rings, this jewel flaunts an oval ruby gemstone in the center, the ruby is flanked by two diamonds. By providing two gem size options namely, 8x6mm and 9x7mm we have made this gold or silver ruby ring more budget friendly. While the price tag on this ring is not cheap, it is our expert gem sourcing skills and direct factory to buyer approach, that allows us to keep a moderate price point. Custom made in all ring sizes, your ruby gemstone ring is given the same attention and fine craftsmanship for the gold or silver metal options. Perfect for a wedding or engagement ring, this jewel will also serve you well for a casual dress accessory. The center ruby gem is firmly mounted with sturdy prongs, this setting best shows the sheer beauty of the gemstone. For the gold ruby ring, pick 14k or 18k gold and match your mood with a gold color choice of white, yellow or pink. Remember that every single feature of this gorgeous ring can be personalized - you could for example, choose to replace the side diamonds with any gemstone of your choice. We have full details for this ruby ring here.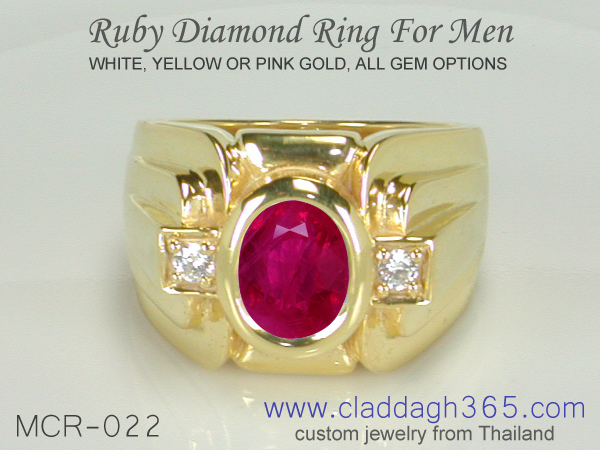 Men's ruby rings can often pose a significant strain on your budget. After all, ruby happens to be one of the most expensive gemstones used in jewelry. Men prefer large rings with imposing dimensions, this invariably implies gems in the upper size range. In the care of ruby, the per carat price grows even steeper as the size of the gemstone increases. We introduce you to a men's ruby ring. While the ring is not cheap, it offers above par value for the price tag. Get to know more about the MCR-022 ruby gemstone ring ... more.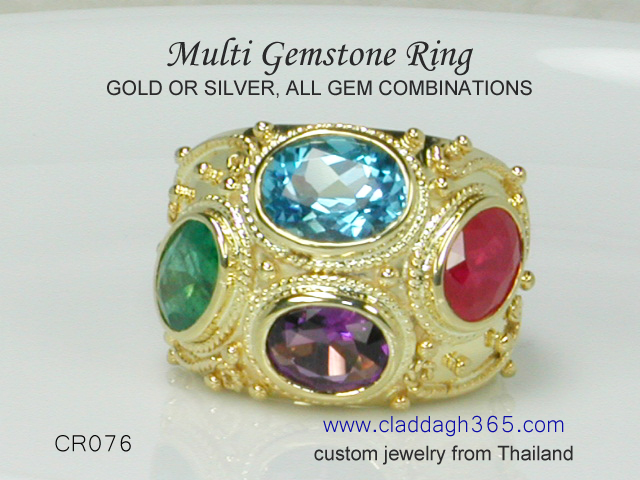 A gorgeous multi stone ring with a classic yesteryear appeal. The gemstone on the right is a ruby, you could order The same ring with four rubies or any other combination of gemstones. This ring is custom made in gold or 925 silver, uniform quality standards are maintained for both metals. You get to choose from 14k and 18k for the gold ring, each of these can be ordered in yellow, white or rose gold. The ring is perfect for a family birthstone ring. We have complete details including pricing for the ring .. more.