ALL JEWELRY CUSTOM MADE IN GOLD OR SILVER WITH YOUR CHOICE OF GEMS AND DESIGN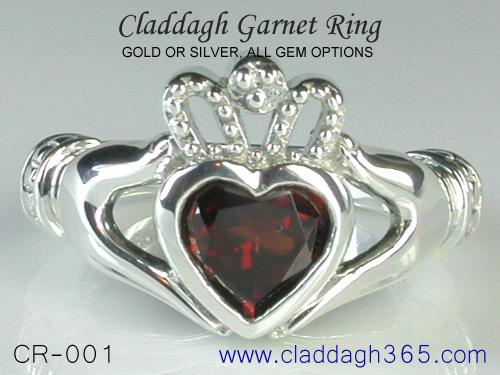 It was once thought that all garnets were red, and many gem lovers still believe so. While garnets can be found in a range of colors like red, green and yellow, it is red that dominates the rest of the colors. Our claddagh garnet ring is set with a carefully selected and expertly cut heart red garnet gemstone. Red garnet has been known for many centuries, this is the main reason why most folklore and tradition related to garnets is attributed to red garnet. The claddagh ring has a history that dates back to almost four centuries, and is regarded as one of the most meaningful jewels in history. When you wear your garnet claddagh ring try to keep the deeper significance of the jewel in perspective. It is easy to get carried away with the fine craftsmanship and immaculate design of our rings and forget the true meaning of the claddagh ring. It was a humble Irish slave who made the first claddagh ring, the young man was fisherman by profession but unfortunately had his fishing boat captured by pirates. It was those when slavery was rampant and the young fisherman named Robert Joyce, was sold as a slave to a wealthy goldsmith. He made the ring to keep the memory of his beloved in his confused and depressed mind. When he was released from slavery, he returned back to his small fishing village name Claddagh and gave the ring to his beloved. The couple were married and lived happily ever after. The love and loyalty between the couple is admirable, Robert did not forget his beloved even when he was subjected to some of the toughest conditions of slavery. On her part, his beloved waited for him all through the years that he was away working as a humble slave. Neither he nor she knew about the fact that, he would one day be released from slavery - it was just love, loyalty and sacrifice that keep them in each other's mind and heart.
Our garnet claddagh rings are crafted in gold and sterling silver, both metal options get the same degree of care and craftsmanship from some of the world's best artisans and craftsmen. If you order the silver garnet ring, you can choose to have the ring plated with white rhodium, yellow gold or even rose gold but, there is one thing that you should be aware of. The plating done on any silver jewel does not last permanently, wear and tear and various climatic factors will cause the plating on your claddagh ring to wear off after a while. It is for this reason that we recommend leaving your 925 silver claddagh ring unplated but, the final choice will always be yours. Cleaning a silver claddagh ring would be quite easy, but a plated silver ring that shows signs of peel off on the plating might pose problems when you need to clean and polish it. The gold claddagh garnet ring can be ordered in 14k or 18k gold and the gold color options are white, yellow and pink.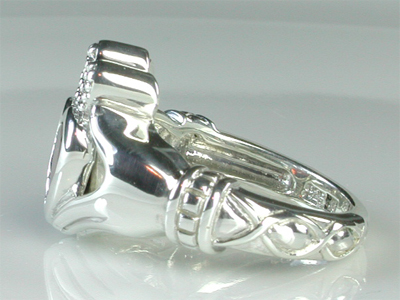 Garnets come with a lot of traditional folklore and beliefs, interestingly many of you might choose a garnet claddagh ring just for traditional reasons. The gemstone gets it's name from the Latin word granum which means, 'seed like'. A long time ago, garnet jewelry with closely clustered small garnets was very popular - it was thought that these jewels resembled the seeds of a pomegranate fruit! Keep in mind that, those were the days when garnet in colors besides red was unknown. As a gemstone garnet is believed to foster confidence and success, it also symbolizes faith, devotion and truth. We do know of buyers, who ordered our garnet claddagh ring hoping that, it would make their minds more creative. Don't forget that, garnet holds a permanent seat on the birthstone charts, it is listed as the January birthstone.
For those of you who have some degree of in depth gemstone knowledge, here is one big winner for garnet. You would be aware that in current times, gemstones are very often treated to improve their color, clarity or perceived value. Some of these treatments like heat are acceptable even to the trained gemologist but, new treatment processes keep being introduced each year. With all this buzz about gemstone treatment, professional gem experts place special importance for gems that have not been treated in any way. You will be glad to know that the gem in your gold or 925 silver claddagh garnet gemstone ring, has been left in an untreated condition. We supervise the gem procurement right from the mining phase all the way, until it is cut and polished. This makes us confident of choosing the right garnet that does not need to rely on any form of treatment to look pretty.
Each garnet gemstone claddagh ring is fully custom made, you can therefore request for the ring size of your choice. If you plan to get a claddadgh gold ring with a garnet gem, it is possible that larger sizes require a bit more gold content to make them sturdy and long lasting. While additional metal requirement for the claddagh silver garnet ring can be added without any cost addition, we might request for a slight increase in the price of a gold claddagh ring. You will in any case be informed of this additional charge (if any) well before you confirm your order with payment.
Claddagh365 claddagh rings are custom made with all gemstone options. We can customize features of your ring based on your requirements. We also provide options for claddagh rings with no gemstone in the center, these rings will have a gold or silver heart instead of the gem depending on, which metal option you choose for the ring. Our claddagh ring designs include concepts for men's and ladies claddagh rings. Our claddagh rings retain all features that were present in the first claddagh ring made almost 4 centuries ago.
Pricing For The Claddagh365 Rings With Gem Options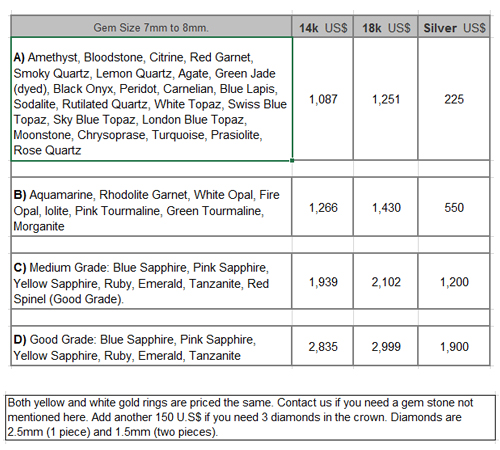 The red garnet gem option is listed in the group of gems marked A). Other garnets like spessartite and rhodolite will be priced within the B) category of gemstones.
Our claddagh rings are crafted in gold or 925 silver, with all gem options. Email us at sales@claddagh365.com if you have any questions or require a gemstone not mentioned in the price tables. The price of the gold claddagh ring remains the same for yellow, white or rose gold. Gold and silver jewelry are provided with the same attention and have the same quality of workmanship and gemstones.
While we can provide white rhodium, yellow gold or rose gold plating for the silver cladagh ring, we should mention that any plating done on silver will not last forever.
If platinum is your preference for the metal, please email us with your requirements including the gem selection and approximate ring size, our experts will work out a specific price quote for your choice.
Production takes around 4 to 5 weeks from the date that we receive payment. Paypal and Western Union are the preferred modes of payment but, we recommend Paypal for first time buyers. Let us know what your choice of payment is and we will provide you with details for the same.
We ship through FEDEX with web tracking service, please add another 35 U.S$ for shipping charges. While we can consider other modes of shipment, we prefer not to use services that do not assure full and complete web tracking of the parcel.