Garnet Gemstone Rings For Men
The deep red color of garnet impresses the discerning male, the gem is not too flashy and can be worn for formal or informal occasions. The emerging of science and gemology, enlightened gem researchers and we came to know of some amazing garnet colors, beyond red. Humans have always related garnets to the color red, in fact this is how the gemstone got its name. A men's garnet ring can be worn as an accessory but, it also has a deeper meaning to many jewelry lovers.
Men wearing a garnet ring make a special connection to the gem if, they celebrate their birthday in the month of January. With a listing as the gemstone for the second wedding anniversary, garnet is perfect to mark the joyous occasion. Many people still believe in centuries old traditions related to gemstones. A garnet men's ring is believed to foster confidence and motivate the wearer to work towards fixed goals and ambitions. Asian civilizations were enriched with customs and beliefs. Many Asian men wear a garnet gemstone ring, claiming that the stone helps develop creativity and discipline.
Claddagh365: We craft all types of jewelry in gold or 925 silver, you choose the design metal and gemstones. You could pick any ring from our website and request for it to be crafted with a garnet gemstone. We also welcome your own design sketches and ideas to be custom made. Get in touch with our support team at sales@claddagh365.com if you have any questions or requirements.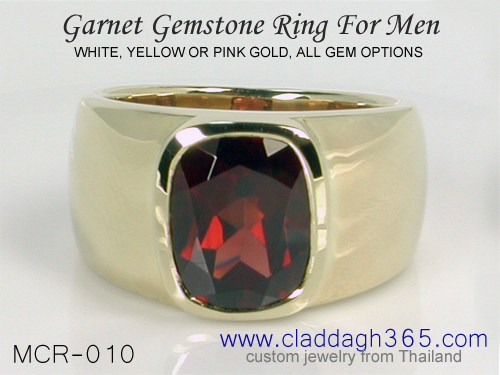 A hefty garnet ring for men, large deep red garnet set in a sturdy broad brand. Available in all ring sizes and you choose gold or sterling silver for your ring. Wear it to work everyday or keep it for a special occasion, the ring is awesome ... more.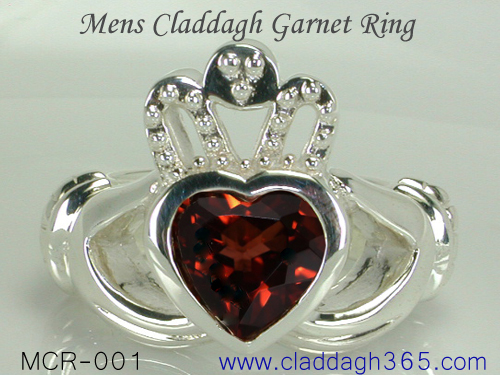 History's most meaningful jewels, this is the men's claddagh ring with garnet gemstone. We can craft a claddagh men's ring for you with any gemstone of your choice. The garnet ring for men is available in gold and sterling silver ... more.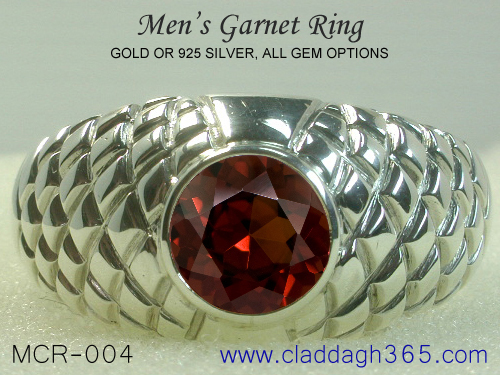 A sterling silver men's garnet ring, also custom made in 14k or 18k gold. A strong jewel that will withstand prolonged wear. Shown here with a texture on the surface, you can request for a plan or texture band for your garnet ring ... more.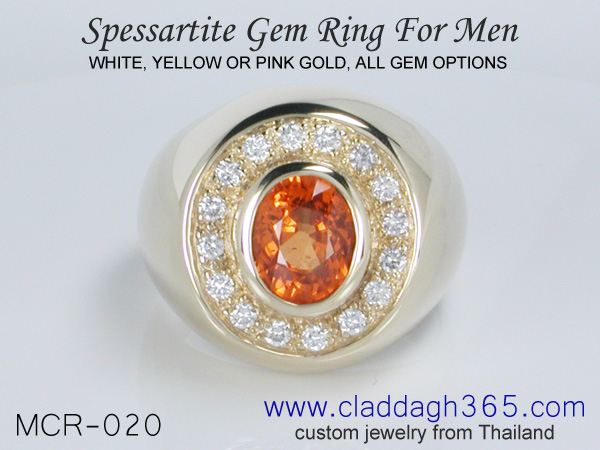 A garnet gemstone ring with a rare garnet. This spessartite garnet and diamond ring is a perfect jewel to reflect your unique style. For many centuries it was thought that garnets are always red, we present a rare garnet color ... more.