Claddagh History, Story Of The Claddagh Ring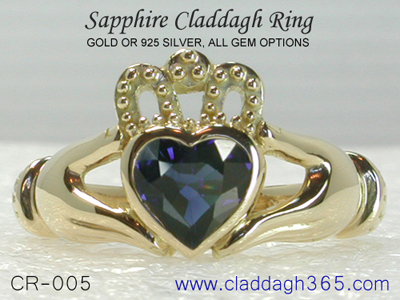 The name claddagh refers to a small fishing village in Ireland, that was about four centuries ago. The once pretty village has today been transformed into a well constructed and connected town. The history of the legendary claddagh ring is closely tied to this village. Time was about four centuries ago when slavery was rampant, people were bought and sold like commodities. A young fisherman by the name of Robert Joyce lived in the claddagh village, he lived a humble life and deeply loved his beloved who lived in the same village. Robert would often go fishing with his friends, the team would sail the dangerous seas together and share the catch at the end of the day. Life on the seas was dangerous, nature and man would often pose severe hardships for the fishermen. One fine morning Robert Joyce and his friends set sail and began what should have been a normal day. That day turned out to be very different for the young fishermen. Pirates attacked the boat in which they were sailing and plundered their belongings. Things took a terrible turn when the pirates decided to sell their captives as slaves. A wealthy goldsmith, 'bought' Robert hoping that he would do all the hard work for him. Robert was soon put on the job and started learning the trade from his master. As days went by, the physical and mental burden on the young fisherman started taking their toll. He soon started slipping into a state of mental depression and was unable to concentrate on his work. He would often stay awake at night and keep thinking of his beloved who lived in the village. The mental torture of being separated from her soon became unbearable, his mind grew dull with grief and the young man became increasingly demoralized. It was then that he realized that, he had to keep a positive frame of mind, he had to keep the dream of being a free man one day alive. The only way to do this was to put his mind on something that would strongly connect him to his beloved. Robert decided to make something for her, the idea was to give it to her when he would one day return to the village of claddagh and be reunited with her. With his newly acquired gold crafting skills, he decided to make a ring for his beloved.
Some years later, Robert Joyce was freed from slavery, the overjoyed young man rushed back to his village and carried that ring with him. You can well imagine his joy when he found out that his beloved was still waiting for him. She had waited all these years motivated by nothing more than a simple dream - a dream of being reunited with him. He presented her the ring that he had made for her, the couple were soon married and lived happily ever after. The ring came to be known as the claddagh ring. The ring depicted a heart being held by two hands, a crown was perched on the heart. Many people refer to the ring as the 'hearts and hands' ring or the 'hands holding a heart' ring. The history of the claddagh ring is a long one, it is marked by one of the most touching stories in history. Robert was not a professional jewelry designers, the features on the ring actually translated his true feelings for his beloved into physical elements that could be seen and touched.
With our long standing expertise and reputation in jewelry and gemstones, we can confidently say that the claddagh ring is undoubtedly one of the most meaningful jewels in history. The interpretation of the features present in a claddagh ring need no elaborate explanations and knowledge. The heart as expected, depicts true love, the hands show friendship or togetherness and the crown represents loyalty between two people. The first claddagh ring made by Robert resulted in the materialization of a solemn matrimonial relationship but, matrimony is not the only reason for wearing or gifting a claddagh ring. Love, loyalty and friendship are universal, they apply to everyone and are welcome in every place and at every time. As years and decades went by, the significance and history of the claddagh ring was heard by people across the world, the true meaning of the jewel impressed people of all ages and from every walk of life. Cladddagh rings are today worn and gifted to celebrate a birthday, engagement, wedding and even to mark an anniversary. We have often been honored to craft claddagh rings that were presented to a loving mother. European buyers have in recent years, been ordering claddagh rings in gold and silver to be worn as promise rings. The claddagh ring is not about religion, it is today not related to any geographical location - it represents a welcome international trend that is here to stay.
Claddagh365: We launched this project to ensure that the true meaning and significance of the claddagh ring is always understood and remembered. Our experience in fine jewelry crafting encouraged us to offer custom claddagh rings in gold and silver. Before we set out on this venture, we handpicked a team of expert designers to travel to Ireland, the birthplace of the claddagh ring. A thorough research into the background and tradition of the claddagh was carried out over a period of six months. We realized that our claddagh ring needed to be more than a pretty jewel, we wished to retain the feeling and meaning that existed in the first claddagh ring around four centuries ago. We can today proudly claim that our custom claddagh rings stand among the very best and are respected by jewelry lovers across the globe. You can order a gold or 925 silver claddagh ring with the gem of your choice. Do not be limited by the design or gemstones that you see on our website, we will gladly procure any gem that is found on this planet for you.
The Table Below Will Give You An Idea Of Pricing For Our Claddagh Rings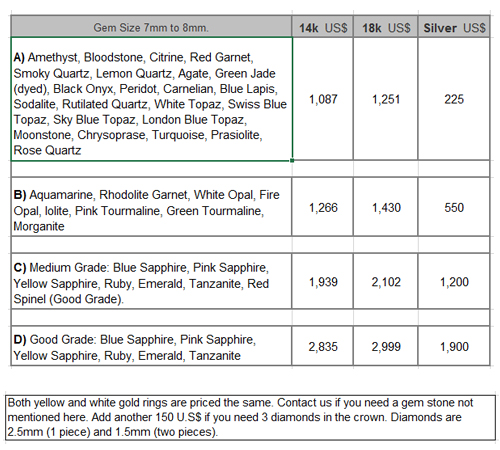 We can custom make your claddagh ring with the gemstone of your choice even if, the gem does not list in the adjacent table. Just email us your requirements and questions at sales@claddagh365.com and we will get back to you with specific details.
Since we custom make each jewel, and custom cut every gemstone, the production time is 4 to 5 weeks from the date of order placement and receipt of payment. Shipping is through FEDEX and there is a shipping charge of 35 U.S$ for upto 5 rings.
Payment is accepted to Paypal and Western Union, we recommend Paypal for first time buyers. Let us know which mode of payment you prefer and we will email details for the same.