If you trace the history of sapphires you will learn that, references to this gemstone were always related to sapphires that were blue in color. There were times when any blue gemstone was referred to as a sapphire. The Persians for a long time believed that, the earth rested on a sapphire and the sky was in fact a reflection of the blue gemstone. Centuries later, experts analyzed this Persian belief and concluded that, the blue gem that was referred to was more likely to be blue lapis and not blue sapphire. Backed by advanced techniques, equipment and scientific knowledge, gemstone experts concluded that, the color spectrum of sapphires extend far beyond blue. Claddagh365 gives you options for white, blue, green, yellow, orange and pink sapphires. Sapphire ring can be ordered in gold or 925 silver, both metals are crafted to the same superior quality standards. You can pick any ring from our websites and request, for it to be made in gold or silver with a sapphire gem of your choice. We can also custom make a sapphire gemstone ring for you with, your own design concept or idea. The support team at sales@claddagh365.com will be glad to hear your comments and help, with any information or advice that you might need.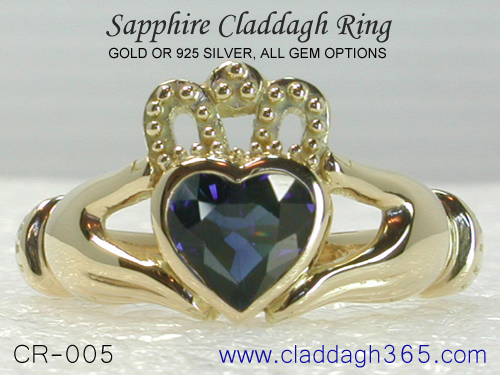 You don't come across many sapphire heart rings for the simple reason that, very few sapphires are cut into this gorgeous motif. We present the historic claddagh ring with a blue, pink, white, yellow, green or orange sapphire gem ... more.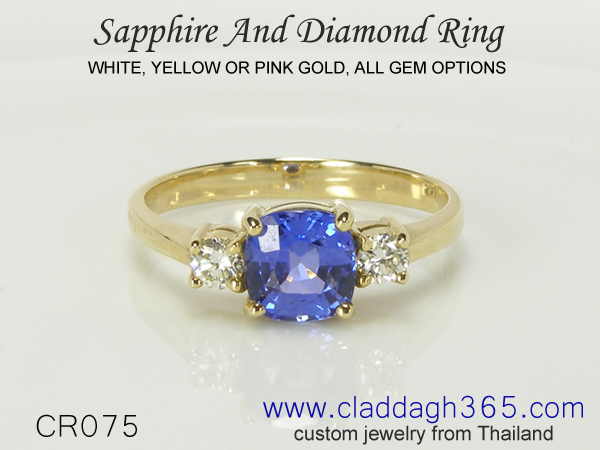 A fine sapphire diamond ring, looks far more extravagant than its price would suggest. Choose from yellow, white or pink gold of your sapphire gemstone ring. We can also craft a silver sapphire ring with the same quality standards ... more.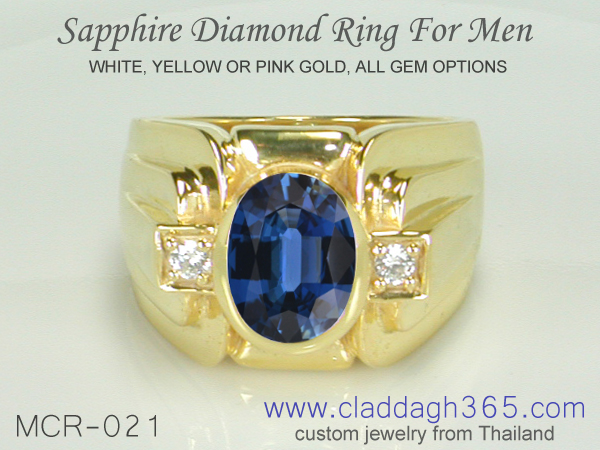 Both men and women are impressed by the stylish look of sapphires. The MCR-021 is a hefty men's sapphire gemstone ring with diamonds. You can pick 14k or 18k gold or even sterling silver for your custom made men's sapphire ring ... more.