Garnet Rings, For Men And Ladies
CUSTOM MADE JEWELRY, GOLD OR SILVER WITH DESIGN AND GEMS OF YOUR CHOICE
Since ancient times it was presumed that reference to a garnet gem implied a red garnet stone. It was only much later that we learnt of garnet gems in colors other than red. Garnet includes a group of gems from the same family, they are surely not all red in color. Having said that, the truth is that more than 90% of the garnet jewelry made and worn each year is crafted with red garnet as the gemstone. We at Claddagh365 procure gems from every corner of the world, there is therefore no limitation on garnet choice for your ring. But if you talk about beauty, affordability and availability in fairly large sizes - no other garnet comes close to red garnet.
Let us briefly talk about the garnet gem options for your garnet gemstone ring. Besides red garnet, you could have demantoid garnet (green), hessonite garnet (yellowish brown to brown), tsavorite garnet (green) and spessartite garnet (yellowish orange, orange or red). Of these gems, demantoid is generally found in sizes below 1.5 carats, it also happens to be an expensive type of garnet. Spessartite can have a size of upto 8mm but, expect to find visible inclusions in the stone. Go to sizes beyond 7mm on spessartite and prepare to pay a premium cost. Tsavorite does exist in sizes that can rise to 3 to 5 carats but, the price is significantly high. Rhodolite garnet is sometimes mistaken for red garnet but, the stone generally has a purple under tone to the red. If you need a gold or silver garnet ring with any of these garnet varieties, email us your choice of design and we will provide you with a customized cost estimate.
Below are some examples of finely crafted garnet rings, review the design concepts and use them to inspire your own design ideas. Remember that we can craft both gold and 925 silver garnet gemstone rings with your design or ours. Gold claddagh rings can be ordered in 14k or 18k gold with yellow, white and pink as the gold color options. A sterling silver garnet ring will have the same quality of gem and workmanship as the gold ring. When choosing white rhodium, yellow or rose gold plating for 925 silver garnet rings keep in mind that, any plating done on silver jewelry will come off after a while. Let us know if you still prefer to have your garnet silver ring plated, and we will do it for you. Since each ring is fully custom made, we can accommodate requests for all ring sizes. As mentioned earlier, your garnet ring can be custom made with any of the available garnet varieties. This means that, you can request for red garnet rhodolite garnet, hessonite garnet, spessartite garnet, demantoid garnet or tsavorite garnet. Prices can vary across garnet varieties, our team will send you a price quote based on the exact design that you choose for the garnet ring.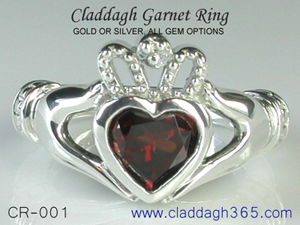 The historic claddagh ring with the garnet gemstone of your choice. Gold and silver garnet claddagh rings are provided with fine workmanship, each ring retains the complete significance of the first cladagh ring made around four centuries ago. Get more details on this amazing jewel right here.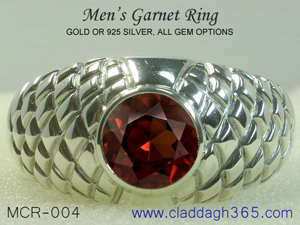 A sturdy and durable silver or gold men's garnet ring. Fine craftsmanship and a handsome metal weight ensure that, this garnet ring can keep pace with your hectic lifestyle. Silver and deep red garnet remain the preferred choice for men's gemstone rings. All varieties of garnet gems are available.Read the full report here.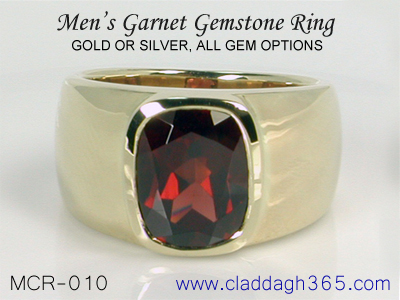 A sturdy men's garnet gemstone ring, a deep red garnet custom cut to precisely fit the finely crafted gold or silver ring. Crafted to perfection and built to keep pace with your hectic lifestyle. The gold garnet ring for men, can be 14k or 18k gold. This garnet ring for men can also, be ordered in silver, read more ... here.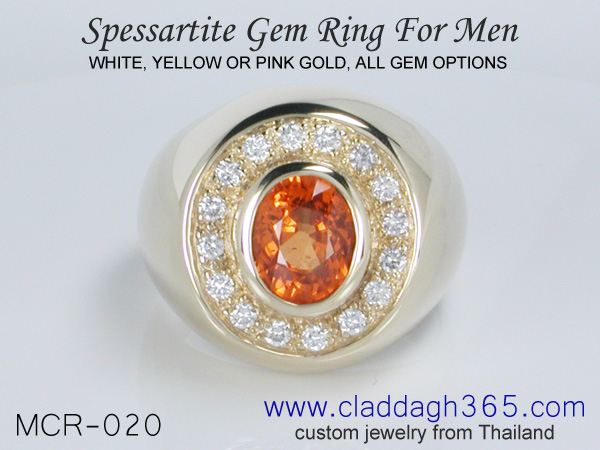 Garnets are not always red, you can request for a spessartite garnet for the jewelry that you order from Claddagh365. This is a hefty garnet ring for men with natural certified spessartite gem surrounded with white diamonds ... more.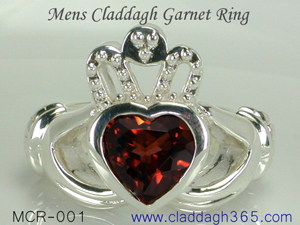 The significance and meaning of the claddagh ring, makes it suitable for men and ladies. Our men's cladagh garnet gemstone ring, is suitable for all occasions and can be crafted with or without a gem. All gem options and ring sizes are available in gold or 925 silver. Learn more about this ring here.
Much of the folklore and metaphysical properties attributed to garnet implies red garnet and this is not surprising. Remember that we are referring to ancient times when color, was the only property used to 'identify' a gemstone. Even the stone 'carbuncle' mentioned in the bible, referred to both (red) garnet and ruby - both red gemstones. The name garnet itself, is derived from Greek and Latin words that mean 'seed like'. Apparently a similarity was drawn between, the seeds of a pomegranate fruit and garnets. The other variety of garnets that we mentioned above, came to be known after gemology developed, into a full fledged science. Chemical analysis and sophisticated magnification equipment can now be used to accurately identify a gemstone. The names assigned to the other garnet colors have an equally interesting explanation but, we will leave that information for another report.
What if you wish to wear a garnet ring as a birthstone jewel, the birthstone charts list garnet as the birthstone for the month of January. Strict believers in gems and crystals insist that, a garnet birthstone ring should have a red garnet gem. We are inclined to believe that a more liberal attitude should be followed today. After all, red was the only garnet color known in ancient times but, science has today confirmed the existence of garnets in other colors too. You can follow your ideas but remember that, any gem that makes you feel good is what you should go for. You might have heard of birthstones being exchanged in wedding rings, this is interesting because the wife ends up wearing the husband's birth stone and vice-versa.
If you have some knowledge about gems you will appreciate a garnet ring for one important fact. We live in a world where most gems are treated in some way or the other, to enhance their beauty and perceived value. The list of 'treated' gems just keeps growing, some gems are so rampantly treated that even gem experts have come to accept them in their treated form. In a world where treated gems are almost taken for granted, garnet comes on like a breath of fresh air. The gemstone as of today remains untreated, it is therefore left in it's natural condition. So as of today, you should insist on an untreated gem for your garnet ring but, the future is not something that can be easily predicted.
Claddagh365: We custom make all types of jewelry with high quality workmanship and custom cut gemstones. Gold, silver or platinum are all crafted with the same high quality craftsmanship. Our expertise in gem procurement gives us direct access to gem resources from across the globe. This allows us to accommodate requests for just about any gem that you need, you are not limited to what you see on our website. The design for your jewelry can be picked from our website or sent to us by you. Do get in touch with our team of experts at sales@claddagh365.com and email them your design ideas in the form of images, photos or sketches. You will never be pushed into making a purchase from us so, do take advantage of our thorough expertise in every aspect of gems and jewelry.