Sterling Silver Claddagh Ring
We have said it a couple of times on this website and will say it again, for meaningful jewels like the Claddagh Ring the choice of metal is not relevant to the significance of the jewel. The timeless beauty of sterling silver is being appreciated across the world, and the metal has today attained a very respectful position on the jewelry scene. If you thought that a claddagh sterling silver ring, will not have the quality of workmanship and gemstone that a gold or platinum ring would, the idea though right does not apply to Claddagh365.
Our craftsmen and artisans provide, the same detail to attention and craftsmanship for the gold or 925 silver claddagh ring. With our expertise in gem procurement and custom gemstone cutting, we hand pick and custom cut every single gem that we use in our jewelry. What this obviously means is that the choice of a gold or 925 silver claddagh ring is entirely up to you. There is something very classic about silver, the metal seems to have a very confident and accomplished appearance and the same time, it is not flashy and loud. Though a growing number of ladies today prefer a 925 silver claddagh ring, men have always been impressed with the look and feel of sterling silver.
Since the true Meaning Of The Claddagh is derived from the features of the ring, a gold or silver claddagh ring would have the same meaning. The hands, heart and crown in your claddagh 925 silver ring symbolize togetherness, love and loyalty. The Claddagh365 ring is designed to retain the entire meaning of the first ring made about 4 centuries ago by an Irish slave. We can say that with confidence because, all specifications for our ring were finalized after conducting a very thorough research into the tradition and history of the claddagh ring. We do occasionally get requests for design modifications sometimes for, rings without the crown etc. We custom make every single claddagh sterling silver ring and can therefore, accommodate all design preferences. However you should know that eliminating any of the 3 main features of the ring, will compromise the significance and meaning of the jewel.
The gemstone selection for the claddagh silver ring is as exciting as that for the gold ring. With our ability to source and custom cut any gem from any part of the globe, we do not restrict your gemstone choice. And if you wish to have a 925 silver ring with a gem not mentioned on our website, just email us your requirements and we will procure that gem just for you. Our 925 sterling silver claddagh rings are priced moderately, but they lack nothing as far as quality is concerned. Most jewelers use very low grade gems for making silver jewelry, the metal weight is also reduced and this compromises on quality and durability. We strongly believe that delivering quality merchandise irrespective of the metal is a basic requirement, avoiding that commitment works to the detriment of both sides.
Plating for a sterling silver claddagh ring needs to be clearly explained, please spend some time understanding this paragraph. Silver by it's natural composition will tarnish, the rate that silver claddagh rings will tarnish is difficult to predict as there are more than 20 conditions, gases and environments under which the metal will tarnish. You might have heard of plating done over silver to act as an anti-tarnish agent. White rhodium, yellow gold, pink gold and even platinum can be used to plate a claddagh sterling silver ring. With the agents that tarnish silver blocked by this plating, your ring will obviously not tarnish but, read on to understand the complete story. The point is that any plating done on silver will not last forever, it will wear off after a while. And the wear off will happen in bits and patches not uniformly all over the jewel. At that point of time, the claddagh 925 silver ring will not appear very pretty and polishing the jewel will be quite a challenge. Compare this to an unplated silver ring, it will tarnish but the cleaning process will be simple and convenient if, the tarnish is not allowed to settle too stubbornly on the metal. With the above information our recommendation is to leave silver rings unplated. Jewelry grade silver polish lotions, sprays and even silver polish fabrics can be used to polish tarnished silver. If you have read this information but, would still like to have your claddagh sterling silver ring plated, let us know and we can do a white rhodium, yellow gold or pink gold plating on the jewel. Once again, this plating will not last permanently too.
Claddagh365: Besides crafting the finest rendition of the claddagh ring in gold or 925 silver, we custom make all types of jewelry with your design or ours. Our wide reach in gem procurement and cutting ensures that, we need not put a restriction on your gemstone choice. You can discuss your requirements with our support experts at sales@claddagh365.com and we will be glad to guide you.
All our claddagh rings can be crafted in gold or 925 silver. With the same quality of gems and workmanship provided for the gold and silver options, you can pick the metal based on your preference and budget. Below are a few ideas for your silver claddagh ring, pick the style number and request for it to be crafted in sterling silver with your gem preference. The ring might have different crown styles, you can request for any crown to be set on the concept that you choose. The ring for men and ladies can be ordered with no gem in the center, the entire jewel including the heart will then be crafted in metal. Prices are provided on the detail page which is linked below each image.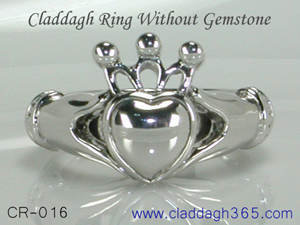 An interesting concept, a gold or silver claddagh ring with no gemstone. The crown could be adapted for the other ring concepts shown here too. Check full details here.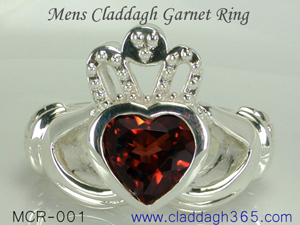 A majestic men's claddagh ring, custom made in gold or silver with your choice of gem. You could also order this ring in all metal with no gem in the center, read more right here.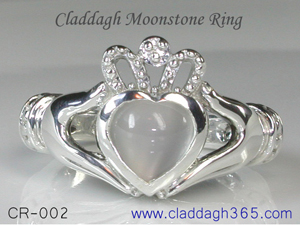 The Claddagh365 classic, available in gold or silver with your gem choice. Shown here with a moonstone gem. Get full details for this gorgeous claddagh ring here.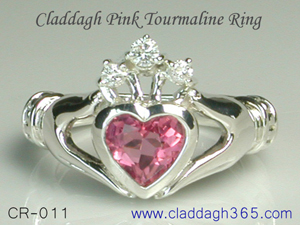 Another claddagh ring custom made in gold or silver, three small diamonds in the crown. Shown with a pink tourmaline gemstone. Read more about this beauty ... here.