Gemstone Benefits And Metaphysical Properties
CUSTOM JEWELRY STERLING SILVER OR GOLD, YOUR CHOICE OF GEMS AND DESIGN
Thousands of years ago, crystals and gems were desired for the special powers that they possessed. Gem as symbols of beauty and social status were not known during those times. Interestingly, many of the crystals and minerals that are cut, faceted and polished today, were first worn as pieces of rough stones. With color being the only criteria for gem identification in those days, it was quite common to credit a gem with special properties based merely on it's color. A good example, is the dark green form of jasper with red spots - popularly known as bloodstone and more scientifically named as heliotrope. In reality, this gemstone has very little in the form of red color and is predominantly green. However the Christians believed that, the red spots were the blood of their Lord Jesus that dripped when he was crucified on the cross. A piece of green jasper apparently got stained with the blood that dripped from the wounded Lord. Based in this belief or related to the red spots, many people believed (Chinese and Indians in particular) that bloodstone could cure blood disorders. Another interesting example is the color green which is normally associated, with the peaceful greens of nature like, leaves, trees and grass. Emerald the precious green variety of beryl was assigned an important property, this gem is said to be capable of bringing harmony and composure. Known for many thousand years, the gem obviously has much folklore and traditions attached to it.
Some of these ancient properties are alive even today, others faded away and are referred to only in ancient records and texts. Amazingly, some of the old benefits attributed to gems and crystals evolved over time. A good example is aquamarine, another prominent member of the beryl gemstone family. Getting it's name from two Latin words (aqua and marina) that mean water (from the) oceans, the gem was accorded properties that referenced it's name and color. In ancient times sailors sailed the seas and often faced serious threats climate, sharks and pirates could all expose the sailor to extreme peril. Drawing inspiration from the color and name of aquamarine, the sailors would often carry a piece of aquamarine with them when embarking on their daring journeys. The gemstone was believed to keep them safe and bring them back to their loved ones. In today's world journeying by sea is neither very common nor too dangerous but, the traditional belief remains intact. It is now believed that, aquamarine helps make a safe journey irrespective, of the mode of travel.
The discussion on properties and benefits of gems and crystals can never be complete without, mentioning crystal healing. Metaphysical properties include beliefs related to medicinal benefits provided by various gems, this is interesting but needs to be addressed with extreme caution. The only way that you should treat medical illness and ailment is through a professional doctor, no alternate therapy should be attempted without medical supervision. You might have heard that, nephrite which is classified as a type of jade can cure kidney related disorders. The origin of this belief dates back by several centuries, and is worth reading about. As of today, you would realize how folklore was initiated through ancient times. Much of the nephrite that was found in the early days, rolled down embedded in pieces of rock through river flow. The tumbling stones would weather and get a bit rounded, they would often be found in shapes that closely or quite closely resembled the human kidney! There never has been any scientific proof established about most properties and benefits that have been attributed to gems so, please do not expect miracles.
And finally let's talk about the practice of wearing birthstones, another tradition that relates to the metaphysical properties of gems and crystals. The 12 stones on the breastplate of Aaron the high priest, have been debated over the centuries. The belief that each one of us has at least one gem that, controls our luck and well being has been related to the month on which we were born. When you wear a stone that has certain metaphysical properties, you are blessed with the special benefits that the gem or crystal offers. But if that gem happens to be your birthstone, it delivers those benefits more efficiently and abundantly. Once again remember that you will be putting your faith in what was, initiated as folklore so do not look for something extraordinary.
Below are some gems that carry tremendous metaphysical folklore, some of them have been assigned special properties by almost every civilization in history. Important: While we do not suggest that the jewels and gems that we offer, possess any problem solving or ailment curing properties, we narrate the stories merely to record the past which might be of interest to our clients. We will be adding new stories related to these and other gems, so do keep this page on tab if it holds any interest for you.
Claddagh365: Best known for our fine custom cladagh rings crafted in gold or sterling silver, we also custom make all types of jewelry with metal, design and gemstones of your choice. You need not limit your choice of gemstones to what you see on our website as, we can procure every gem irrespective of where it is mined or located. You can discuss your requirements with our expert team at sales@claddagh365.com and also email us images and sketches of your favorite designs. Each jewel is given complete attention by skilled craftsmen and artisans, some of the strictest quality checks are implemented at every stage of production. And this remains true irrespective of the metal that you choose - it could be gold, silver or platinum.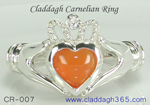 Carnelian: The benefits of carnelian relate largely to it's ability to keep a person calm and composed even when, the situation is confusing and tense. Helping keep a cool mind ensures a logical decision making process and this in turn, makes success seem more likely. Read about this and more here.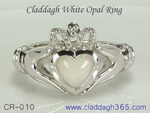 Opal: An interesting gem with some amazing traditions and beliefs. While most of history described opal as the gem that brings success and good luck, there was a brief period when the gem was believed to attract 'bad luck'! Read all about this gemstone right here.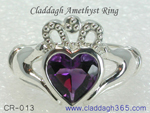 Amethyst: The purple variety of quartz, is the birthstone for the month of February. The gemstone has been given religious importance for many centuries. Amethyst became affordable only after, large deposits were found in Brazil. Get more details on the metaphysical properties of amethyst gems here.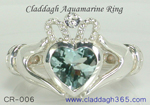 Aquamarine: The March birthstone is believed to help make a journey safe and was used by sailors in ancient times. With it's ability to bring harmony and understanding and encourage fidelity and loyalty, aquamarine is often described as the gem suitable for married couples. We have more information on aquamarine crystals and gems here.