Sterling Silver Claddagh Men's Ring
CUSTOM MADE IN GOLD OR 925 SILVER - ALL GEM OPTIONS AVAILABLE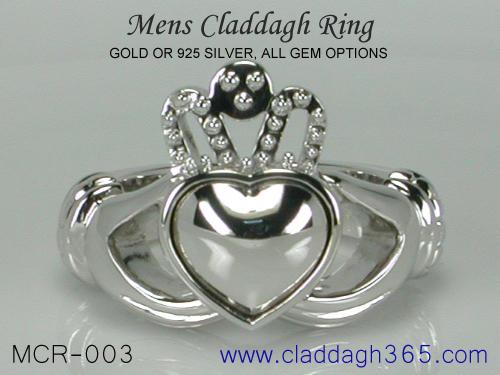 Men seem to be very keen on wearing jewelry that has some meaning or significance and few rings for men can have the kind of meaning that, a men's silver claddagh ring has. The MCR-003 is crafted by skilled craftsmen at Claddagh365, this jewel retains all the features and meaning of the first claddagh ring made about four centuries ago. You do have a choice of gemstones when ordering your ring but, the majority of men that we know seem to be impressed by the plain ring with no gemstone. The ring depicts a heart being held by two hands with a crown resting on the heart - a touching story reveals what exactly is implied by these three features.
Given the popularity and respect that is universally given to the claddagh ring in our times, it is hard to believe that the Story of The Claddagh centers around a humble fisherman turned slave and a small fishing village in Ireland. The village named Claddagh is situated in Ireland, though a developed town today, 400 years ago it was a very pretty village with great natural scenery. A young fisherman by the name of Robert Joyce lived in the village, the man was in love with a young lady from the same village. One day when Robert was sailing with his friends, their boat was attacked by pirates and the inmates sold as slaves. He was sold to a goldsmith who expected him to learn the trade, putting up with the physical and mental conditions of slavery, he had only one thing on his mind - he wished to be free again and reunite with his beloved. Time went by and the possibility of ever being freed from his plight started to dim, he found his concentration dropping - it became hard to concentrate on his work.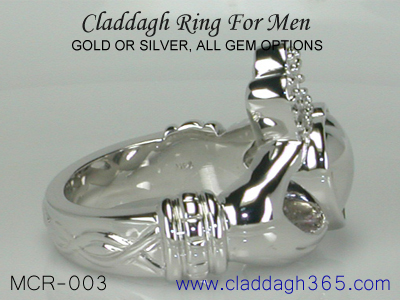 It was at that time that Robert decided to make something for his beloved believing that, it would give him some hope and motivation. He started making a ring for her and dreamed of giving it to her when he was a slave no more. A few years later his dream came true and he was released from slavery, as expected, he headed straight for his village carefully carrying the ring that he had made. On reaching the village, he was overjoyed to learn that his beloved was still waiting for him, she rushed into his arms and Robert gave her the ring that he had made for her. The features of the ring were rather interesting and as the world learnt much later, it was through these features that the young man conveyed his true feelings for his beloved. The jewel came to be known as the Claddagh Ring and some people referred to it as the hearts, hands and crown ring. The heart is a symbol of love and this was exactly what he intended to show, the crown denoted his loyalty to her and the hands spoke of a togetherness. When you wear or gift this meaningful jewel, you show that you care about true love and friendship - it need not always denote a matrimonial affair. The team at Claddagh365 conducted an intense research into the history and meaning of the claddagh ring, it took a few months for us to summarize all the information - this ensured that our claddagh rings retain all the meaning and significance of the first ring made 4 centuries ago.
The metal options for the men's claddagh ring are gold and silver but, most men prefer to wear the silver claddagh ring. White metal has a neutral color and men have always been fond of 925 silver, the metal has a sturdy and confident appeal without appearing to be flashy. We have always stressed that the true meaning of the claddagh ring is held in it's features, the heart, crown and hands - a gold, silver or platinum claddagh men's ring would have the same level of meaning. We provide the same quality of workmanship and attention to detail for the gold or silver men's ring. You can request for an etching of a few words, date or numbers to be done inside the band. The claddagh gold ring can be ordered in 10k,14k or 18k gold with a choice of yellow, white or pink gold. For the 925 silver men's claddagh ring we would suggest that you leave it unplated, it would then be easier to clean and polish even in the long term. Request for white rhodium, yellow gold or rose gold plating for the silver ring if that is what you wish but, do keep in mind that the plating would not last forever. Since the ring is custom made, we can accommodate requests for all ring sizes.
A plain claddagh ring with no gemstone, will be easier to maintain, clean and store. Every gem has it's own set of characteristics and these will need to be taken care of when the ring is being worn or cleaned. Depending on the gemstone that you choose, it is possible for the stone to add a significant amount to the price tag. Since men usually lead very active lifestyles and interestingly, do not take too much care of their accessories - the idea of wearing a men's claddagh ring that can generally take care of itself is a good choice. If you prefer to choose a claddagh gold ring for a man, the cost of the metal can be substantial especially, if the ring is crafted with a high degree of durability like the MCR-003. Avoiding a gemstone in that case can allow better investment on the metal as the stone cost will not weigh on the price tag. However if you are interested in getting this men's claddagh ring with a gemstone, you will be glad to know that we provide all gem options, for the gold or silver ring.
Dimensions and Weight: The gold and silver claddagh men's ring are crafted to look smart and stay in shape. The healthy metal weight provided for these rings ensure that, the ring is not prone to bending and deforming with the slightest impact. The gold ring boasts of a weight of around 20-25 grams, the silver men's claddagh ring weighs in at around 15-20 grams. Each ring is crafted and we do not mass produce these jewels. It is possible that very large ring sizes call for a higher weight, we will let you know if this is likely to happen for your order. If you have the need for a solid ring where there is no metal scooped out from inside the band, let us know this at the time of ordering. The center heart portion in the ring is around 9-10mm and the band width is around 4-5mm. Let us know if you need smaller or larger dimensions for your men's ring.
Claddagh365: While the claddagh ring is our niche jewel, we craft fine jewelry in both gold and silver with the design of your choice. Our expertise in gem procurement and cutting ensures that, you are not restricted to gems on our website when making your selection. We can procure gems from mining sites across the globe and do the custom cutting in-house. We welcome your design images and sketches, email us at sales@claddagh365.com with any queries that you might have.
Pricing: This is the price for the MCR-003 Men's silver and gold claddagh ring, the price for yellow, white and pink gold remains the same. If you are interested in having this ring crafted with a gemstone in the center, please refer to item MCR-001 Mens Gemstone Claddagh Ring and check the price table for the gemstone that you require.
The sterling silver ring with no gemstone is priced at just 400 U.S$ + 35 U.S$ for shipping.
The 14k white, yellow or pink gold ring with no gemstone is priced at just 1,750 U.S$ + 35 U.S$ for shipping.
The 18k white, yellow or pink gold ring with no gemstone is priced at just 2,100 U.S$ + 35 U.S$ for shipping.
Production is 4 to 5 weeks from the date that we have the confirmed order with payment. We accept Paypal and Western Union as modes of payment but, do not recommend Western Union for first time buyers. Let us know which mode of payment you prefer and we will provide details for the same.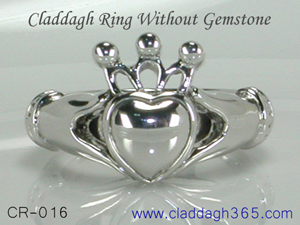 If you wish to get a pair of plain claddagh rings with no gemstone for 'him and her', this concept should be of interest to you. We can also craft both rings to have a similar crown style. The crown shown here in CR-016 can be adapted to set three small diamonds in the crown. Get more details for this gorgeous ring here.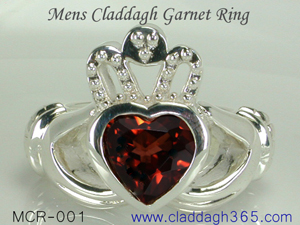 The MCR-001 shows an awesome men's gold or 925 silver claddagh ring with a gemstone in the center. You can select the gemstone of your choice even if that specific stone is not shown on the website, we will procure and custom cut the gem for your ring. We have full details for this men's claddagh gemstone published here.