Claddagh Pink Tourmaline Ring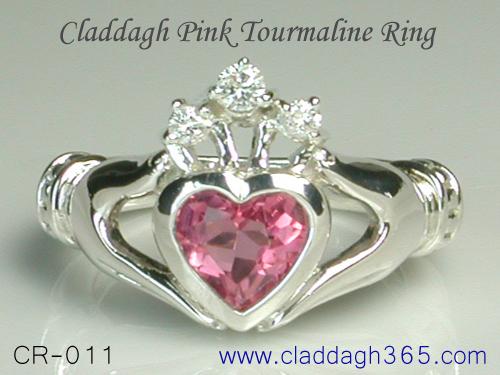 Many of you might be under the impression that, tourmaline claddagh rings are made only with geen tourmaline gemstones. While there is no doubt that, most of the gem quality tourmaline that is mined is indeed green - this amazing gemstone boasts of an entire range of mesmerizing colors. The fact that tourmaline is found in many colors is a historically known fact, interestingly this is how the gem got it's name too. The Sinhalese (Sri Lanka) word 'turamali' which inspired the name tourmaline, means 'mixed colored stones'. Museums across the globe flaunt some truly gorgeous tourmaline gems and many of these, date back to thousands of years. In more recent times, Tiffany and Company was introduced to tourmaline by the well famous gemologist, George F. Kunz. The well known colors of tourmaline include, yellow, green, pink, red and black - blue tourmaline referred to as Indicolite is quite rare. The most expensive tourmaline to date is undoubtedly, the electric blue and green-blue tourmaline from the Paraiba region of Brazil. Referred to as Paraiba tourmaline in the trade, this gem can reach prices of up to 10,000 U.S$ or even higher per carat.
With such a large color range of tourmaline gems, you might wonder what tourmaline color options, we at Claddagh365 offer for our custom tourmaline claddagh ring. To begin with, let us assure you that the tourmaline gems that we set in our rings are sourced directly from the mining locations. There are no middlemen men which means that, you do not end up paying multiple profit margins for a lengthy supply chain. We clean and closely inspect the tourmaline in house and our team of skilled gem cutters do the rest. The same gem quality and options are available for the gold and 925 silver claddagh rings. Here are the color options that we can provide: Green, Pink, Yellow and Reddish-pink (rubelite). Black tourmaline also called schorl, is not very suitable and stable for cutting and faceting operations, this is the reason why we will not recommend this gem. However if you wish to have a tourmaline that is very dark and saturated and appears almost black, we can cut a deep green tourmaline - this can appear near black. Blue tourmaline which is referred to as indicolite, can also be provided but, we will prefer to confirm the availability just before you actually place the order and make payment. And what about the scintillating Paraiba Tourmaline, the vivacious blue or blue-green gem is very rare and also very expensive. With our widespread gem sourcing contacts in Brazil, it is surely not impossible to find the right Paraiba tourmaline gem for your claddagh tourmaline ring but, once again, let us have this discussion on a case by case basis. Price will be a big factor in the case of a claddagh ring with Paraiba tourmaline and we will insist that, you go for the gem certification option for the sake of your peace of mind. We can provide gem authentication certificates from GIA or AIGS in Thailand. The charges of certification will be billed to your account.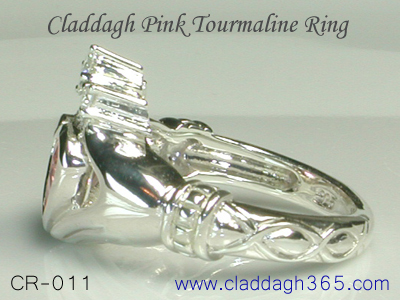 If you are familiar with the Story of The Claddagh Ring, you would easily recognize the essential features of the first ring that was made around four centuries ago. Just to briefly summarize the history of this meaningful jewel, here is a short note. The first claddagh ring was made by a young Irish man by the name of Robert Joyce. A fisherman by profession, Robert would often sail the high seas along with his friends in search of fish. The fishermen belonged to the then famous but small fishing village named Claddagh in Ireland. One day the boat in which Robert and his friends were sailing was raided by pirates, the captives were sold as slaves and Robert Joyce ended up working for his master, a wealthy goldsmith. The young man kept thinking of his beloved who he had left behind in the village of Claddagh. He dreamed of one day being a free man and spending the rest of his life with her, this was a distant dream with little possibility of ever coming true. In a desperate bid to retain his mental balance, Robert decided to make something for his beloved. He started making a ring with his newly acquired skills in metal crafting. Some years later, he was freed from slavery and rushed back to his village, carefully holding the ring. You can well imagine his joy when he learnt that, his beloved was waiting for him after all those long and lonely years. He gave her the ring, the couple were soon married and lived happily ever after. The ring came to be known as the Claddagh ring and had some very interesting features. Before you start observing the features of the CR-011 Tourmaline claddagh ring shown above, there is one important thing that you should keep in mind. The ring represented his state of mind during those tough times, it also expressed his true feelings for her. The ring depicts two hands holding a heart with a crown set above the heart, it is often referred to as the hands, heart and crown ring. The heart quite obviously contained his love for her, the crown showed the deep loyalty that Robert had for his beloved, the hands symbolized a union, a togetherness that would always exist through good times and bad.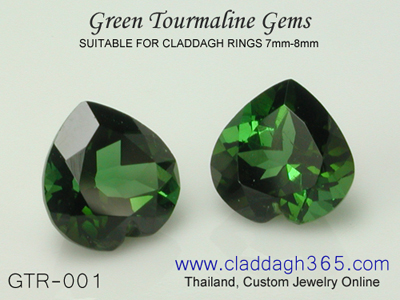 It is the meaningful features in this jewel that, immortalized it forever. The significance of the claddagh ring has been well understood across the globe, the jewel is today respected as the most meaningful jewel in history. If you step back for a moment and reflect on the love symbolized by the heart in this tourmaline claddagh ring, you will agree that this love need not always be interpreted as being related to a matrimonial relationship. At Claddagh365 we strongly believe that, the claddagh ring is suitable for all occasions - and surely as a casual wear jewel too. While it feels wonderful to receive such a significant jewel as a gift, you could also buy one for yourself. Since the center gemstone in our gold and silver claddagh rings can be selected by you, this is an awesome jewel to celebrate a birthday. The pink tourmaline claddagh ring would represent the month of October. And when it comes to a valentine's gift, the claddagh ring selects itself as an awesome option. Keep in mind that, reds and pinks are very popular during that time of the year, so you should be looking at pink tourmaline, red garnet, ruby, red spinel, pink opal and pink quartz as gem options. Grown up children could gift this jewel as a mother's day gift, to their loving mother, you could pick a birthstone or any gem that mother truly cherishes. And if you have a daughter or grand daughter, who has just finished her graduation, celebrate the milestone with a gold or 925 silver claddagh ring. And there is absolutely no doubt that the claddagh ring would make a great engagement or wedding ring. If you are considering getting a tourmaline claddagh ring for a very special event, you could choose the option for diamonds in the crown - the glitter will always light up your mood for years and decades to come.
The Claddagh365 ring is generally not shown with diamonds in the crown. However, you do have the option to request for your ring (gold or silver) to have diamonds in the crown. This option does add a small amount to the price of the ring but, is surely worth it when you want to spice up your ring - details are shown below the price table. Keep in mind that our claddagh rings are always custom made, you can therefore request for a ring without diamonds, or even choose to replace some or all of the crown stones with gems of your choice. Just discuss your preference with our support team and they will guide you, a specific price quote will then be worked out to match your requirements.
Claddagh365: We craft fine claddagh rings in gold or silver with gems of your choice. You need not limit your gem selection to what you see on our website, we can procure any gem from any part of our planet for you. Besides featuring high quality craftsmanship and custom cut gems, we also ensure that our rings match all the essential features of the first ring made centuries ago. A thorough research into the history and meaning of the claddagh ring was conducted by our team, findings from the project were incorporated into the design of our jewel. We can confidently say that our ring retains the whole meaning, sentiment and significance of the first ring. When ordering a gold claddagh ring, you can request for a 14k or 18k ring and also, choose white, yellow or rose gold. For the silver ring, we suggest that you leave it un-plated though, we can provide white rhodium, yellow gold or rose gold plating. The important thing to note about silver jewelry is that, any plating done on them will wear off after a while.
Pricing For Our Claddagh Rings
The price table will give you an idea of the price of the claddagh ring in gold or silver, the price is dependent on the gemstone selected too so, please refer to the gems mentioned under each group. We can accommodate requests for gems not mentioned in the table too, so please send your requirements to the support team at sales@claddagh365.com The price mentioned does not include the diamonds in the crown, please check the bottom of the price table for diamond options and pricing. You can also request for the diamonds to be replaced with other gems of your choice.
The pink tourmaline gem is priced in the group of gems marked B). Production time is 4 to 5 weeks from the date that we receive payment. We accept Paypal and Western Union as mode of payment but, do not recommend Western Union for first time buyers. Let us know which payment option you prefer and we will provide details for the same.
Shipping will be through FEDEX, and there is a 35 U.S$ shipping charge for up to 5 rings, this will be added to the prices mentioned in the table.
For the silver claddagh ring, let us know if you need any plating to be done but, do be aware that any plating on silver will come off after a while.