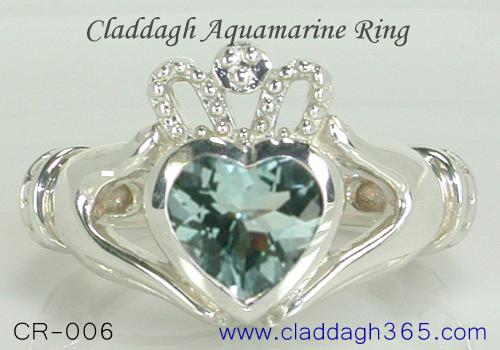 It is true that an aquamarine claddagh ring is just one of your gem options for a blue gemstone claddagh ring but, this gemstone has beauty and meaning of it's own. Aquamarine to begin with is a member of the beryl mineral family, this elite mineral boasts of more than one raw and gorgeous gemstone. Bixbite or red beryl, emerald the green variety of beryl, morganite the subtle pink gem and aquamarine are all highly respected by gem and jewelry lovers. The gemstone gets it's name from two Latin words aqua which means water and marina which means sea. It is interesting that most of us prefer to have an aquamarine gem that is blue with no hint of green. The blue gem in it's natural form is almost always tinted with green, gem manufacturers heat aquamarine to drive away the greens that exist in the rough stone. When seen in it's natural form, nature lovers are quick to point out that the soothing color of the gem reminds them of the Mediterranean sea waters.
The CR-006 aquamarine claddadgh ring shown above has a natural aquamarine gem that is hand picked and custom cut by our gem experts. Expect the gem to have a light blue color, though aquamarine can sometimes be found with a bit more saturated blue. Most of the aquamarine gems have a pale blue color, limited quantities of Santa Maria mined aquamarine gems from Brazil show darker shades but, carry a fairly stiff premium on the price. We have seen the more saturated blues from Sri Lanka too but, these gems have a fair degree of inclusions and even some minor fissures. If you wish to have a specific color shade for the gem in your gold or 925 silver aquamarine ring, email us and we will try to do our best. You will also be informed whether your requirement will entail an increase in the price. You need to be aware of confusing trade jargon like aqua topaz (pale blue topaz) and aqua CZ (synthetic gem) as, these gems are not natural aquamarine.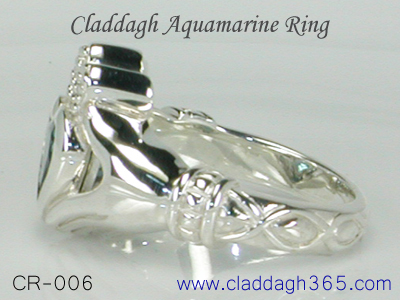 Most of you would agree that the serene beauty of aquamarine is enough to make it a highly desirable gem but, there has always been much importance attached to it. The centuries old tradition of birthstones is like a tribute to beautiful, rare and historically known gems. Aquamarine is the birthstone for March, it is believed that wearing the stone brings harmony and inner peace. It's color has brought it admirers from the sea too, mythology says that aquamarine was presented by King Neptune to the mermaids. As sailors sailed the dangerous seas in ancient times, they often carried or wore a piece of aquamarine. People believed that all the good properties and 'strengths' of the stone were best released when aquamarine was near or in water. With it's (believed) capability to encourage personal relationships and moderation, aquamarine is even today recommended as the best gem for a successful marriage. Hailed as the stone of courage and protection, aquamarine draws admirers from all walks of life - it is deemed to bring success and help the mind stay in a positive frame of mind. With all this folklore and ancient history attached to the stone, you will well understand why claddagh aquamarine rings maintain a consistently high demand level.
Gold or sterling silver are the metal options that you can choose for your aquamarine claddagh ring. And if you require platinum for your order, email us for a specific price quote. The gold aquamarine ring can be yellow, white or pink gold but, do take a moment to read these notes. The gold color is largely based on personal choice, however you should give a thought to gem color before making a decision. The light blue color of aquamarine shows up well in white gold rings. A yellow gold claddagh ring with aquamarine, will set the warm yellow metal against the light blue color of the gem - this does appeal to many jewelry lovers but, plays down the gem color to a certain degree. Pink and blue have made fashion headlines quite often, and might be an interesting thought for your aquamarine ring too - consider a pink gold claddagh gem stone ring with an aqaumarine stone. As far as gold karatage for the gold ring is concerned, you can pick 14k or 18k gold in all three gold color options.
The spurt in demand for sterling silver jewelry might have been partially triggered by the steep increase in gold prices but, silver now seems to have impressed even the knowledgeable jewelry lover. Many 925 silver jewelry buyers today, appreciate the timeless elegance of 925 silver and truly respect the precious metal. This can be seen in the popularity of Claddagh365 silver rings. A 925 silver aquamarine claddagh ring will be priced moderately as compared to it's gold counterpart. And do not worry about cleaning tarnish that could form on the silver aquamarine ring, the gemstone is not affected by the use of recommended silver polish lotions, sprays and fabrics. We do offer options for white rhodium, yellow gold or rose gold plating on our silver claddagh rings but, would like to make one fact very clear. Any kind of plating done on 925 silver jewelry will have a temporary lifespan, it will wear off after a while. We expect you to wear the claddagh aquamarine silver ring for a very long time, it is therefore recommended that the 925 silver claddagh ring be left unplated.
Claddagh365 Rings: We craft fine claddagh rings in gold and sterling silver. You pick the gem for your ring and your choice need not be limited by what you see on our websites. Each claddagh ring is given complete attention by some of the finest jewelry craftsmen and artisans. After completing an intense study into the history and meaning of the claddagh ring, we have ensured that the entire team has a thorough knowledge of the significance and tradition attached to the ring. We craft claddagh rings for men and ladies and the ring is available in all ring sizes. Your claddagh ring can be designed and made with or without a gemstone in the center.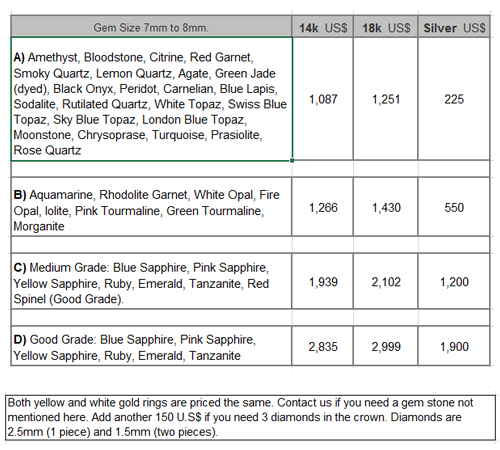 Pricing For The Aquamarine Ring
This gem option is priced in the (B) group of gemstones shown in the price table. We accept payment through Paypal and Western Union but, do not recommend Western Union for first time buyers. Production will be 4 weeks from the date of order confirmation and receipt of payment. Email us at sales@claddagh365.com with your gem preference, metal choice of gold or silver and also the ring size that you require.
Shipping is through FEDEX and the shipping charge is 35 U.S$ for upto 5 rings. Let us have your preferred mode of payment and we will provide details for the same.