Claddagh Ring With Sapphire Gemstone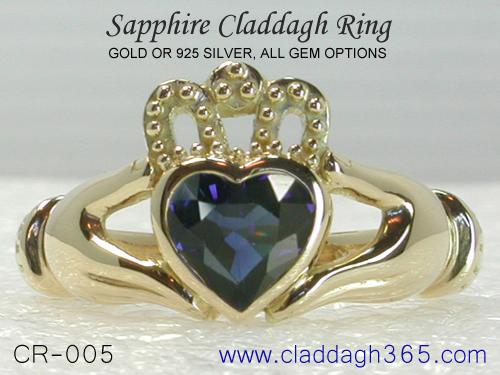 Sapphire needs no introduction, it is one of the earliest precious gemstones that was highly sought after. Sapphire like ruby, belongs to the corundum mineral family, gems from this family are known for their graceful beauty and rarity. It is these two traits of sapphire that, allows it to demand a premium price. The claddagh365 sapphire tanzanite claddagh ring shown above, is shown with a blue sapphire gem - interestingly it was once thought that, all sapphires were blue in color. While gem and jewelry traders generally specify the color of a sapphire gem to provide a proper description, referring to a sapphire without any color descriptor generally implies a blue sapphire. Keep in mind that, we can craft a gold or 925 silver sapphire claddagh ring for you with the gem color of your choice. Sapphire colors which are popular include, white, yellow, pink and blue.
Talking about a sapphire claddagh ring would always be exciting once you understood the background of the claddagh ring. The claddagh ring originated in Ireland, the first ring was made about 4 centuries ago by an Irish slave named Robert Joyce. The young man was a humble fisherman by profession. It was an aggressive raid by pirates on his boat that, resulted in Robert being sold as a slave to a wealthy goldsmith. Bearing the mental and physical agony of being a slave, started to take their toll on him. Nothing besides, the thought or dream of one day being reunited with his beloved, could give Robert Joyce the strength to carry on. He tried to keep himself in a positive frame of mind by, making a special jewel for her. Fortunately for him, he was released from slavery after a few years. He rushed back to his small village carrying the jewel that he had made for his beloved. You can well imagine his joy on learning that, she was still waiting for him. He gave her the jewel, the ring came to be known as the claddagh ring - named after the small fishing village (Claddagh) in which Robert lived. The couple were soon married and lived happily ever after.
Specific features in the claddagh ring give the jewel it's meaning and significance. Take a look at the CR-005 sapphire claddagh ring shown on this page, notice the features incorporated into the ring. The heart, hands and crown in the ring are essential features that impart amazing meaning and significance to the jewel. Remember that Robert Joyce made the first claddagh ring with the dream of presenting it to his beloved one day. The features in the jewel represent his true feelings for her, the ring is more than just style and bling. The heart revealed his true love for her, the hands held the heart to show togetherness and friendship, the crown had nothing to do with royalty - it symbolized loyalty in love. It is not uncommon for the claddagh ring to be referred to as the 'heart and hands ring', or the 'hands holding a heart' ring. Four centuries after a humble slave crafted the first claddagh ring, Claddagh365 replicates the jewel in it's entirety, respecting every single feature we are proud to create the world's finest rendition of the historic jewel.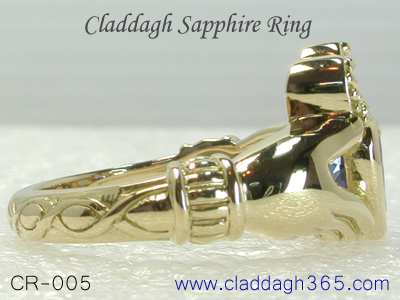 While we can craft a gold or 925 silver claddagh ring for you without a gemstone, we urge you to retain the gem as it adds both meaning and beauty to the jewel. The claddagh sapphire ring comes with an option where you can choose a medium grade or good grade sapphire gem. Being an expensive gem, the sapphire grade that you choose will reflect on the final price tag. The image on this page shows the claddagh ring with a good grade sapphire gem, you can expect a medium grade gem to have a much darker color saturation and a few more natural inclusions. It is important to understand that, irrespective of the gem grade chosen, you will always get a natural sapphire gemstone for your ring. We could do this ring for you with a synthetic (man made) sapphire but, we will need to be absolute certain that you are aware of that fact. Ideally, we would try to fulfill your budget requirement within the range of natural sapphires - our support experts will discuss details with you when the situation arises. Before you push your finances to accommodate a good grade gem for your sapphire claddagh ring, here is some advice. In most cases, you should be fine with a medium grade sapphire gemstone. Our world wide reach as far as gem procurement and custom cutting is concerned, ensure that gem quality is always the best for the price paid. At the same time, there is no reason why you should not choose a good grade sapphire for your claddagh gemstone ring if your budget permits.
Your claddagh sapphire ring can be ordered in gold or sterling silver, both metals are given equal attention and craftsmanship by our artisans. You might be accustomed to seeing low quality gems reserved fro 925 silver jewelry but, that is not have we handle our production. The standard for medium and good grade sapphire is maintained for both gold and silver sapphire rings. If you prefer to choose a yellow, white or rose gold sapphire claddagh ring, make a selection from 14k and 18k gold. For the silver claddagh ring with sapphire gemstone, you can request for a white rhodium, yellow gold or pink gold plating. We will however suggest that, your sterling silver claddagh ring be left unplated. This is because, any plating done on silver jewelry will wear off after a while. Tarnish on silver jewelry is easier to polish away if, the jewel is unplated.
Claddagh365 Rings: Our claddagh rings are custom made in gold or silver, both metal options receive the same level of craftsmanship and gemstones. With a thorough research into the history and tradition of the claddagh ring having been conducted by our team, we can proudly claim that our claddadgh rings include all the essential of the first ring made almost four centuries ago. We also provide claddagh rings that are crafted entirely in metal with no gemstone, let us know if you have a specific requirement for such a ring. You can choose the gemstone for your ring and need not be limited to what you see on our website. We are well connected to all gem mining locations across the globe, this ensures that we have all details of each gem including treatments (if any) applied etc.
Pricing For The Sapphire Claddagh Ring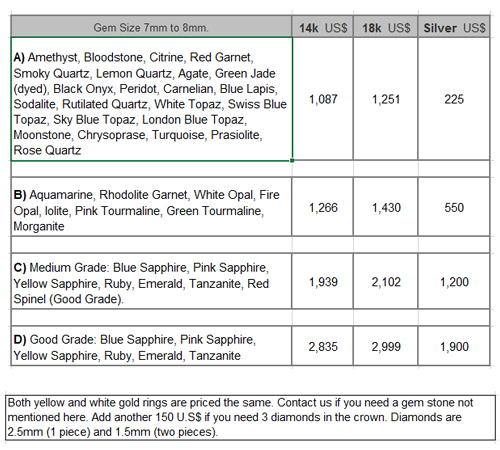 The price details for the sapphire gem option can be seen in the C) and D) gem groups of the table. You can choose a yellow, pink, green or blue sapphire. There are two grades of sapphires to choose from and the price depends on the grade. The CR-005 sapphire ring shown on this page, has a good grade blue sapphire gem. Choose the sapphire grade based on your budget as, you will be fine with a medium grade sapphire in most cases.
Production is 4 to 5 weeks from the date that we receive payment. While we accept Paypal and Western Union as modes of payment, we recommend Paypal for first time users. Let us know your preferred mode for payment and we will provide details for the same.
Shipping will be through FEDEX with web tracking, please add another 35 U.S$ to the price to handle the shipping charges. Do contact our support team at sales@claddagh365.com with any doubts or questions that you might have.