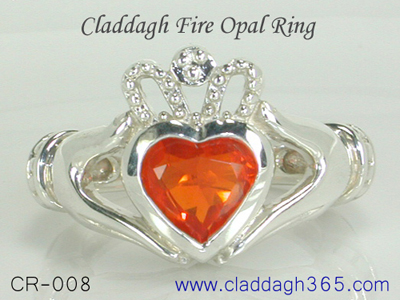 If you look at the original meaning of the word Claddagh, you would find that it was the name of a small fishing village in Ireland. While this village has today transformed itself into a well planned and equipped town, it was a simple village with a lot of natural beauty about 4 centuries ago. We mentioned four centuries ago for a very specific reason. Many people who look for the meaning of the word 'claddagh' do not imply the name of a village, they refer to a very special ring - the claddagh ring that was first made around 4 centuries ago. In this report we will understand the importance and meaning of the claddagh ring. This jewel was first made by a humble fisherman turned slave named, Robert Joyce. The young man lived in the Claddagh village, he would often set sail along with his friends to catch fish on the high seas. Remember that we are talking about the very old days when slavery was common and human life could be bought and sold. One eventful day, the boat on which Robert and his friends were sailing was attacked by pirates. Besides losing all their belongings, the fishermen were captured and sold as slaves. Robert was 'bought' by a wealthy goldsmith and forced to learn the trade from his master. Fighting to keep a positive attitude, the young fisherman decided to make something for his beloved who lived in the Claddagh village. The idea of doing this was to keep the hope of being a free man one day alive.
When Robert was freed from slavery after a few years, he headed straight for his village carrying the 'thing' that he had made for his beloved. He was truly happy to learn that she was waiting for him after all this while. He gifted her the thing that he had so carefully made for her, it was a ring with some very unique features. The ring came to be known as the claddagh ring and depicted a center heart with two hands holding the heart. On top of the heart was a crown that symbolized loyalty - between him and his beloved. The hands symbolized togetherness and friendship and the heart showed love. While this was not the only heart ring in those days, it was the meaning of the jewel that impressed people. The relevance of love, friendship and loyalty is universal, it is not restricted to Ireland or to any specific individual. The love denoted by the claddagh ring need not always imply a matrimonial relationship, it could be love between mother and child or even between sisters and close friends. It is rightly said that the meaning of the claddagh ring is embodied in the main features of the ring - the hands, crown and heart. You might come across references to this ring with terms like 'hands and heart ring' or 'hands holding heart ring'.
Claddagh365: We are honored to be one of the finest sources for claddagh rings. Our design and product development unit has spent many months learning and understanding the tradition and significance of the ring. The research yielded valuable information that was used to define the design and features of our ring. You can rest assured that all our gold and 925 silver claddagh rings retain and respect all the features incorporated in the first ring made many centuries ago. We give you an unlimited choice for gem options and you need not limit your selection to what you see on our website. The CR-008 ring shown on this page is a custom claddagh ring with fire opal gemstone.
The Table Below Will Give You An Idea For The Pricing Of Our Claddagh Rings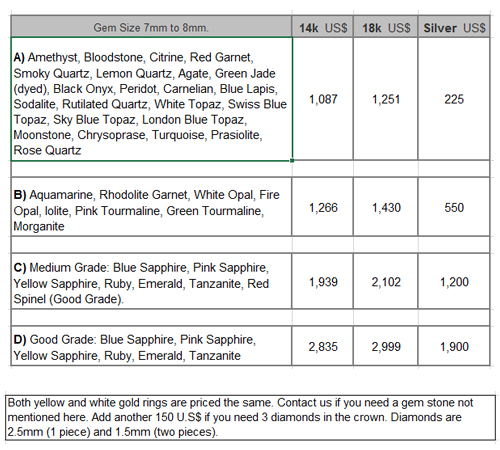 We can custom make your claddagh ring with the gemstone of your choice even if, the gem does not list in the adjacent table. Just email us your requirements and questions at sales@claddagh365.com and we will get back to you with specific details.
Since we custom make each jewel, and custom cut every gemstone, the production time is 4 to 5 weeks from the date of order placement and receipt of payment. Shipping is through FEDEX and there is a shipping charge of 35 U.S$ for upto 5 rings.
Payment is accepted to Paypal and Western Union, we recommend Paypal for first time buyers. Let us know which mode of payment you prefer and we will email details for the same.