Claddagh Ring With Emerald Gemstone
FINE CUSTOM JEWELRY, YOUR CHOICE OF DESIGN AND GEMS - GOLD OR STERLING SILVER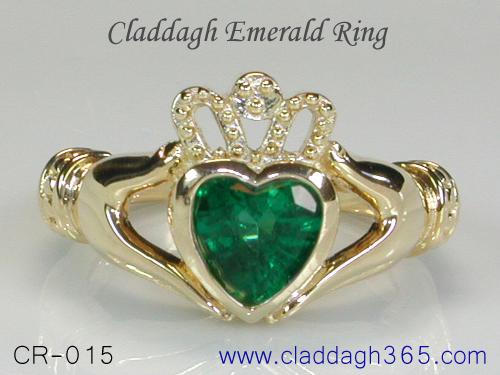 The mineral beryl has contributed some absolutely stunning gems to the realm of fashion and style. Talented jewelry designers need to be grateful for these contributions as these gems, are often studded in expensive and flamboyant jewels. A greenish-blue beryl is named aquamarine and the pale pink variety of beryl was given the name morganite. You then have the rare red beryl which is referred to in the trade as bixbite and the timeless emerald which happens to be the the blue-green to green incarnation of beryl. Emerald has a history that goes back to a few thousand years, it was then the privilege of the royals and powerful. Interestingly, traders and buyers at that time tried to identify gemstones merely by color - this was the reason why peridot and a few other gems got wrongly classified as emerald. It is widely reported that many of Cleopatra's favorite 'emerald' jewels turned out to have peridot and not emerald! Modern science and the development of gemology, leaves little room for error in our times.
The emerald claddagh ring is a jewel that you will cherish forever, and there are many reasons for this. The gemstone itself is gorgeous, it is rare and it has some tremendous tradition attached to it. Setting this historically known gem in the centuries old claddagh ring, enhances the significance of the gem and the ring itself. The story of the claddagh dates back to around four centuries, it is a touching tale of love, sacrifice and loyalty between two humble people. A small fishing village in Ireland was named Claddagh, a young fisherman by the name of Robert Joyce lived in the village a few centuries ago. One day the boat in which he went fishing was captured by pirates and all the inmates were sold as slaves. Robert was bought by a wealthy goldsmith and worked hard for his master. He kept thinking of his beloved who lived in Claddagh village - all that he could do was dream that he would one day be free and meet her again.
As time went by, the young man grew increasingly depressed since the chances of his being released from slavery seemed to be nothing more than a dream. It was then that he decided to make something for his beloved, this he hoped would keep in a positive frame of mind. Robert used his newly acquired skills and started making a ring for her, he hoped to give it to her when they would meet again. He wished to capture his true feelings for her in that ring. Many years later, he did get a chance to be reunited with his beloved - he was released from slavery. On reaching his village, he rushed to meet her and was thrilled to know that, she was still waiting for him. He gave her the ring and they were soon married settling down to spend the rest of their life together. The ring was named the Claddagh Ring, after that small fishing village. The ring was a simple gift from a humble man to his beloved, what immortalized it were the true feelings depicted by the interesting features of the ring. The hands symbolized togetherness and friendship, the crown showed his loyalty towards her and the heart depicted love.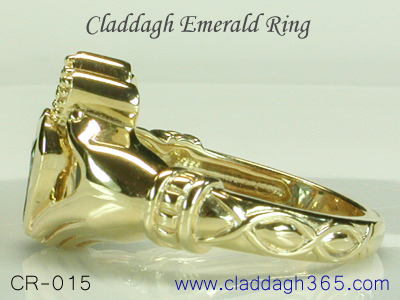 The Claddagh365 emerald claddagh ring is designed to retain all the essential features of the first ring that was made centuries ago. By conducting a thorough research into the history and meaning of this meaningful ring, our experts actually feel and understand the sentiments showcased in the ring. Besides retaining the complete significance of the ring, we have further enhanced the beauty and significance of the jewel. The first claddagh ring made by Robert Joyce was all gold, there was no gemstone in the center. Our ring offers you an unlimited selection of gems to choose from and gems, add beauty and meaning to jewelry. You could choose the gem based purely on color or go a step further and look for the metaphysical properties of the stone. Getting more specific about the gem in this claddagh emerald gemstone ring, here are some interesting attributes that have been credited to emerald for thousands of years. Emerald is believed to encourage true love and this love, is not just about husband and wife or girl friend and boy friend. People believed that wearing an emerald attracted good fortune and drove away negative energies. Like most green gems emerald, is supposed to encourage relationships and even help mend broken or strained relations. In the old days when modern medicine was unknown, crystal healing recommended emerald for those who showed signs of a failing memory. You could find another dozen 'benefits' that emerald was supposed to bring to it's wearer but remember that, all this is just about folklore and science has never managed to test and confirm any of these properties. And if you do not wish to go back that far in time and history let's talk about the gemstone in our times - emerald happens to be the May birthstone. You could also celebrate an important anniversary by gifting or buying for yourself an emerald claddagh ring, emerald marks the 20th and 35th Anniversaries.
Emerald Gemstone: Much of the detail above described the various features of the emerald ring and yet, there is so much more that we wish to tell you about - here are some important facts about emeralds. When you hold an emerald in your hand, you need to marvel a creation of nature that, took millions if not billions of years to form. During this long period of formation it is quite likely that, the temperature, pressure and even atmospheric conditions went through drastic and probably cyclic change. The gem bravely puts up with these naturally existing conditions and variations - you can get an idea of what the gem has gone through by, observing the inclusions and fissures that exist within the stone. Fortunately, these are ALWAYS present and visible in emeralds, gem lovers refer to these characteristics as birthmarks. For centuries man has soaked emeralds in natural oils, the oil seeps into the fissures and adds an interesting soft luster to the stone. So when you decide to pick a gold or 925 silver emerald claddagh ring, keep two very important things in mind. The first is that, the gem will have natural inclusions and fissures, a gem that has fewer of these will cost more but, the idea of a flawless and eye clean emerald stone is a myth. The second important thing to keep in mind is that, all emeralds are treated with natural oils, even the highly guarded precious stones that are preserved in prominent museums will periodically be taken out and oiled.
Caring and Cleaning: The contents in this paragraph are relevant to all emerald gems and jewelry irrespective of where you get them from. It is sad that most jewelers choose to remain silent on these facts but, we wish to ensure that you enjoy owning and wearing your emerald claddagh ring for a very long time - so here are some tips and suggestions. Emeralds should not be exposed to heat or strong solvents and chemicals, remember that the oils used to treat the stone add to it's beauty and luster. You do not want to do anything that will destroy or dry up those oils. Make sure that you do not wear your gold or sterling silver claddagh ring when doing heavy physical activity like repairing the car or mending the fence. Keep the gemstone and ring away from situations where they can be struck by physical force. Do not soak an emerald in water and do not try to clean emerald gems or jewelry in an ultrasonic cleaner or vibrator. If cleaning your claddagh emerald ring requires anything more than a small bowl of clean water, a soft brush, a piece of clean soft cloth and a few drops of very mild soap - give up the idea of doing the cleaning operation on your own and seek the help of a professional jeweler. When not worn, store your emerald gemstone ring in a safe place, a jewelry box that has a separate padded compartment for each jewel is the best option. Bundling jewels together is not a good ideas as the pieces can get scratches and scratch each other.
Claddagh365: Our claddadgh rings can be ordered in gold or 925 silver and both metal options are invested with the same quality of craftsmanship and gemstones. Since each claddagh emerald ring is fully custom made with handpicked and custom cut gems, we can cater to all size requirements. As the price table shows, we provide two options for emerald grades, both grades offer natural emeralds and the better grade will show fewer inclusions and fissures. The image of the claddagh ring with emerald on this page is shown with a good grade emerald stone. In most cases you should be fine with a medium grade emerald for your ring but, if your budget permits do go for the good grade stone. For the silver emerald heart ring, we would recommend that you do not request for any plating to done mainly because, all plating done on silver will come off after a while. It is fairly easy and convenient to clean and polished a tarnished silver ring that was never plated.
Pricing For The Gold Or Silver Emerald Claddagh Ring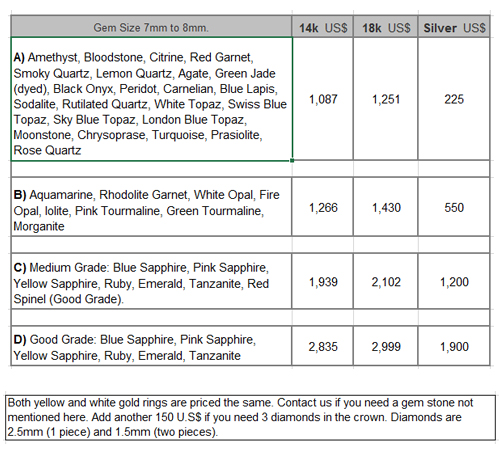 The price for the emerald claddagh ring can be seen in the gem groups marked C) and D) in the price table. You should be fine with the medium grade emerald in most cases but, if your budget can manage the good grade stone, choose it by all means. The CR-015 image shows the good grade emerald gem.
Production is 4 to 5 weeks from the date of receipt of payment. We accept Paypal and Western Union as modes of payment but, do not recommend Western Union for first time buyers. Let us know your preferred mode and we will provide details for the same.
Shipping is through FEDEX with web tracking and there is an additional shipping charge of 35 U.S$. Do contact our team of experts at sales@claddagh365.com for any questions or requirements that you might have.