Black Onyx Gemstone Jewelry For Men
Men love black onyx and this can be seen in the wide range of black onyx rings, pendants and even cuff links that dominate the offerings for men's jewelry. With the basic understanding that, men prefer dark gemstones it might seem obvious that this black gem casts it's spell on men. When you think about dark colors, you could not expect anything to compare with black after all. While common logic might explain why men prefer dark gems, we would like to put black especially black onyx, on a different level. Move away from men's jewelry for a moment and think about the number of men's suits, tuxedos, waist belts and shoes that are bathed in black. So while black is quite prominent in men's clothing and accessories, you do not see men go all black do you. They contrast these with probably a white shirt or a pale blue shirt or even a pastel pink shirt, you might see black shoes contrasted with white socks. It is quite common to see a white silk or linen handkerchief popping out of a man's black suit. So then what we can safely conclude is that, men seek contrast in what they wear.
With men's black onyx jewelry, the desire for color contrast is quite easily accomplished by the metal that complements the black gemstone. Silver, platinum, palladium and white gold are all white - and the black-and-white contrast is clear and bold. Choose black onyx yellow gold for men's jewelry and the contrast between the yellow metal and the black onyx stays right there - probably a tiny shade warmer. And though men's pink gold jewelry has entered the mainstream of men's jewelry, the metal would not place any obstacles to the color contrast between metal and black stone either. What this means is that, men's black onyx jewelry with just about any metal option would satisfy the primary requirement that men seek from their jewelry - a stark color contrast.
We are not aware if men think as deep as we jewelry stylists do but, here is another winning situation that black onyx finds it's way into. Imagine, a dark, opaque black gem set in a metal that has to be surely very much lighter than the stone, this jewel would look stylish and groomed on just about any skin tone. Most black onyx jewelry for men is crafted with smooth (cabochon) cut onyx gems, there is opacity and no inner facets or visible inner inclusions to distract. The light that hits the stone from upfront need not enter the stone and do those reflection and refraction stunts, it just confidently echoes off the surface of the stone. This subtle attention puller reminds you of a successful man, confident, quiet and organized.
Claddagh365: We can custom make all types of men's black onyx jewelry and you can pick our designs or send us your own ideas. Since every gem is carefully selected before being custom cut, you will not need to restrict your choice of gemstones to what you see or read about on our website. Both gold and 925 silver jewelry are given the same meticulous attention to quality and fine craftsmanship. Our experts at sales@claddagh365.com would love to hear your questions and requirements. Do communicate with them as they will be glad to share our expertise without, pushing you into making a purchase from us.
Below are some ideas for men's gold or 925 silver black onyx gemstone jewelry. Keep in mind that there are no limitations on metal, design, dimensions or gemstone when you work with us. You could send us your design sketches or images or just, pick a jewel from our website and request for it to be made in gold or 925 silver with the gemstone of your choice. And since we custom make every single jewel and custom cut every gem, requirements for design modifications can always be accommodated.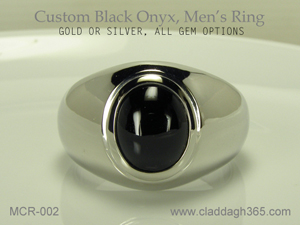 A handsome men's black onyx ring, fine craftsmanship and a handpicked oval black onyx gemstone. Your search for a quality silver or gold black onyx ring for a man ends here since, we provide the same detailed attention and craftsmanship for both gold and 925 sterling silver jewelry. This black onyx ring has a good metal weight something ensuring that, the jewel will retain shape and form for a very long time. The oval black onyx stone does not protrude significantly from the surface of the ring, this is a researched feature that reduces the chances of the stone hitting against hard surfaces or objects and getting damaged. Since all men's onyx jewelry is fully custom made, you can request for a solid band where metal is not scooped out from inside the band. Based on your ring size, we will let you know if this, calls for an additional investment in metal. Onyx like many other gems has a long tradition of folklore and ancient beliefs attached to it. If you choose our men's onyx ring with any such belief, you might want to request for the black onyx in your ring to touch the finger from inside. Believers in crystal and gemstone healing often believe that, a direct contact between skin and gem enhances the properties of the stone. While we do not suggest that our gems have any special powers, we can accommodate requests for the gem to touch the finger skin. We have compiled a report with all options, prices and other details for the MCR-002 men's ring here.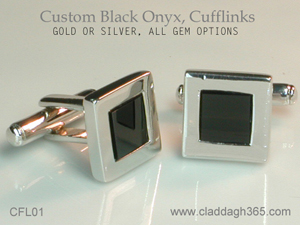 For those of you who wish to buy a pair of cuff links for yourself or as a thoughtful gift, black onyx in gold or 925 silver makes a great choice. The confident look and appeal of sterling silver has always impressed men and this is proved, by the large number of men's silver onyx cufflinks that we craft each year. The gem contrasts with all metal colors and this implies that, your black onyx cuff links will match a wide range of wardrobe members. The design concept for these custom cuff links is neither too formal nor unusually casual, they would be a perfect accessory for any occasion or event. And just in case you had some other design or gem shape in mind for your black onyx cuff links for men, do email us the details as we can custom make just about any jewel or accessory for you. For the men's gold cuff links you can choose from 10k, 14k or 18k gold and state your preference for white, yellow or rose (pink) gold. We would recommend that, the silver onyx cuff links be left unplated, this will make them easy to maintain, clean and polish in the long term. While we can provide gold plating in all three gold colors for the silver cuff links, you should know that any plating done on silver wears off after some time. Remember that both gold and silver are precious metals, they help raise the standard of any accessory that is deigned and crafted with them. Stainless steel might be cheaper but, the value associated with them is quite low. Find more details for these men's cuff links here.