Men's Gold And 925 Silver Rings
CUSTOM MADE WITH YOUR CHOICE OF DESIGN, GEMSTONES AND METAL
A decade ago you might not seen much information related to men's rings. Those were the days when men were either not interested in jewelry or not interested in what type of jewelry they wore. Jewelers were so confident that men would buy 'anything' that, they cared little about product development, they also presumed that quality of craftsmanship was unimportant when it came to rings for men. It was a few quality conscious websites like ours that, made men aware of what they deserved and should expect. The shift in attitude of men was dramatic, design elements, durability and even gemstones became important as men started to choose and pick. Many jewelers were unable to morph their men's rings segment to this new trend, they gradually withdrew from the scene. The scenario is different today, men have more knowledge about gemstones, designs, metal options and other aspects of their jewelry. We can confidently state that a well informed buyer is the starting point of a jeweler's success too. At Claddagh365 we feel honored to work with men who know what they want and men that are particular about quality - such men quickly appreciate our emphasis on quality and high standards, they realize that cheap jewelry always compromises on quality of material and craftsmanship.
Claddagh365: We craft mens gold and 925 silver rings with your choice of design, metal and gemstones. Our meticulous attention to detail and quality ensures that, men's gold and 925 silver rings get the same standard of craftsmanship and gemstones. The men's plain and gemstone rings that you see on our website are just a small collection to inspire your imagination. You can pick an item from our website and request for modifications or, go something exclusive and unique by send us your design sketches or images. Men's gold rings can be crafted in 14k or 18k gold and you can choose any of the three gold colors namely, white, yellow or pink. For mens sterling silver rings, we suggest that they be left un-plated because, no plating done on silver jewelry is permanent - all plating will wear off after a while. Do email our support experts at sales@claddagh365.com for any requirement or doubt that you might have. You need not place any order with us to get the benefit of our expertise so, go ahead and communicate with our team.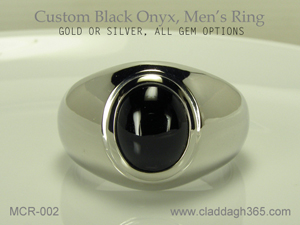 A men's black onyx ring with style and durability, this custom mens ring is set with a 12x10mm oval onyx gem. As usual, you can request for this ring in gold or 925 silver and select the gemstone of your choice. With dark gems always being popular in men's jewelry, black onyx has always impressed men. Shown with a smooth cabochon cut gem, this men's ring can also be ordered with a faceted gemstone. By assigning a healthy metal weight to this ring, we have ensured that the jewel retains shape and form even with frequent wear. We can also custom make an onyx men's ring for you with your own design concept or idea. Since the ring can be fully personalized, it is possible to request for a smaller or larger gemstone for your ring. If you believe in the metaphysical properties of gemstones and prefer to have the onyx gem touch your finger skin from inside, do mention this when ordering the ring. Since we custom cutevery gem for our men's gold or 925 silver rings, we can cut the gem in such a way that the bottom touches the finger skin. Read more details for this onyx gem stone ring for men here.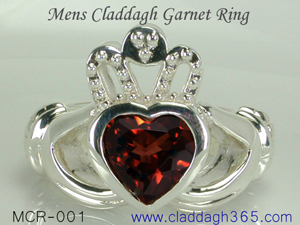 Not many of us would believe that a heart ring would be suitable for a man, after all heart jewelry has always been the domain of women's jewelry. The claddagh ring by virtue of it's historic significance and deeper meaning, can be worn by ladies and men. While the features of the men's claddagh ring would not differ from those present in the ring worn by ladies, it is the overall dimensions and gem size that can differentiate the two jewels. Backed by a thorough research into the history and significance of the first claddagh ring made around four centuries ago, Claddagh365 is credited with crafting the finest rendition of the claddagh ring. You can order your men's claddagh ring with the gem stone of your choice and in gold or 925 silver. If you are one of those men who really not care much for gemstones, we have a version of the claddagh men's ring just for you, the ring is crafted with a metal heart in the center and therefore does not include any gemstone. There is no limit on the gemstone choice for our men's rings as, we can procure any gem required even if, it is not shown or mentioned on our website. Get to know more about this impressive men's heart ring here.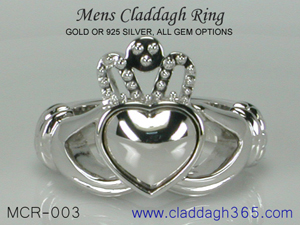 Men's rings with no gemstone offer some advantages when it comes to wearing and cleaning the jewels. You obviously need not worry about the gemstone getting scratched or chipped through physical impact when, the ring has no stone at all. Some gems might require special care when it comes to being cleaned and stored too for example, emeralds should not be soaked in water for a long time. Some men feel that the absence of a gemstone not only makes the ring a bit mundane but also, steals a degree of meaning from the jewel. One very good suggestion for a ring for men with no gem is to pick a concept that, has some meaning within itself - without the need for a stone. This is where we would recommend a men's plain gold or sterling silver claddagh ring with no gem stone. When we talk about a claddagh ring for a man, we refer to one of the most meaningful jewels in history. This amazing ring with a very touching story dates back to over four centuries and conveys love, friendship and loyalty through it's features. The underlying significance of love as depicted in the ring is not limited to matrimonial affairs, it is a ring for all occasions, read more right here.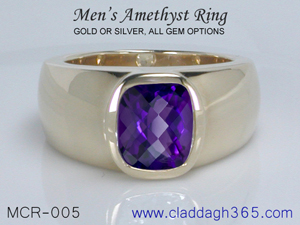 A men's ring that defines quality for men's jewelry. The MCR-005 amethyst gemstone ring for men has a design that, would look tremendous in any metal that you choose. For those of you who happen to be looking for a big amethyst ring, the MCR-005 will not disappoint. A large 11x9mm cushion shaped amethyst gem sits in the center of a hefty, well crafted gold or 925 silver band. The multi-faceted cut for the gemstone shown in the image, is a specialized checkerboard cut. While some of you might love the unique look of the gem, others might feel that it is too much of an attention grabber. You can request for the same amethyst men's ring with a gem that, is cut and faceted the conventional way. With fine quality and custom cut gems being common to men's gold and silver rings, the choice of metal is an easy decision for you to make. We provide a high degree of customization that few jewelers can match, this means that we can accommodate requests for all design modifications. And when it comes to a choice of gemstones, our massive gem procurement network ensures that you are not limited to the gems seen on our website, get complete details for the ring ... here.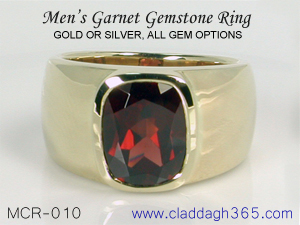 A tremendous garnet gemstone ring for men. Red garnet offers an ideal balance between, price, durability and impressive looks. Like all our men's garnet gemstone rings, the MCR010 gold or silver ring for men, is also set with a custom cut natural red garnet that, has not been treated in any way. With most gems being treated to enhance their appearance these days, an untreated gemstone holds special importance for a knowledgeable gem or jewelry buyer. We have invested a hefty metal weight in this garnet men's ring, the idea is to make it tough and long lasting despite, the big dimensions of the jewel. For those of you who wish to have a garnet other than a red garnet, in your men's gold or silver ring, discuss your specific requirements with our team. We might briefly tell you that spessartite (orange and reddish-orange), tsavorite (green) and demantoid (green with high glitter) are clubbed in the 'expensive' category of garnets. An interesting alternative for the red garnet that remains affordable is the, hessonite garnet. This gem has a yellowish brown color and is best seen when it has a 'dark honey' color tone. We can craft your men's garnet ring in gold or 925 silver with a hessonite garnet at the same price, as the red garnet. Learn more about this handsome men's garnet ring ... here.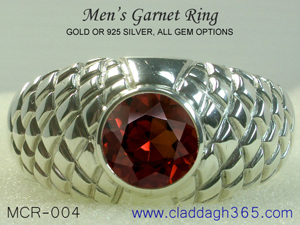 The MCR-004 men's garnet ring is a complete chapter in style, workmanship and durability. The story begins with a handpicked and custom cut 8mm round garnet gem, the stone is left untreated and is not enhanced in any way. Remember that most gems in the trade are today treated to make them look better. By procuring rough garnet directly from miners, we ensure that there is no possibility of the stone being put through any form of treatment. While you get impressed with the appearance of this men's ring, we have spared no effort in incorporating some truly advanced features into the jewel. Realizing that most of you would be leading a very hectic lifestyle, with little time to fuss over your jewelry, we have picked a healthy 20-22 grams metal weight for this garnet men's ring. And very large ring sizes will be crafted with additional weight. The good weight along with a secure and firm bezel setting for the center gem add a significant level of durability to the jewel. Prong settings tend to pose a problem as they could gradually open up when, they get stuck in pockets and other places. The Claddagh365 commitment to quality is retained across both gold and silver jewelry and we realize that, sterling silver has always impressed men. Jump right to the details for this ring here.