Topaz Gemstone Claddagh Rings
Topaz is an interesting gem that is found in a range of colors though, blue and white are the most popular and moderatly priced topaz colors. Blue is one color that has always remained in the limelight, this is true of clothes, cars, and product colors and surely gems. It is probably the prominent presence of blue in nature that, has made us always appreciate the color. Topaz is hard enough to be set and worn in all types of jewelry, it does not need too much or care and fuss. The Mohs scale that rates the hardness of gems awards an impressive 8 (out of 10) to topaz. For it's transparency, impressive color and good hardness - blue topaz is priced quite moderately. You can also expect that the gem in your blue topaz ring will be transparent and eye clean. It might seem a bit ironic that, blue sapphire another well known blue gem that costs at least 50 to 100 times more than blue topaz, is rarely without any blemishes.
We are often asked whether a gold or 925 silver topaz ring would serve as a birthstone ring for the month of December. Some jewelers have bravely clubbed blue topaz along with tanzanite, blue turquoise and blue zircon which are all designated as December birthstones. In our opinion, there has never been any official report that, announced the addition of blue topaz into the December birthstone list. Having said that, we would suggest that you pick a gem that suits you the best, the one that makes you feel good and positive. Some critics argue that, trying to contain all people born in a month to one single (or a few) gemstone is highly illogical. The debate can go on, all we would say is that, topaz is a fantastic gem and should be present in every stylish jewelry collection.
So what are the other colors in which topaz can be found, can you pick one of those colors for your claddagh topaz gem stone ring. Firstly, you should know that in recent years laboratories have been treating topaz to deliver some fascinating colors - the sad thing is that this treatment is highly unstable and unreliable. The process involves depositing a very thin layer of color on white (colorless) topaz. Since the coating is so very thin, it can easily come off when the stone is scratched re-polished or cut. We can tell you from our decades of gem sourcing experience that, pink topaz is rare and expensive but, you will come across gorgeous pink topaz gems and jewelry that is really not expensive - so what is the catch. Most jewelers especially the big ones who can get away with anything, sell coated pink topaz as pink topaz, they include a small message somewhere in the notes mentioning that the stone is only surface coated. Now if you come to naturally found pink or yellow topaz, the gems are expensive though we can procure and custom cut one for your topaz claddagh ring. You can email us at sales@claddagh365.com with your requirements and we will get you details about availability and pricing.
The standard pricing table for our gold or 925 silver topaz claddagh rings cover, white topaz, sky blue topaz (light), swiss blue topaz (bright) and london blue topaz (dark). However, we can custom make your claddagh rings with the gemstone of your choice, so let us know what exactly you require.
Claddagh365: We custom make gold or 925 silver jewelry and allow you to choose the design, gemstones, metal and dimensions for your jewels. We are rated as one of the top providers for the ancient claddagh ring as our claddagh rings, retain all the essential features and meaning of the first ring made almost 4 centuries ago. When you order your jewelry from us, do not restrict your gem selection to what is imaged or written on our website. With a gem procurement network that extends to every mining location in the world - we can procure and custom cut just about any gem that you need.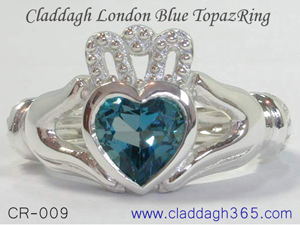 This elegant claddagh blue topaz gem stone ring is shown with a dark blue topaz gem. In the gems and jewelry trade, this shade of topaz is referred to as London Blue Topaz. You can order your topaz claddagh ring in gold or 925 silver. The gold london blue topaz ring, gives you the option to choose white, yellow or pink gold. We would suggest that you leave your topaz silver claddagh ring un-plated because, any type of plating done on silver jewelry comes off after a while. Since each ring is fully custom made, you can request for the ring size that you need. A great way to personalize your topaz heart ring is to, request for an etching to be done inside the band of the ring. The etching can be a short name, a date that is meaningful to you or a combination of text and digits. Just remember to keep the etching short so that, it can fit on the inside of the band and also be read easily. You can rest assured that your gold or 925 silver topaz ring will have the same quality of craftsmanship and gemstone. We have a full report on the CR-009 london blue topaz ring here.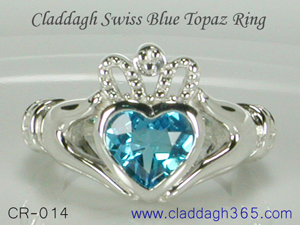 The brighter blue variety of blue topaz is called Swiss Blue Topaz, this gem just like the other shades of blue topaz looks awesome in all metal colors. The swiss blue topaz claddagh ring is crafted by very skilled craftsmen in gold and 925 sterling silver. By keeping strict control over quality standards at every phase of production we make sure that, you get fine craftsmanship and good quality blue topaz irrespective of the metal that you choose. We can provide any ring size that you need as each ring is crafted separately, these jewels are not mass produced. The touching story related to the first claddagh ring made by an Irish slave, has made the ring very popular in nations far off from Ireland too. If you wish to buy a heart ring as a gift or for yourself, make sure that you consider this amazing claddagh topaz ring. Our claddagh rings are crafted in gold or sterling silver with the gemstone of your choice. This ring is suitable for all events and occasions and you need not, wait for any special event or day to wear your claddagh gemstone ring. Review all details related to this swiss blue topaz claddagh ring here.