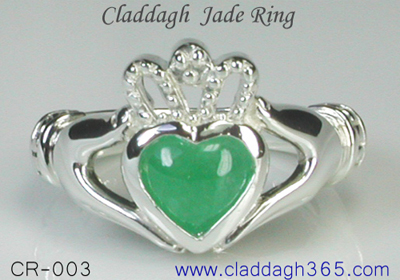 A custom claddagh ring is bound to give you more satisfaction as compared to a ready made jewel. This is not just a hollow claim but, is based on sound logic and sense. A true custom jewel should put you in command of all features and aspects of the ring, this ensures that the jewel will have all your preferences incorporated into it. It is therefore generally agreed that a custom claddagh ring is worth the wait and money spent.
Since the ring is not just picked, packed and shipped from a ready inventory - the crafting process does take anywhere from 4 to 6 weeks to complete. And what if you are in a real hurry to get a claddagh ring. We would say that a 100% custom ring is not part of your solution in that case. Lets move ahead and take this topic of custom made claddagh rings, with specific reference to Claddagh365. We claim that our rings are completely custom made, we owe you a clear explanation to support that statement. We will detail each of the features that can be customized in our ring, do take the time to read this report and understand the details.
Design: We did mention that our claddagh rings retain all the features of the original ring made almost four centuries ago. So the design would ideally include the heart, crown and hands as seen in the CR-003 claddagh jade ring shown above. Having said that, we do admit that we sometimes get requests for a 'claddagh' ring with no crown. We will incorporate any design modification that you would like to have. The gemstone in our custom claddagh rings is an enhancement that adds beauty and meaning to the jewel. We will however, be glad to provide you with a claddagh ring that is made entirely of metal (gold or silver) and no gemstone. This was how the first claddagh ring was made, so a ring without a gem would still qualify as a claddagh ring. We also have an option to set three diamonds in the crown of your custom claddagh gold or silver ring. The diamonds are of size 1.5mm (2 pieces) and a 2.5mm diamond in the center of the crown.
Ring Size: We provide options for all ring sizes and this applies to both gold and sterling silver claddagh rings. By ring sizing we do not mean, a simple hit or push operation to adjust the size of an existing claddagh ring. Each ring is crafted from start to end, the ring size is provided in the wax mold itself - the ring comes with the required size when the casting is complete. When we finalize the order and price quote for your custom claddagh ring, we clearly inform you of any additional metal weight that might be required to craft a ring with a large size.
Gemstone: Claddagh365 is not just about making claddagh rings, we also pride ourselves in being directly connected with every gem mining source in the world. Our gem experts in most cases, carefully check and compare rough gems since we rely on our highly skilled gem cutters to do the cutting process. The gems seen or mentioned on our website need not limit your selection, we can procure just about any gem that is found on this planet. We also can provide a claddagh ring that has no gemstone in the heart portion of the ring. Such a jewel would be crafted entirely in gold or silver, this also includes the heart in the center. The CR-016 Plain Claddagh Ring, is a good example of the ring with no stone.
Metal: We provide options for gold and silver for our custom made claddagh rings. The gold rings can be ordered in 14k or 18k white, yellow or rose gold. Since it is generally presumed that fine jewelry like the Claddagh365 rings, are crafted with a minimum 14k gold karatage value, you will not find the 10k gold option in our price charts. But if you wish to have your ring custom made in 10k gold, drop us an email and we will work on a price quote for you. The silver claddagh ring can be plated with white rhodium, yellow gold or pink gold or left unplated. We generally recommend that your custom silver ring be left unplated because, such a ring will be easier to clean and polish in the long term.
Etching: We can etch a short name, or numbers inside the band of your custom claddagh ring. We generally do not charge an additional fee for this work, so do consider this option. Etching a ring adds meaning to the jewel, it can also help to celebrate a specific event or milestone.
Diamonds: If you plan to get a custom claddagh wedding or engagement ring, consider the option of having three diamonds set in the crown. For this requirement, we provide a 2.5mm round diamond in the center of the crown and two diamonds of size 1.5mm (one on either side). This option will add a minor charge of 150 U.S$ to the price mentioned on the website.
Claddagh365: Since we completely custom make each claddagh ring, you can request for all design and feature changes that you require. You could even send us an image of a ring that you want custom make, we will work on a specific price quote for you. While gold and silver are the metal options mentioned on our website, you can also request for price details for a platinum claddagh ring if that is the metal that you prefer.