Claddagh Ring Gem Options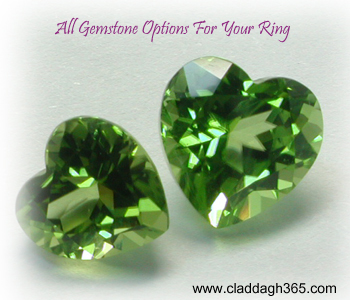 The beauty and meaning of your claddagh ring can be enhanced by choosing the right gemstone for the ring. To begin with we would like to clarify that, the first claddagh ring made by Robert Joyce around 4 centuries ago did not have a gemstone in the center. After completing a thorough research into the tradition, significance and history of the claddagh ring, we at Claddagh365 gave a serious thought related to the center of the jewel. The original claddagh ring was made entirely of gold, and this included a heart shaped gold center. It was quite likely that, jewelry in those days was purchased more as a form of investment rather than a statement of style and fashion. We strongly felt that a gemstone in a claddagh ring could make it more attractive and also, impart more meaning to the historic jewel. Remember that gemstones throughout history were given special importance due to their meta physical attributes. The beauty of gems undoubtedly added to their demand, this trend became stronger as time went by. Some of you might choose a claddagh ring for the color of the gemstone set in the ring. Belief in the special properties of gemstones exists even today, this is true across the world and this includes the developed nations too. For example, man gem lovers believe that an emerald encourages true love and loyalty between people. Carnelian a type of chalcedony is believed to bring confidence and stability to an individual. Talking about beliefs attached to gems, let's not forget the centuries old tradition of birthstones. In modern times, the definition of birthstones has become quite standardized and universally accepted. Birthstone charts list the birthstone for each month, more than one birthstone sometimes represents a particular month. For example, December is bestowed with blue zircon, tanzanite and blue turquoise as birthstones. Our birthstone claddagh rings can be custom made based on your request for gemstone and metal (gold, 925 silver and platinum).
Claddagh365: We provide an unlimited range of gems for your claddagh gemstone ring. Our website lists a few of the gemstones that can be set in both gold and 925 silver claddagh gem stone rings, but you need not limit yourself to what you see on our website. Our gem procurement capacity is virtually unlimited, we are connected to every gem mining center across the globe. Each gem that we use is procured directly from the source and custom cut by our skilled gem cutters. Since we are not restricted to any stored inventory, you always end up getting the best gem for the price that you pay. You can contact us for any specific gem requirement that you might have.
Keep these points in mind when ordering a claddagh gemstone ring from us.
- You can pick the gem of your choice.
- Gem quality is the same for both silver and gold rings.
- You are not restricted to the gems on our website.
- Gems can be certified for an additional charge.
- All gems are procured from their mining sources.
- Each gem is handpicked and custom cut by our cutters.
The Table Below Will Give You An Idea Of The Pricing For Our Gold And Silver Claddagh Rings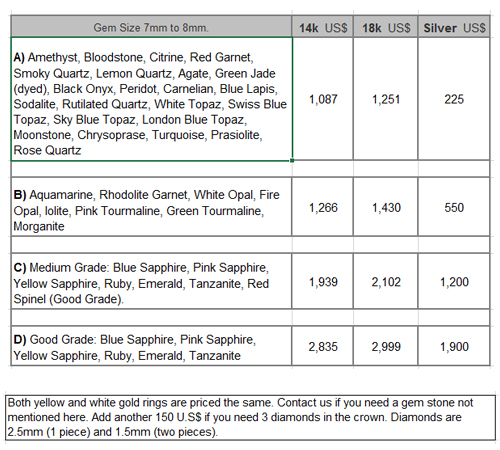 We can custom make your claddagh ring with the gemstone of your choice even if, the gem does not list in the adjacent table. Just email us your requirements and questions at sales@claddagh365.com and we will get back to you with specific details.
Since we custom make each jewel, and custom cut every gemstone, the production time is 4 to 5 weeks from the date of order placement and receipt of payment. Shipping is through FEDEX and there is a shipping charge of 35 U.S$ for upto 5 rings.
Payment is accepted to Paypal and Western Union, we recommend Paypal for first time buyers. Let us know which mode of payment you prefer and we will email details for the same.