Claddagh Ring With Moonstone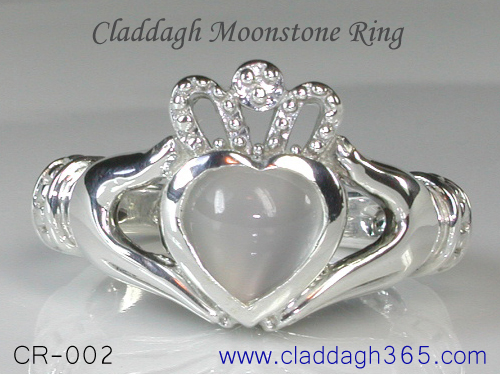 Moonstone is one gem that has a large following mainly because, it has been known for many centuries. Having said that, there are many moonstone lovers who really do not know why and how this classic gem has that, moonlight like shimmer. Before we talk more about this gorgeous gem, let us first say something about the moonstone claddadgh ring. If you have a look at the image shown above, you will notice some very interesting features in the ring. The claddagh ring is named after a small fishing village in Ireland, modernization has changed the landscape of this place but, it was once a very pretty place to live in. Claddagh365 offers the centuries old ring custom made in gold or 925 silver with the gem of your choice. Around 4 centuries ago, there lived a simple fisherman named Robert Joyce in the claddagh village. Young Robert would often sail the high seas as he went fishing along with his friends, one eventful day changed his life and this is really the beginning of the claddagh ring story.
One day, the boat that Robert Joyce was sailing in was attacked by pirates, the members in the boat had all their belongings robbed. Slavery was rampant during those times and Robert and his friends were captured and sold as slaves, a wealthy gold smith 'bought' Robert. The young fisherman was forced to learn the trade and toil for his master, life was tough and depressing. But what saddened Robert more than the terrible conditions of slavery, was the fact that he was separated from his beloved who also lived in the village of claddagh. As the days went buy, life became unbearable and he longed to return to his village and be united with his beloved. He often dreamed of being free again but, realized that his freedom was uncertain and even unlikely. Robert tried hard to stay positive but, reality did paint a sad picture. It was then that he decided to make something for his beloved. This would put him in a positive frame of mind as, he planned to give that 'thing' to her when he returned to his village. A few years later, Robert Joyce was freed from slavery and as expected, he rushed back to his village to meet his beloved. To his joy, he saw that she was still waiting for him. He gave her the gift that he had made for her, it was a ring - the jewel came to be known as the claddagh ring. The couple were soon married and their story had a fairy tale ending.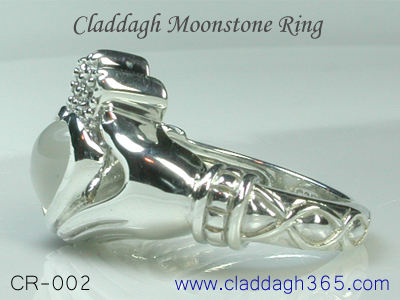 Our claddagh moonstone ring bears all the features that were present in the ring that Robert Joyce made for his beloved. It is true that the meaning and significance of the claddagh ring rests in it's features namely, the center heart, the hands holding the heart and the crown on the heart. When you wear a gold or 925 silver moonstone claddagh ring, you would be wearing one of the most meaningful jewels in history. Robert, had translated his true feelings and love for his beloved to those features - the heart signifies love, the crown demonstrates loyalty and the hands urge friendship and togetherness. The claddagh ring belongs to a group of rings referred to as 'faith rings'. Our designing team did a deep and thorough study related to the history, origin and meaning of this historic jewel - the findings from this study defined the final design of our ring. You would now understand that, your moonstone claddagh ring is a very meaningful jewel. You could wear or gift this ring for just about any occasion. If you plan to pick a heart ring for a Valentine's gift or any other occasion make sure that, you consider this gorgeous heart ring. Just remember that the 'love' symbolized by the claddagh ring does not necessarily relate to matrimonial relationships. A mother could present this claddagh gemstone ring to her daughter and interestingly, this ring would also make a terrific mother's day gift. The options for gold and silver claddagh rings allows you to keep a degree of control on the price point, the gem selection would also influence the price of the jewel. And if you happen to be impressed by the tremendous meaning of the ring, do not wait for someone to gift it to you - just buy it for yourself.
Let us know say a few things about the gem in this moonstone claddagh ring. Feldspar is a common mineral but not always, blessed with a quality that is good enough to be used as a gemstone. Moonstone is a variety of feldspar and in fact, it consists of two feldspar types, that are alternately layered in it's structure. These two feldspars differ in the way that they handle light that strikes them, technically we would say that they have different refractive capacities. So when light strikes the moonstone, it is scattered since it gets pushed around by the layers inside the stone. This is what causes that gentle shimmer to glow on the stone - a truly pleasing effect that even gives the gemstone it's name. The Romans believed that moonlight entering this stone got trapped inside it, some of them even suggested that the moonstone reflected the phases of the moon. Moonstone is also one of the birthstones that represents the month of June. As a June birthstone, the gem shares honors with pearl and alexandrite.
Though it was initially presumed that white (as shown in the image) was the only color in which moonstone was found, we are now aware that blue, orange, grey and a peachy color are all colors in which the gem is found. Most buyers request for the gem as shown in the moonstone claddagh ring above, after all it was this color that earned it the name, moonstone. When you order your claddagh ring, let us know the moonstone color that you prefer. While we can generally accommodate specific moonstone color preferences at no additional charge, it is blue moonstone that can sometimes require a slight addition to the price tag. Email us with any specific requirements that you might have.
Claddagh365 provides all gem options for the custom claddagh ring, you can make a choice between gold and silver for the metal. The silver moonstone claddagh ring can be plated with white rhodium, yellow gold or rose gold. Please note that the plating for your ring will wear off after a while, we would therefore suggest that 925 silver claddagh rings be left unplated. 14k and 18k claddagh rings are offered in yellow, white or rose gold, you can specify the gold requirements when placing your order. Gold and silver rings have the same quality of craftsmanship and gemstone and the ring is available in all sizes.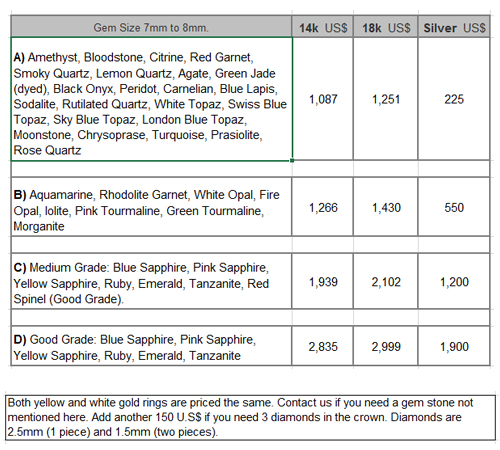 Pricing For Our Rings.
The claddagh365 rings are priced based on the gold or silver option and also the gemstone selected for the ring. In the case of certain gems like ruby, sapphire and emerald we offer two grades of gems - the price of claddagh rings with these gems will vary according to the gemstone selected.
Moonstone Claddagh Rings are priced in the first group of gems labelled A) in the adjacent table. If you have a special requirement for a type of moonstone, email us with details and we will provide you details related to availability and price.