CUSTOM JEWELLERY GOLD OR SILVER, ALL GEM OPTIONS WITH YOUR DESIGN OR OURS.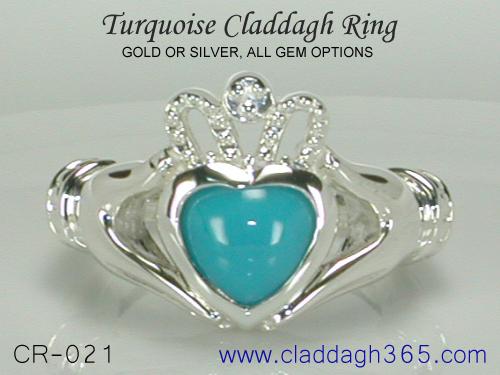 Turquoise is the blue beauty that keeps popping into the fashion scene. The blue color of turquoise can cover a certain range of shades but, it always has an unmistakable identity that soothes the human eye. Our turquoise claddagh ring has beauty, grace and meaning - three features that you would always dream of when choosing a wearable accessory. Just remember that turquoise blue happens to be one of the most respected blues and when it comes to gems, it has the power to command every metal color. This obviously means that you just cannot make the wrong statement with a claddagh gold, silver or platinum turquoise ring. We at Claddagh365 provide all three metal options for your claddagh turquoise ring and when, it comes to a gold turquoise ring - you can choose from white, yellow or rose gold. Like all the other jewelry that we craft, gold, silver and platinum cladagh rings are given the same fine workmanship and adorned with handpicked gems.
Before we get into the meaning and significance of the cladagh ring, let us learn something about the iconic gem - turquoise. Many gems are named after the place in which they were mined. Some gem name pay tribute to the first person who found and reported them. It is very rare for gems to be named after the place through which they merely traveled - turquoise is one such gem. In ancient times before being named turquoise, this gem was given the name callais. The name was derived from the Greek words kallos lithos which means, 'beautiful stone'. Later on in the Middle Ages, the French named the gemstone as turquoise based on the French word, turqueise which means, 'Turkish'. Interestingly there are no historic records that say anything about turquoise mining in Turkey. Persian turquoise was brought to France and other parts of Europe, by merchants from Turkey. For now there is just one name by which this iconic blue stone trades - that is, turquoise. On the birthstone charts you have 3 blue gems listed as December birthstones, turquoise, blue zircon and tanzanite. Each of these gems has it's team of die hard fans, and therefore enjoys robust birthstone jewelry sales. So if you were born in the month of December, proudly wear a gold or silver claddagh turquoise ring, we will be honored to craft the jewel for you.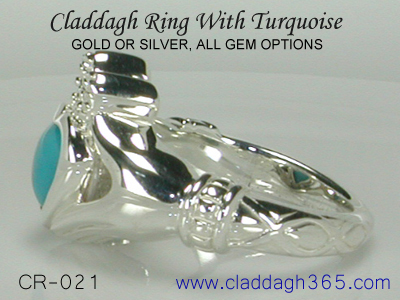 An important issue related to turquoise gems is about 'stabilized' turquoise - let us understand what stabilization of turquoise means and why, it seems to be quite necessary. In the old days, people believed that turquoise could change color and reflect the health of the wearer. This is one of those unexplained and untested folklore tales but, there is some truth in it. The blue gemstone in it's natural form is slightly porous - these pores cause turquoise to 'absorb' moisture and other liquids that touch the stone. Soap chemicals, oils and even body perspiration (sweat) can be absorbed by turquoise. Some of these could contain elements that react with turquoise and this, could be the result of a visible color change. It is highly possible that, the rate of absorption increases if accompanied by contact heat. A high body fever can cause oils and sweat to seep out of the pores in the skin, this could probably penetrate the porous turquoise more efficiently. This in turn, could cause some discoloration of the stone. So while you will not inspect a claddagh turquoise ring to check your body temperature, the old belief seems to have some logic attached to it. The porosity in natural turquoise means that, you should ideally not leave your turquoise ring soaking in water for a long time. While this might be a natural characteristics of the stone, it does make it a bit inconvenient to wear and maintain the gem. This is precisely where gem manufacturers come in with their stabilization treatment. Using resins or other bonding agents, the pores on the stone are sealed off. You might still need to take some care and keep your cladagh turquoise ring away from heat or chemicals but, it will be a lot more durable as compared to how it would have been without being stabilized.
Now let's consider a claddagh turquoise ring with some possible variations for the gemstone. You might have seen many turquoise jewels with gems that show a 'spider web' pattern of dark lines. If you are very particular about your silver or gold turquoise gemstone ring having those lines, let our support team know about that. Since we carefully inspect and handpick every gem before custom cutting the stone, we can advise our gem cutters to use that portion of the gem that shows some black lined pattern. Just keep in mind that the size of the gem in a claddagh turquoise ring would be around 7mm - 8mm, this surely cannot display an elaborate web pattern. Let's discuss another scenario, you want to have your cladagh gold or 925 silver turquoise ring with a gem, that has not been stabilized. Firstly we will presume that you have read and understood the above paragraph that explains, why turquoise is normally put through the stabilization process. We can surely procure a natural turquoise stone that has not been put through the process, we will custom cut that stone and set it in your ring.
We now have a fairly good idea of the gemstone in your claddagh turquoise ring, let us move to understand the cladagh ring itself. The first claddagh ring was made about four centuries ago by an Irish slave. Robert Joyce a fisherman by profession lived in a small fishing village in Ireland named Claddagh. The young man and his team mates one day had the misfortune of having their boat attacked by pirates, the captives were sold as slaves. Separated from their families, these men were forced to work for their new masters. Robert was sold to a wealthy goldsmith and forced to learn the trade. The harsh life of slavery was something that he never complained about but, the fact that he was separated from his beloved was extremely painful. To give himself some degree of mental stability, he decided to make a ring for his beloved. This gave him hope because, he could dream of giving it to her when they were one day reunited. In an effort to let the ring depict his true love for her, Robert Joyce made a ring that showed two hands holding a heart, with a crown set above the heart. The ring is referred to as the love, friendship and loyalty ring - these are depicted by the heart, hands and crown. Observe the turquoise ring shown on this page and you will notice the three features very clearly. Claddagh365 had it's team conduct a detailed study of the history and meaning of the cladagh ring. The research stretched over several months and formed the foundation of the design for our cladagh rings. This ensures that the turquoise claddagh ring and every cladagh ring, crafted by us retains the complete meaning of the first ring made 4 centuries ago by Robert Joyce. Not many jewelers can boast of such a thorough implementation of every detail in the centuries old ring. And this explains why we are widely accepted as the world's best source, for fine cladagh rings in gold or 925 silver. Our comprehensive report on the Story Of The Cladagh will give you a deeper insight into this tremendous jewel. It is today acclaimed as one of the most meaningful jewels of all time.
Specifications: We can custom make your claddagh turquoise gemstone ring in gold or 925 sterling silver. If you wish to have a cladagh platinum ring, discuss your requirement with our support team. The gemstone size for your ring would be around 7-8mm and the metal weight would be in the 8-10 gram range. The price table below will give you a clearer view of the pricing for each of the options. For the silver cladagh turquoise ring remember that, any plating done on the ring will wear off after some time. We would therefore suggest that the silver ring be left unplated. But if you still need plating, we can provide white rhodium, yellow gold or pink gold as plating options. The gold turquoise heart ring can be ordered in 14k or 18k gold and you can choose from white, yellow or pink gold. Since we do not limit your choice of gemstones when ordering custom jewelry, you are not restricted to what you see on our website.
Claddagh365: We are the leading source for fine custom jewellery crafted in gold or 925 sterling silver. When ordering your jewellery, pick the design from our website or send us your own concept ideas in the form of images or sketches. Fine workmanship and custom cut gemstones are ensured for both gold and silver jewellery. Our support experts at sales@claddagh365.com would be glad to help you on any issues related to gems and jewellery. The choice of gems available is not limited to what you see on our website. We can procure and custom cut gemstones from any corner of the earth so, do let us knowwhat you need.
Pricing Details For The Turquoise Cladagh Ring.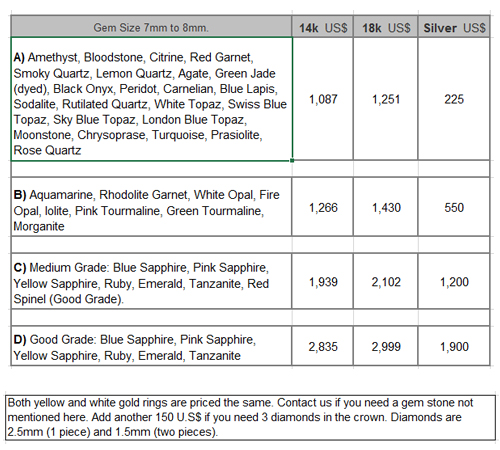 The price for the gold and silver ring with turquoise is mentioned in the first group of gems. You can email us if the gem that you prefer is not listed in the table. For the gold claddagh ring you can choose yellow, white or rose gold in 14k or 18k gold.
Both gold and silver cladagh rings are provided with fine workmanship and handpicked gems. You can request for white rhodium, yellow gold or rose gold plating on the silver cladagh ring but, any plating on silver will come off after a while. We would suggest that it is best to leave your silver ring unplated.
The ring can be ordered in all ring sizes and we will let you know if, a large ring requires additional metal weight to be invested.
Production is 4 to 5 weeks from the date of order confirmation and receipt of payment. We accept payment through Paypal and Western Union but, recommend Paypal for first time buyers. Let us know what is your preferred mode for payment and we will provide details for the same. Shipping will be through FEDEX with web tracking, and you will need to add another 35 U.S$ for shipping to the prices quoted above. You will be provided with the shipment tracking number the moment the item ships.