Suitability Of Claddagh Rings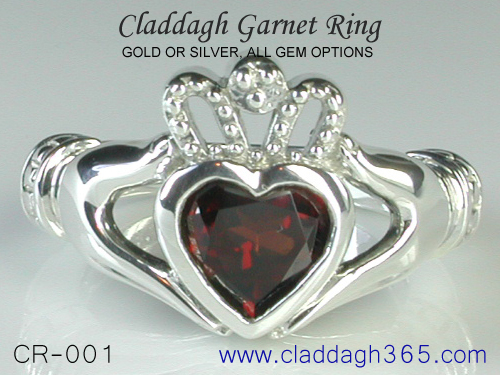 This entire website is dedicated to the historic claddagh ring, a jewel that is widely accepted to be one of the world's most meaningful ring. The first claddagh ring was made about 4 centuries ago and since then, the touching story of this jewel has spread across the world. Though the popularity of the ring is truly impressive, it would have a far bigger following if more jewelry lovers understood the interpretation of the jewel. What this means is that, many people are not aware if the claddagh ring is meant for a particular occasion or event. Similarly there is a lack of understanding of when this ring could be worn or gifted.
In this report we will try to provide detailed information regarding the suitability of a claddagh ring. This will in a way refer to the history and meaning of the jewel, so we will briefly cover the story behind the jewel. The first claddagh ring was made around 4 centuries ago by Robert Joyce an Irish fisherman turned slave. The young man was working for his master a wealthy goldsmith but, his mind and heart were tormented by the fact that, he could not live with his beloved. The couple were both residents of a small Irish fishing village named Claddagh. Robert started to make the ring for his wife to keep himself in a positive frame of mind, he dreamed of giving her the ring when he was one day freed from slavery. His dream did come true when he was released from slavery after a few years, he went back to his village, rushed too meet his beloved and was glad to see that she was still waiting for him. He gifted her the ring and the couple were married and lived their life together. The features of the ring were very interesting as they captured his true feelings for his beloved. Often known as the 'hands and heart' ring, the jewel had a heart in the center with a crown perched on the heart. Two hands extended to hold the heart. The features symbolized love (heart), loyalty (crown) and friendship (hands). As news of the ring and the story behind it spread, the jewel was loved and respected by people living far beyond Ireland. It is absolutely true that, more people across the globe own a claddagh gold or silver ring today than they did 2 or 3 centuries ago.
So with that background, let us try to understand the event or occasion for which a claddagh ring is suitable. The first thing to keep in mind is that, the 'love' symbolized in the ring does not necessarily imply a matrimonial relationship. It could be love between any two individuals.
Birthstone Ring: The claddagh365 ring is crafted in gold or silver with the gemstone of your choice. You can surely choose your birthstone when ordering the ring. The deeper meaning of the claddagh ring and the heart shaped center will just add more significance to a birthstone claddagh ring.
Valentine Ring: It is generally noticed that, valentine jewelry buyers look for jewelry with a heart concept - the claddagh ring satisfies that requirement. Don't forget to relate the gem color to love and compassion too - pink and red are widely believed too represent love. Depending on your budget, you could choose a ruby or red garnet gemstone for your valentine claddagh ring. The options for a pink gemstone claddagh ring would be pink tourmaline, pink kunzite or even pink sapphire.
Wedding or Engagement Ring: The feelings within the claddagh ring derived mainly by it's features, hold the key to a successful married life. Love, loyalty and togetherness through good times and tough is what is absolutely essential in all family life situations. There is therefore no doubt that a claddagh wedding or engagement ring, would be the perfect jewel to celebrate the auspicious occasion. You could make a specific gemstone selection to add meaning to the jewel. Birthstone engagement claddagh rings can be have the birthstone of the wearer, you could also consider exchanging birthstones in the two rings - the husband wears the birthstone of the wife and vice-versa.
Promise Ring: An engagement ring might be considered to be a promise ring but the meaning of a promise ring is much wider. A mother might gift a claddagh ring to her daughter, this could be with the daughter's promise not to neglect her studies or get into serious affairs. A promise ring is given to seal a 'promise' or commitment, not always related to a matrimonial relationship.
Mothers Ring: What better way to show love and appreciation to a loving mother than to, gift her a gold or silver claddagh ring with the gemstone of her dreams. Budgeting for a mother's ring can be comfortable if, all the children contribute towards making the purchase. Do not forget that most mothers appreciate objects that have a classic and timeless appeal. The Claddagh365 rings are based on the centuries old design and crafted to perfection.
Graduation Gift: Parents often show their appreciation when a child completes graduation, jewelry can be a great way to express that joy. Gift a claddagh ring and do not forget to explain the significance of the jewel to your child, it will imbibe good thoughts and actions into the young scholar. You are gifting a meaningful jewel and the level of significance would remain the same irrespective of the metal selected, so keep your purchase within your budget.
Casual Wear: You need not look for a special occasion to wear a claddagh ring and for that matter, you need not wait for someone to gift this awesome ring to you. This is a jewel that will make you feel good, it helps attract good thoughts into your mind. Remember that you could have your birthstone in the ring, you could also gift your own claddagh ring to your daughter on her wedding day.
The above information will convince you that the claddagh ring is suitable for just about every occasion, the jewel can be worn every day without waiting for a specific event or happening too. We do sometimes hear that, a claddagh ring received as a gift has much more significance than one that was self purchased. Going by the intensive research conducted by our team, we have not found any reference to the jewel being more meaningful if received as a gift. This is probably more of a sales strategy rather than any fact or folklore.
Claddagh365: Our claddagh rings are crafted in gold or 925 sterling silver with fine craftsmanship. Some of the best craftsmen and artisans work on each ring, and you can request for any gemstone of your choice. We source gems from every mining locality and this means that, you are not limited to the gems that you see on our website. Claddagh gold rings can be ordered in 14k or 18k white, yellow or rose gold. While we can provide white rhodium, yellow gold or pink gold plating for silver claddagh rings, you should know that any type of plating done on silver will wear off after some time. You can send your requirements or queries to our team of experts at sales@claddagh365.com and will be glad to help you in any way that we can.
The price table below will give you a good idea of how our claddagh rings are priced, our team will be glad to answer any questions that you might have. You can request for a gemstone not mentioned in the table too. Rings are custom made in all ring sizes.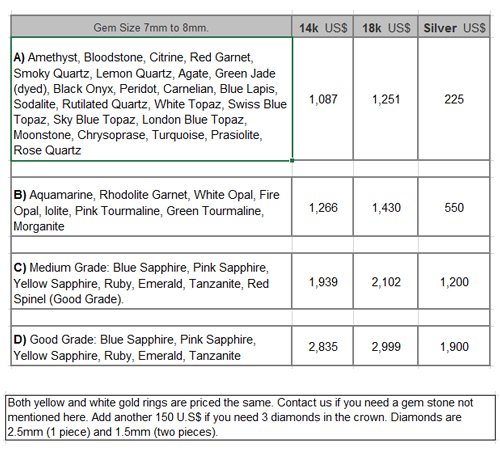 With each ring being fully customized, you can expect a production time of around 4 to 5 weeks from the date of receipt of payment. We accept payments through Paypal and Western Union and Paypal is recommended for first time buyers. Let us know your preferred mode of payment and we will provide details for the same.
Shipping is through FEDEX and there is a shipping charge of 35 U.S$ for up to 5 rings. You will receive the tracking number of the parcel the moment the ring ships.
Do read about the option for diamonds in the crown of your claddagh ring, they are mentioned just below the price table.