Made To Order Aquamarine Rings
Aquamarine the pastel blue variety of beryl is an awesome gemstone. The beauty of the blue gem has impressed both men and women. This is one of the reasons why aquamarine has never shown any significant drop in price. An well crafted aquamarine ring exudes style and class and does so, without screaming and shouting. The discerning jewelry lover wears classic jewels to feel good, a strong element of confidence is common to all seasoned lovers of gemstones and jewelry. Claddagh365 custom made aquamarine rings can be ordered with no limitation on design or metal (gold and 925 silver). We have put together a gorgeous collection of aquamarine rings for men and women in this section, take a look and let us know if anything interests you. Our support team at sales@claddagh365.com will be glad to help you with any gem or jewelry information that you might need.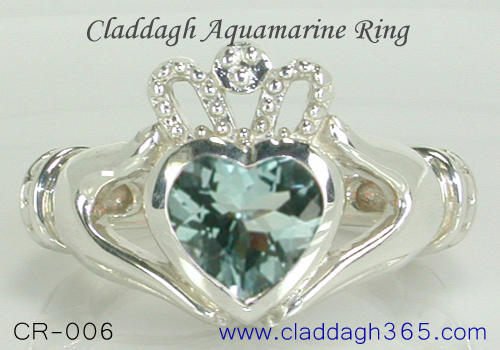 Aquamarine heart rings, the historic claddagh ring with an aquamarine gem. You can order a gold or sterling silver aquamarine claddagh ring. The ring first made four centuries ago is regarded as the most meaningful jewel in history ... more.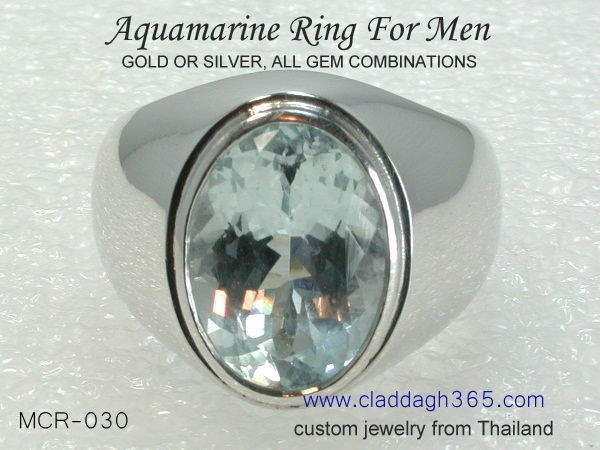 A sturdy gemstone ring for men, the MCR-030 men's aquamarine ring is set with a natural certified aquamarine gemstone. The pastel blue gem is sturdy and does not need too much of care and caution when being worn ... more.