Belly Ring, Custom Made Belly Rings With Gemstones
CUSTOM JEWELRY WITH FINE CRAFTSMANSHIP, YOUR CHOICE OF DESIGN, GEMS AND METAL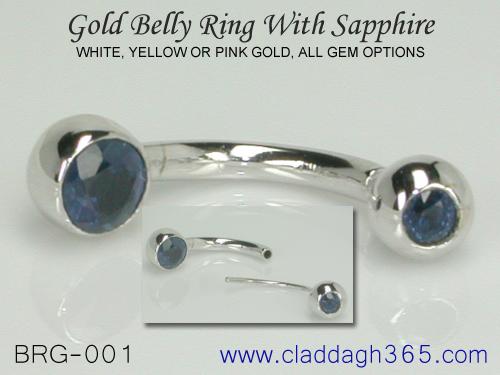 A belly ring is referred to by a few names and navel ring is one of the popular names for the same jewel. This accessory belongs to a group of jewels popularly known as body piercing jewels. While a word like piercing might bring up images of something quite serious and severe, a belly ring is a simple device and worn by many girls and ladies - some of whom are quite dainty and elegant. Your navel ring could be a simple piece of metal or move into something more artistic and lavish, diamonds are today not rare in high end body piercing jewels. Unlike rings, earrings and pendants that developed from ancient traditions, belly rings were more about making a fashion statement.
The BRG-001 belly ring with blue sapphire gems, has a nice compact size and design. But if you prefer the more elaborate options with dangles and flowers, send us an image of your dreams and we will custom make that navel ring for you. There are a few ways in which the two parts of a belly ring are mounted together, threading the metal to form a screw is quite common. This sapphire gold belly ring has a simple concept that makes, wearing and taking off the jewel an easy task. The curved spindle attached to one of the ends slips into a groove that slides through the bar of the other end, there is no internal or external threading required for either end. This accessory has notched up impressive sales for us. While most girls wearing a navel ring for the first time, like the simplicity of putting on and taking off this accessory, serious fans of the belly ring love it for it's elegant style precious gem bling.
This belly piercing ring has two round gemstones both of which are blue sapphires, the larger stone is 5mm and the smaller one is 3mm. The customization options for the gems in your belly ring will allow you to better express yourself and you are not restricted by the stones shown on our website. You can select two different gems for your gold belly ring, some ideas would be to combine ruby and sapphire and keep in mind that, sapphires come in various colors and not just blue. You could even request for a white or yellow gold sapphire diamond belly ring with, the 3mm gemstone replaced by a diamond. Discuss your requirements with our team and they will work on a competitive price quote for you. While we can do both 14k and 18k gold belly gemstone rings, we would recommend 18k gold for body piercing jewels. You can choose from any of the three gold colors which means that, you have a choice of yellow, white or pink gold.
This navel ring needs just one piercing to be done on the upper 'lip' of the navel, or you could have that single piercing done on the bottom 'lip' of the navel instead. We will strongly advise you against trying to do the piercing of the navel on your own or, through any inexperienced person. If you are not aware of how to identify a safe and qualified service provider to pierce your navel, discuss the issue with your family doctor. If you ever notice that your pierced navel appears bruised or swollen, get medical help right away and do not wear your belly ring until, the navel comes back to normal. We would also suggest that you occasionally clean your belly gold ring with, some clean water, a soft brush and a few drops of mild soap. When choosing the gemstones for your navel gemstone ring, discuss with your jeweler and make sure that water, sweat and daily used items like bathing soaps and perfumes will not damage the gems. Here are some gems that you can consider to be safe in terms of being soaked in water or cleaned with a mild detergent - ruby, sapphire, spinel, tanzanite, citrine, amethyst, peridot, red garnet, spessartite garnet and demantoid garnet, iolite, diamond etc.
When it comes to body piercing jewelry, the issue of 'safety' takes on an added meaning and this is something that we are fully aware of. To begin with we recommend, that the actual piercing happen only under proper medical supervision, no do-it-yourself attempts should be made. On the design aspect for this navel sapphire gold ring, we have included features that enhance the comfort and safety levels of the jewel. You will appreciate the smooth concept and shape of this gorgeous gemstone belly ring, there are no sharp or pointed edges - this provides for a comfortable and safe wear. Notice how the blue sapphires in this gold navel ring are mounted without the use of prongs. The process of mounting as shown in the image of the BRG-001 navel ring, does not result in damaged or scratched skin - remember that prongs if used can scratch and injure delicate skin. .
Dimensions And Details: Here is a summary of the gemstone dimensions and size of the BRG001 belly ring. If you need an option or design not discussed here, please email our support team and provide your requirements to them. Since we custom make every single jewel, we can craft a custom navel ring for you with your choice of design, gemstones and specifications. The length of this gold belly ring is 2cm (20mm or 0.8 inches). There are two round gems in the jewel, the larger gem is 5mm and the smaller gem is 3mm. If you wish to wear something really extravagant, request for a sapphire diamond belly ring or for a ruby gem instead of the sapphire. With the diamond option we would suggest that, the 3mm gem be replaced with a diamond. This would ensure that, the price of the navel ring does not rise sharply despite, the inclusion of the diamond in the piece. We do not recommend silver belly rings due to the issue of tarnish that naturally appears on the metal. 18k navel piercing rings seem to be a better option as compared to 14k due to the, higher gold content in 18k gold. We can however craft your gemstone belly ring in 14k or 18k gold, so let us know which one you prefer. The choice of gold color is entirely yours and we can do yellow, white or rose gold for both 18k and 14k gold belly rings.
Claddagh365: Besides crafting the world's best rendition of the 4 century old claddagh ring, we also custom make all types of jewelry with fine workmanship in gold and sterling silver. We do not place any restriction on the design or gemstones for your jewelry and we will gladly, craft your jewels based on your own design concept. You can contact our support experts at sales@claddagh365.com for any, gemstone or jewelry related questions that you might have.
Pricing For The Custom Belly Ring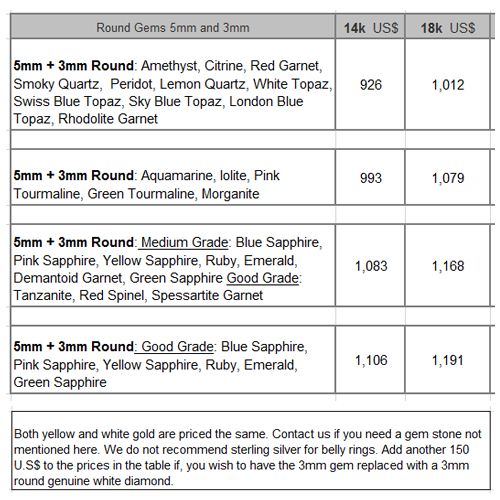 Refer to the pricing options for various gems in the price table. The gemstone options for this belly gold ring are divided into four groups. Email us at sales@claddagh365.com with the specific gems if the stones that you need are not shown in the price table. We can also provide a custom price quote for your navel piercing ring, if the two gems that you need are drawn from different gem groups.
Yellow, white and pink gold options are available in 14k and 18k gold. There is an option to replace the 3mm round gem with a natural 3mm round diamond, the note below the price table explains the additional cost of the diamond in your belly ring.
The production time for our belly rings is 4 to 5 weeks from the date of order confirmation and receipt of payment. We will ship through FEDEX and there is a 35 U.S$ shipping fee that needs to be added to the quoted prices. You will be provided with the FEDEX tracking number the moment the parcel ships.
We accept payments through Paypal and Western Union but, do not recommend Western Union for first time buyers. Let us know which mode of payment you prefer and we will provide details for the same. We can discuss other payment modes but, it is unlikely that we will settle on a mode that seems unsafe for you or us. In our opinion Paypal offers the most hassle free mode of payment for online buyers. They have recently updated their policy where, issues related to custom made merchandise like jewelry, can be filed up to 180 days (6 months or 24 weeks) from the date that payment was made. This should give you peace of mind, and makes Paypal a great option.