Plain Claddagh Rings, No Gemstone
We do get queries for plain claddagh rings where, no gemstone is required in the center. However there are two distinctly different cases that need to be clarified. In the first case, the buyer already has a gem which she or he feels can be set in the ring once they get the metal mount. The second case is what we discuss in this report, it relates to claddagh rings with no stone and no place in the center for a stone to be set. If you have a requirement for setting your own gem in the ring, please email the details to our support team.
The majority of claddagh rings without a gemstone that we craft are ordered either for men or by men - they happen to be men's plain claddagh rings. And since men prefer sterling silver to gold, it is 925 sterling silver that is very popular when it comes to these rings. Ladies do wear claddagh rings with no gem but, it is not uncommon for them to choose the option for the small diamonds in the crown. At Claddagh365 each ring is given complete attention and crafted by highly skilled craftsmen, so such requirements are no problem. You can choose 10k, 14k or 18k gold for your claddagh ring with no stone, all three color options of white, yellow and pink can be accommodated.
Since this is one ring that is highly respected for it's significance, how does the lack of a gem influence the meaning of the claddagh ring. In other words, does such a ring with a gemstone have any more significance as compared to one without a stone. We happen to be the best provider to answer this question for the simple reason that, we had conducted a long and elaborate research into the history and meaning of this jewel. It was only after information was collected and analyzed, that the design team went ahead with the design finalization process. As published in our Claddagh Ring Meaning report, it is the three main features of this ring that give it meaning and significance. The ring which is sometimes referred to as the 'hands holding the heart ring' or the 'hearts, hands and crown ring', depicts two hands holding a heart and a crown placed over the heart. Robert Joyce the young fisherman who is credited with making the first claddagh ring around 4 centuries ago, was not a jewelry stylist or designer. He was forced into slavery and learnt the trade from his master, a wealthy goldsmith. This makes the features of the ring even more interesting. Our experts have rightly interpreted the meaning of these features by concluding that, young Robert tried to capture his true feelings for his beloved and depicting them in the ring. His love for her was expressed through the heart in the center, the crown symbolized his loyalty to her and the hands were warmly extended in togetherness and friendship.
The first ring made by Robert Joyce had no gemstone in the center, it was an all metal (gold) ring. The idea of putting a heart gemstone in the ring was done with the intention of, enhancing the significance of the jewel. The gemstone can also make the ring suitable for specific occasions like, anniversaries, birthdays etc. What this means is that, the main essence of the ring which is love, loyalty and friendship, remain the same in a plain claddagh ring with no gemstone as they are in a gemstone ring. So if you fancy wearing a gold or silver claddagh ring with no stone, go ahead and follow your mind - you will not be compromising on the meaning of the jewel.
Another good thing about not having a gem in a claddagh ring is that, it becomes easier to wear and clean the jewel. With each gemstone having it's set of properties and characteristics, the wearer needs to consider these properties each time the gem is worn or cleaned. For example, emeralds should be kept away from heat sources and not be soaked in water. Some gems like Kunzite can fade color when exposed to strong light. We would say that, if you are keen to wear a claddagh ring all the while and with minimum caution, pick a plain claddagh ring. Men are well known for being careless in taking care of their belongings even dress accessories, the fact that a plain ring will generally take care of itself comes as a relief! If you feel that a claddagh ring with no stone, would look quite dull on a lady, request for the option of diamonds in the crown.
There may be some truth in the belief that, a plain claddagh ring with no gem would be cheaper - since there would be no stone cost component on the price tag. However do not take a decision to go for a ring with no gem just hoping, for a lower price point. Not all gems are expensive and more than a dozen gems that you can choose for your ring are very moderately priced. But if you had to compare the price of a gold or silver sapphire claddagh ring with a ring that has no gem, the ring with no stone would be substantially cheaper. It would be best to discuss your ideas with our experts and wait for their suggestions and advice. We encourage such email communications and do not feel comfortable with the 'one-click-buy' approach that, most online jewelry providers deploy as it seems to pressurize buyers into taking hasty decisions.
Claddagh365: A team of talented designers, craftsmen and production experts ensure that we craft high quality jewelry in both gold and 925 silver. Known across the world for our fine claddagh rings, we can custom make any type of jewel based on your design or ours. When it comes to gemstones, we are networked to virtually every gem mining center on every continent. When you order your jewelry from us, there is no restriction on gemstone and we will gladly procure and custom cut a gem even if it is not shown or mentioned on our website. Our support experts at sales@claddagh365.com would love to hear from you and hear your comments or questions. And since you will never be under any pressure to make a purchase from us, there is little reason not to take advantage of our expertise.
CUSTOM MADE IN GOLD OR 925 SILVER, WITH YOUR CHOICE OF DESIGN AND GEMS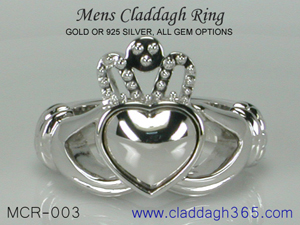 A men's gold or silver claddagh ring with no gemstone. Built strong and sturdy, this claddagh ring with no stone can have an etching done on the inside of the band. Fine workmanship for the gold or silver plain claddagh ring ... more.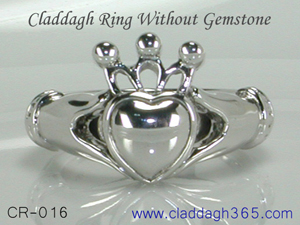 A claddagh ring with no gemstone for a lady, remember that you could order a set of claddagh rings for 'him and her' and request for a similar type of crown for both jewels. An option exists for three small diamonds in the crown ... more.