Tanzanite, Rarer Than A Diamond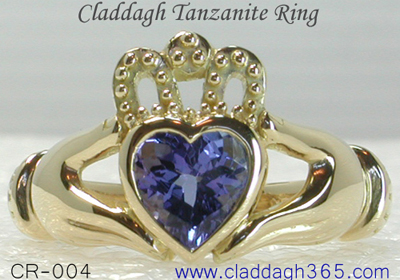 When evaluating a crystal or mineral for it's suitability and worth as a gemstone, experts give attention to a few important factors. To be classified as a gemstone, a stone would need to be pretty, rare and sufficiently durable. The equation between these three factors is quite complex to resolve mainly because, much depends on personal opinion. In any case, no one can deny the stunning tanzanite of it's deserved position as an exotic gemstone. Tanzanite has a stunning violet-blue color, style gurus describe the color of tanzanite as blue with 'spice'. Most of the tanzanite rings that you will come across are set with medium color tanzanite gems, this is the color that allows the best show of light play on the inner facets of the gem. The CR-004 Claddagh Tanzanite Ring is shown with a medium color heart shaped tanzanite gem. While light color tanzanite is not very popular because of it's pale appearance, a dark tanzanite color seems to swallow most of the light that strikes the stone. Color preference can depend on personal style and preference so make your decision based on what you like best. As compared to other gems like ruby, sapphire, emerald and garnet that have been known for thousands of years, tanzanite made a fairly recent entry on the jewelry scene. It was in 1967, that the amazing beauty of this zoisite (mineral) was brought to light.
So how rare is tanzanite and is the gem really rarer than a diamond. Mining for diamonds is carried out in many countries, Australia, Russia and a whole group of African nations supply the glittering stone. Having said that, we do not claim that there is an abundance of diamonds on our planet - if this was really so, we would be paying more for a lovely pink tourmaline gem than for a high quality diamond! As compared to the sources for diamonds, tanzanite is mined in one lone nation Tanzania. But this African nation does not have tanzanite in a wide geographical region, a small stretch of land near the foothills of Mount Kilimanjaro, is the only known place for commercially viable tanzanite sourcing. What this means is that, every piece of tanzanite that you see any where on this planet, was mined in that narrow stretch of Tanzanian land. It is therefore quite right to say that, tanzanite is rarer than diamonds. No new source for mining tanzanite has ever been found from 1967 (first stone find) to today.
And what about the durability of the gem. Tanzanite might not have the hardness of diamonds and sapphire but, it surely is not fragile by any stretch of imagination. A few minor precautions when wearing and cleaning your tanzanite jewel and the gem, should give you decades of wearing pleasure. The Mohs scale rates the hardness of gems from 1 to 10 where 10 is the hardest, diamonds boast of that hardness rating. Tanzanite measures around 6-7 for hardness on the same scale, this is sufficient to make it an attractive gem option for high end jewelry. The high price point of tanzanite generally ensures that, jewelry buyers take sufficient care of it but, a little knowledge helps. So here is some constructive advice, read it and implement the suggestions to get maximum satisfaction from your tanzanite gemstone jewelry. Firstly, do not wear or store your tanzanite jewels in a place where they can get struck by physical impact. Take your tanzanite ring off and keep it safely when doing things like, repairing the car, washing clothes, mending the fence, exercising etc. When cleaning a tanzanite jewel, use a small bowl of clean water at room temperature, a very soft brush, a few drops of mild soap and a piece of soft and clean cloth. Should your jewel require more than this to get cleaned, seek the help of a professional jeweler.
Claddagh365: It is widely accepted that we craft the finest rendition of the centuries old claddagh ring. Gold and silver rings are given the same quality of craftsmanship and gemstones and you, choose the gemstone of your choice. We procure tanzanite directly from the mines, and take possession just a few meters away from the mining pit. The stones are then cleaned and custom cut by our skilled cutters, this ensures that you always get the best gem for the money that you pay. When choosing the gem for your claddagh ring do not be limited by what you see or read on our website, just let us know the gem that you need and we will source it for you. Email our experts at sales@claddagh365.com and they will help you with any answers or information that you might need.