History makes many references to opal and most of these refer to the colorful sparkles seen on the gem. Gemologists refer to this as 'play of color' and in ancient times, it was thought that this optical effect was caused by lightning striking the stone. The Greeks and Italians gave their own names to opal but, the origin of these names can be traced back to the Sanskrit word for opal, 'upalla' - this means 'precious stone'. The Greek name opallius for opal would mean 'change of color'. The interesting thing about opal in ancient times is that, it always meant that the stone had the enchanting play of color. Skip forward to today and scientists now know that, some types of opal like pink opal and fire opal do not show the play of color effect. We should clarify that, fire opal on extremely rare occasions is found to have the colorful display.
When we started to design and craft our claddagh rings, we realized that this was a highly meaningful jewel with a history that rooted in deep meaning and significance. It therefore seemed perfect to combine the claddagh ring with an opal gemstone - this saw the dawn of the Claddagh365 silver or gold claddagh opal ring. Our gems are sourced directly from mining centers across the world, we can therefore craft your opal ring with any type of opal gemstone. Opal is the birthstone for the month of October, a position that it shares with tourmaline. Much of the demand for opal claddagh rings is today driven by the mystical beauty of the gem though, traditional belief and folklore still attract attention.
So why did we dedicate this entire website to claddagh rings, what exactly is so important about the jewel. This ring was first made four centuries ago by an Irish fisherman named Robert Joyce. The young man decided to make something for his beloved when he was confined to the shackles of slavery, he master was a wealthy goldsmith. Robert kept thinking of his beloved who lived in the same fishing village where he came from, the village was named Claddagh. Years, later he returned to his village after being freed from slavery, he met his beloved and gave her the ring that he had made. The jewel came to be known as the claddagh ring and had some very interesting features. We need to realize that, these features were incorporated by Robert in the jewel as they reflected his love for his beloved. The ring is sometimes referred to as a the hearts and hands ring or the crown and heart ring. The heart in the center of the opal claddagh ring, expressed his love for his beloved. The crown symbolized his loyalty towards her and the hands were stretched out in friendship and togetherness. The ring is today respected all over the world as one of the most meaningful jewels in history.
Claddagh365: We present a collection of our claddagh opal rings on this web page, you can click the link provided and get to the complete report on each of the rings. Our rings are custom made in gold or silver with the gemstone of your choice. We can craft the jewel with your required ring size and you need not be limited by the gems that you see on our website. Our support experts at sales@claddadgh365.com will be glad to answer any questions that you might have.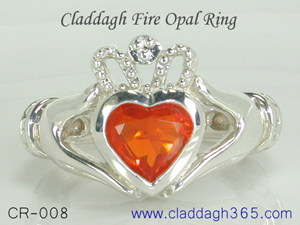 The CR-008 is a fine gold or silver claddagh opal ring, the gemstone in this gorgeous ring is a fire opal. The gem can range in color from yellow, orangish-yellow to red. Give us an indication of the color that you prefer and we will source a gem that comes as near as possible. The play of color effect is not seen in fire opal gems and the term 'fire' in this case refers to the color of the stone, it can sometimes resemble fire or a flame. The fire opal claddagh ring is crafted in gold or sterling silver, the gold ring can be ordered in 14k or 18k and we provide options for white, yellow and rose gold. Fire opal gems can show a high degree of transparency, they look their best when cut in a faceted form. Since fire opal is much rarer than white opal, the gemstone has a unique and fascinating appeal, this makes it very attractive to knowledgeable jewelry lovers. Most buyers prefer to have their fire opal claddagh gemstone ring in silver, white gold or yellow gold ... more.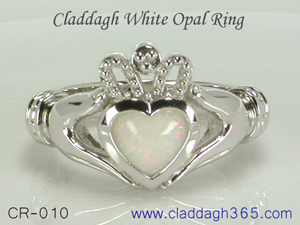 When jewelry buyers talk about opal rings, they generally expect to get an opal similar to that shown in the CR-010 claddagh white opal ring. This gemstone displays the amazing play of color phenomenon, the colors seem to dance around as you view the gem from different angles. When it comes to birthstone opal claddagh rings, the liberal thought is to choose any type of opal but, purists still prefer a white opal. White gemstones offer more freedom in choosing metal colors as, they look equally good in all metal colors. Your gold opal ring can be ordered in yellow, white or rose gold and you can pick a 14k or 18k opal ring. Classic designs like the one seen in the claddagh ring, seem to be ideally suited for sterling silver - we ensure the same quality of gemstone and craftsmanship for gold and silver opal gemstone claddagh rings. Remember that, we can also provide pink opal for your custom opal ring. Our rings are custom made in all sizes ... more.
Caring: Here are some suggestions related to caring for opal claddagh rings. All opal gems have a natural presence of moisture in them, do not expose your opal ring to extreme changes in temperature. Avoid wearing or keeping your opal claddagh ring in an environment that can get heated. It is best to take off opal gemstone rings when doing heavy physical activity, this will help ensure that the gem does not get struck by physical force. Do not use strong chemicals or detergents to clean opal jewelry, ultrasound jewelry cleaners are also not recommend for this gem. To clean your claddagh opal ring, use some plain clean water at room temperature, a very soft brush, a few drops of very mild liquid soap and a piece of clean and soft cloth. If the cleaning operation seems to call for more effort than this, take the help of a professional jeweler. When storing opal claddagh rings, do not bundle the jewels together, store them in a jewelry storage box that has a separate padded section for each jewel.