Claddagh Ring With Diamonds
FINE CUSTOM JEWELRY, GOLD AND 925 SILVER WITH YOUR CHOICE OF GEMS AND DESIGN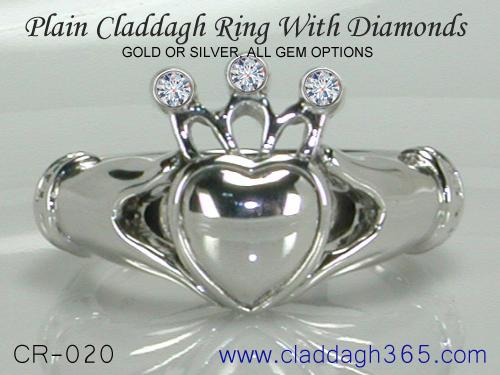 When referring to a diamond claddagh ring, let's differentiate between to design concepts. If you wish to have a gold, silver or platinum claddagh ring with a heart shaped diamond in the center, please make note of these details. Heart shape diamonds are expensive particularly when we talk about a 5-6mm diamond. An SI2 clarity heart diamond claddagh ring can have a price tag of around 4,000 U.S$ to 6,000 U.S$. If you are interested in such a diamond ring or require a better quality diamond, please email our support team with details of your requirement. What we are talking about in this report is a claddagh ring with diamonds in the crown, the concept could include a center heart gem or follow the no stone claddagh ring style.
The CR-020 gold or silver ring has a very interesting design element. While posing as a plain cladagh ring with no gemstone, the ring shows a subtle glitter in the crown. Many of you might regard this as substantial diamond presence because we have lavished the ring with one 2.5mm round diamond and two diamonds with size 2mm. The diamonds are in the I-J color range and have a VS1 to VS2 clarity rating. With that quality and dimensions for the diamonds, it is tempting to refer to this jewel as a diamond heart ring. The all metal ring strongly pulls focus to the diamonds in the crown, this is what imparts a feeling of extravagance to the jewel. For those of you who adore the Claddagh365 plain claddagh rings for their ease of wear and maintenance, we would suggest the CR-020 diamond claddagh ring. Diamonds are after all the hardest stones to be used in jewelry, they do not need too much of care and attention and at the same time, add a dash of glamour to the jewel. The diamonds in this heart ring are securely mounted with a bezel setting and no prongs are used. Prongs can get stuck in fabric and get pulled open over time, this can result in the stones becoming loose or even dropping off.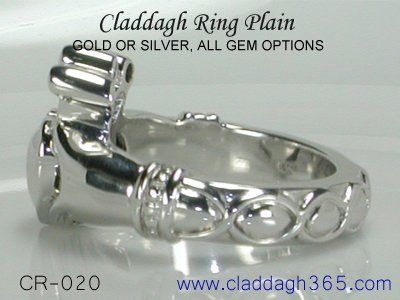 The cladagh ring has a history that takes us back in time by about four centuries, the first ring was made by a slave named Robert Joyce in Ireland. The ring get's it's name from a small Irish fishing village named Cladagh. Claddagh365 is credited with crafting the world's finest claddagh rings in gold and silver. We had assigned a team of experts to do a long and thorough research on the history and tradition of this historic jewel. This intense study ensures that every cladagh ring that we craft retains all the features, meaning and significance of the first ring made four centuries ago. The findings of our study are published in the Claddagh History Report ,let's briefly explain the meaning of the cladagh ring right here. Robert a humble fisherman was one day captured on the high seas by pirates and sold, to a wealthy goldsmith. During his tenure as a slave, he had to surmount both physical and mental hardships. While he bravely faced up to the challenge, there was one thing that broke him mentally - it was the fact that he was separated from his beloved. In a desperate bid to avoid a total mental breakdown, the young man decided to make something for his beloved. He decided to make a ring for her the features of which, would express his true love and feelings. The idea was to stay motivated and hope to give her the ring when he was freed from slavery. The outside world heard about the jewel only after, he was a free man and reunited with his beloved. The interesting features of the claddagh ring work to give tremendous meaning to the jewel. The heart depicts love, the crown signifies loyalty and the hands imply togetherness and friendship. Also known as the love, friendship and loyalty ring, the claddagh ring is today regarded as the world's most meaningful jewel in history.
Variations: Each claddagh ring crafted by us is fully custom made, you can therefore personalize the jewel to suit your style and preferences. To begin with, we have design concepts for both ladies and men's claddagh rings. The rings shown on this web page are suitable for ladies, the Men's Claddagh Rings section will introduce you to some impressive and sturdy cladagh rings for men. The diamonds in the crown of our claddagh rings are optional, you can let us know if you prefer to have some other gems instead of diamonds. For the rings that have a heart gemstone in the center, you choose the gem and we do not put any limitation on the gemstone selection. The plain, gemstone, or diamond claddagh ring can be ordered in gold or 925 sterling silver. Both metal options are provided with fine craftsmanship and handpicked gems.
Specifications: The gold diamond claddagh ring can be ordered in 14k or 18k gold and you have, white, yellow or rose gold as the gold color options. We would suggest that the silver claddagh ring with diamonds, be left un-plated mainly because, any plating done on silver will wear off after a while. However if you do wish to have the 925 silver cladagh ring plated, you can choose from white rhodium, yellow gold or pink gold. The gold ring will have a weight of around 10-12 grams and the silver ring will weigh around 8-10 grams. If the cladagh diamond ring that you order requires a substantially large ring size, we will let you know whether that size is better crafted with a higher metal weight. There are three natural diamonds set in the crown, the center diamond is a round 2.5mm stone and the diamonds on either side are 2mm rounds. The diamonds will be in the I-J color range and VS1 to VS2 clarity range. Let us know if you require specifications other than these for the diamonds in your ring. Please make specific requests for features like, a solid band for the ring where no metal is scooped from inside the band or, an etching to be done inside the band.
PRICING FOR RING:
This price includes the diamonds in the crown.
Gold: The 14k white, yellow or pink gold diamond claddagh ring with diamonds in the crown would be priced at just 1,250 U.S$. The 18k white, yellow or rose gold cladagh diamond ring, would be priced at just 1,450 U.$.
Silver: The claddagh diamond ring in sterling silver, will be priced at just 400 U.S$.
Production: The time required for production counting from the date when we receive your payment is 4 to 5 weeks. We need this time as we invest high quality craftsmanship into every jewel. Each gem is carefully selected and perfectly cut to fit the metal mounts.
Shipping: We will ship through FEDEX and provide you the tracking number the moment the parcel ships. Let us know if you need another mode of shipment and we will discuss the possibility of fulfilling your request. We do feel uncomfortable to ship through a mode that does not allow web tracking as, it is risky for you and us. The shipping charge by FEDEX is 35 U.S$ and that needs to be added to the above quoted prices.
Payment: We prefer Paypal and Western Union as modes of payment but, would suggest that you do not use Western Union if you happen to be a first time buyer. If there is some other mode of payment that is more convenient to you, let us know and we can discuss that option. Let us know which mode of payment you prefer and we will provide details for the same.
Claddagh365: Our claddagh rings are accepted to be the finest rendition of the centuries old ring. We craft all types of jewelry in gold or 925 silver with fine craftsmanship and your choice of design and gems. You are not limited to what you see on our website, do send us an image or sketch at sales@claddagh365.com if you require something to be crafted according to your design. You can also pick an item from our website and request for it to be made with the metal and gem that you prefer.
Below are some variations of our claddagh rings, you can email us your design concepts if you need something different. Do keep in mind that all these rings can be ordered in gold or 925 silver with the gemstone of your choice. Since each ring is individually crafted by skilled artisans, we can accommodate requests for all ring sizes. You can choose any ring and request for a crown design that is present on any of our cladagh rings.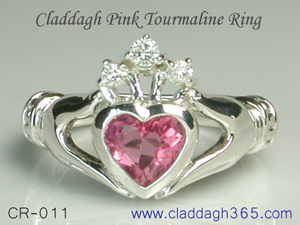 A gorgeous tourmaline claddagh ring, custom made with diamonds in the crown. We offer options for pink and green tourmaline. Select gold or sterling silver for your pink tourmaline cladagh rings, available in all ring sizes .Get more details here.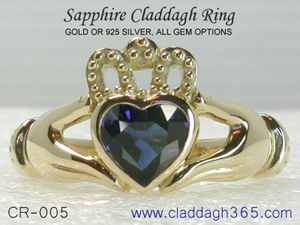 An exquisite sapphire cladagh ring, available in all sapphire colors. This sapphire ring is perfect for an engagement or wedding, diamonds are available as an option in the crown. Learn more about this claddagh ring with blue sapphire gemstone here.