Carnelian Gemstone Claddagh Ring
CUSTOM JEWELRY GOLD OR 925 SILVER, DESIGNS AND GEMS OF YOUR CHOICE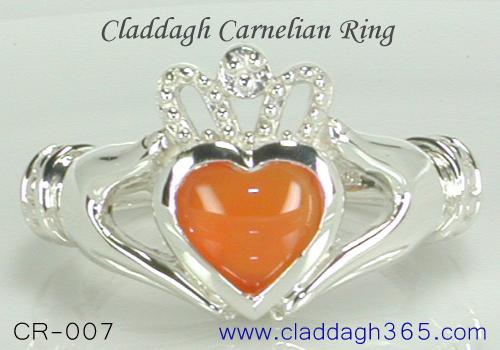 Jewelry lovers often choose gemstone jewelry for the folklore and traditions that are attached to specific gems. With a thousand year history and tremendous beliefs historically associated with carnelian, the CR-007 claddagh ring would appeal to most of you. Once you hear the touching story behind the legendary claddagh ring, you will have another convincing reason to own the Claddagh365 gold or 925 silver carnelian claddagh ring. The story of the claddagh ring began almost four centuries ago, it does not underline the time of royals and palaces, it does not smell of fashion, luxury and wealth. Don't turn away and skip this web page if we honestly tell you that, the first claddagh ring was made by a humble fisherman turned slave. But before we get into the details of the claddagh ring, let us enlighten you with a few things about the carnelian gemstone. This will help you better appreciate the beauty and significance of the silver or gold claddagh ring with carnelian.
The origin of the name carnelian makes an interesting story, the name is derived from the Latin word 'carneus' which means fleshy. The color of the gem which can range from pale orange, bright orange, reddish orange to a deep brownish red, can sometimes resemble the color of flesh. Rest assured that none of the color properties of carnelian are a result of any organic content. It is the iron oxide in this chalcedony that is responsible for it's color. When you order your claddagh carnelian gemstone ring, let us know whether you prefer the gem to have a dominant orange or a dominant reddish orange color. 12 gems were given great respect, these were present on Aaron's breastplate and ultimately formed the basis for the birthstone charts. Carnelian was one of the gemstones present on the breastplate. You might have heard that carnelian is a speaker's stone - this resulted from the belief that the gemstone instilled confidence in the wearer, something that was able to drive away stage fright. The Egyptians linked the stone to life and life after death, they would often bury a piece of carnelian along with the dead. The gem was supposed to facilitate a smooth journey from this world to the next. Kings and merchants carved personalized seals from carnelian, these could be used to apply wax seals to important documents. The scientific explanation is that, wax does not stick to carnelian, it is therefore easily released on to the document. Many believers in the metaphysical properties of gems, attribute the ability to bring happiness and courage to carnelian - this is true even today. Prophet Mohammed is supposed to have worn a silver carnelian ring on the little finger of his right hand, this explains the importance of carnelian to Islamic belief and tradition. An interpretation of carnelian color is done in Islam, colors towards lighter orange are believed to be good for ladies. Men on the other hand prefer deeper reddish orange or red carnelian gems. This gem is often referred to as the stone for creativity because, it is supposed to encourage clear and creative thought.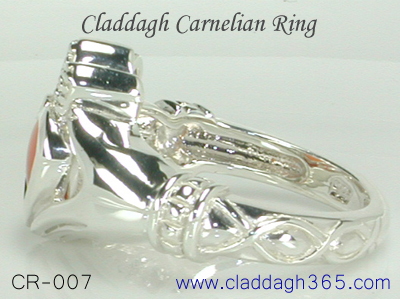 With a substantial understanding of the gemstone, we now move ahead to talk about the claddagh carnelian ring. Take a moment to notice the features on the ring, they are vital to the meaning of the jewel. It is the features of the claddagh ring that make it far more valuable and meaningful than a simple heart ring. The maker of the first claddagh ring was confined to the depressing world of a slave, it was four centuries ago when slavery was accepted and common. Robert Joyce was a humble fisherman who was captured and sold by pirates when, the boat in which he and his friends were sailing was attacked and ransacked by pirates. The young slave could tolerate the physical and mental torture of slavery but, it was the thought of being separated from his beloved that really tore his morale apart. He and his beloved lived in the small Irish fishing village named claddagh before that fateful day. Robert decided that making something for his beloved and the dream of being a free man one day, would help salvage some of his morale. He put his newly acquired gold crafting skills to work and started making a ring for her. A few years later, his dreams came true and he was indeed a free man once again. He rushed back the claddagh village carefully clutching the ring in his hand. On reaching the village his joy knew no bounds when he learnt that his beloved was waiting for him after all these years. The story claims that, the couple were soon married and spent the rest of their life happily together. The hands, heart and crown seen in the claddagh ring are very essential to the meaning of the jewel. It was the mind and heart of a humble slave that, translated thoughts and feelings into these features. Love was symbolized by the heart in the center, the hands implied togetherness forever and the crown signified loyalty towards his beloved.
You can order a gold or silver claddagh carnelian ring, in recent years sterling silver jewelry has experienced a steep rise in demand. We provide fine craftsmanship and handpicked gems for both metal options. We can also accommodate special requests for claddagh platinum rings, email us for details and price quotes if you prefer that metal. Our claddagh rings retain the features and meaning of the ring that was first made centuries ago. Since each ring is fully custom made, all ring sizes and all gem options are available. The gold claddagh carnelian ring would require you to choose from 14k or 18k, white, yellow or pink gold. A silver claddagh ring with carnelian gemstone can be plated with white rhodium, yellow gold or rose gold. Before you request for a plating to be done on your claddagh ring, keep in mind that no plating on silver is permanent. Expect the plating to wear off after some time and wear and tear. We would suggest that your 925 silver carnelian ring be left unplated, such a ring would always be easy to clean and polish even when tarnish forms on the jewel. Do not over strain your budget when making this purchase, keep in mind that the level of meaning and significance of a gold or 925 silver carnelian claddagh ring remains the same.
Claddagh365: The features of our claddagh rings are based on the findings of a thorough 6 month study into the history and meaning of the legendary jewel. You can therefore be rest assured that the Claddagh365 ring maintains all the features of the first ring made about 4 centuries ago. Highly skilled craftsmen and artisans work on each ring and equal attention is given to the gold or 925 silver claddagh ring. Your choice of gemstone is not limited to what you see on our website. Our dedicated team of gem buyers will comb every gemstone mine and source to fulfill your gemstone requirement. Each gem is carefully checked and tested before being custom cut by our dedicated gem cutters.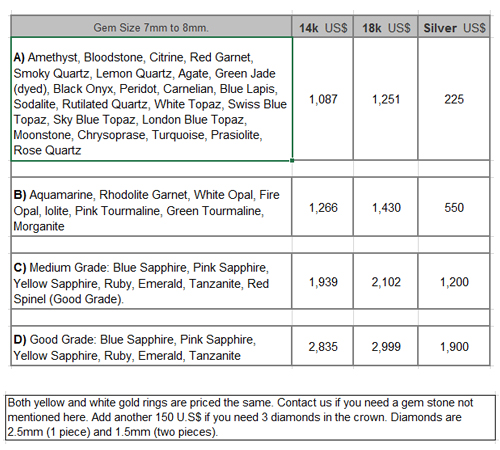 Pricing For The Carnelian Ring
This gem option is priced in the (A) group of gemstones shown in the price table. We accept payment through Paypal and Western Union but, do not recommend Western Union for first time buyers. Production will be 4 weeks from the date of order confirmation and receipt of payment. Email us at sales@claddagh365.com with your gem preference, metal choice of gold or silver and also the ring size that you require.
Shipping is through FEDEX and the shipping charge is 35 U.S$ for upto 5 rings. Let us have your preferred mode of payment and we will provide details for the same.