The spectacular rise of Tanzanite in the world of style and fashion is even more significant if you consider the fact that, the gemstone has been a fairly recent find. In the world of gems where, many gems carry a history that dates back to centuries and even thousands of years, Tanzanite was first seen in the gem markets as recently as 1996. It is therefore no surprise that Claddagh365 offers the historic claddagh ring with tanzanite as one of the gem options. Tanzanite is unique in more than one ways, and hear are some unbelievable facts related to the gem. Tanzanite is a few thousand times rarer than a diamond, this seems quite logical once you become aware that the gem is mined in just one location on our planet. The African nation of Tanzania is home to the only tanzanite source, a small patch of land near Mount Kilimanjaro hosts all the tanzanite in the world.
While it is unlikely that you could resist the temptation to buy a tanzanite claddagh ring for yourself, the jewel also makes a great gift. As colored gemstones become more widely accepted in formal jewelry like, wedding and engagement rings, tanzanite is obviously one of the favorites. Every man wishes to pick an engagement ring for his beloved that, is unique and truly special - the claddagh ring combined with a tanzanite gem perfectly fits that requirement. You can read the complete Claddagh Ring Story but, here is a brief summary. The first claddagh ring was made around 400 years ago, under some very touching and humble circumstances. A young fisherman turned slave named Robert Joyce made the ring for his beloved. The important thing to know is that, the ring was made when Robert was still suffering under the oppressive conditions of slavery. He made the ring to give him the courage to carry on, he basically told himself that he could one day give this ring to his beloved - the day when he would be free was a distant dream with no logical explanation. So what really happened was that, the features in the ring actually held his true feelings for her. The crown depicted his loyalty to her, the heart spelled out his love and hands symbolized friendship and togetherness. It is these features in the ring that give meaning and importance to the jewel. Robert Joyce was one day freed from slavery, he rushed back to his beloved and gave her the ring. The couple were soon married and lived happily ever after.
It is important to understand that, the love, friendship and loyalty as depicted by the claddagh ring need not always imply a matrimonial relationship. The ring could represent love between friends, family members and even close friends. We can confidently state that, the claddagh ring is suitable for all occasions. A daughter could pick a claddagh ring for her mother, a husband could buy one for his wife and parents could gift one to their daughter as a graduation day gift. With heart being an important theme for Valentine's jewelry, you could gift a gold or silver tanzanite claddagh ring to her, do not forget to brief her on the story behind the ring and the uniqueness of the tanzanite gemstone. And if you think of choosing this awesome jewel as a wedding or engagement ring, you would be making a perfect decision. Love, togetherness and loyalty form the essence of any successful marriage - these are well embodied in the claddagh ring.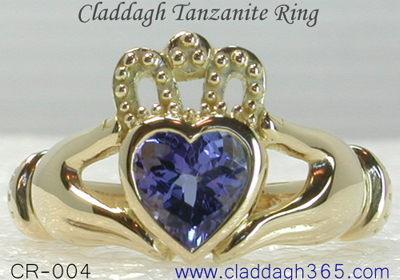 Shown here as a yellow gold claddagh tanzanite ring, the jewel can be crafted in 14k or 18k white, yellow or pink gold. You also have the option to choose a sterling silver tanzanite claddagh ring - the great thing is that, the gold and silver tanzanite gemstone rings have the same quality of craftsmanship and gems. The exotic beauty of tanzanite, really needs no side stones or diamonds so, for the tanzanite purists this is a nice and neat option. Your gold or 925 silver tanzanite claddagh ring is custom made in all ring sizes and etching a short name or date inside the band is also possible. As a birthstone ring, this tanzanite heart ring would be an awesome choice for a December birthstone ring. While tanzanite is a gem in the upper price category, we are able to control costs and ensure a moderate price tag for the jewel. If you are looking for a truly unique jewelry gift, the rarity and beauty of this Tanzanian gem should be high on your priority list. The design structure of our claddagh rings retain all features of the first ring made about 4 centuries ago. Handpicked gems sourced directly at the mining sites combine with our expert gem cutting skills to deliver one of the finest tanzanite rings that you could buy. You can read more details about this gorgeous ring and learn why it is one of the most meaningful jewels in history here.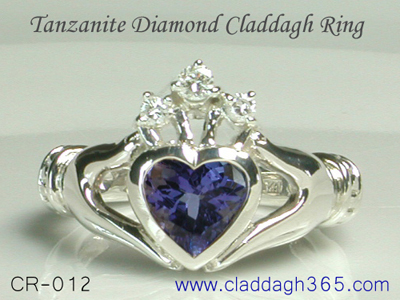 A fine tanzanite diamond ring, crafted by some of the finest craftsmen and artisans. Experts are widely agreed on the theory that, tanzanite with it's extremely low sourcing options is rarer than a diamond. Ever since it was first introduced to the gems and jewelry markets in 1967, the hope of finding other mining locations has kept explorations alive. Interestingly, it does seem that we will need to be content with the small stretch of land on the foothills of Mount Kilimanjaro (Tanzania), to satisfy global tanzanite demand. It was the sheer beauty and elegance of this gem that allowed it to race up the ladder or international glamour and fame. As jewelry lovers look for that precious and unique look, they have opened up to the beauty of colored gems - demand has increased far beyond the big 3 (ruby, emerald and sapphire). Tanzanite is not a hot favorite for wedding and engagement rings and this where, young couples combine tanzanite with the ever dazzling diamond. You can order your gold or silver tanzanite diamond claddagh ring with or without the diamonds in the crown. And if you wish to retain the gems in the crown but, prefer to replace some or all diamonds with other stones of your choice, let us know and we will work out a price quote for you. The gold claddagh tanzanite ring with diamonds is available in 14k or 18k gold and you can, choose from yellow, white or rose gold. The gold or silver ring is provided with the same quality of craftsmanship and gemstones. Read all about this fascinating jewel here.
Claddagh365: We craft fine gold and silver claddagh rings in all ring sizes and with the gemstone of your choice. Since each claddagh ring is custom made, the ring can include all your design preferences. The price table below will give you an idea of some of the gem options that we offer, we however do not restrict your gemstone selection to what you see on our website. Please email us at sales@claddagh365.com with any queries or doubts that you might have. Production is 4 to 5 weeks from the date that the order is confirmed with payment. We accept Paypal and Western Union as modes of payment however, we do not recommend Western Union for first time buyers. Let us know the mode of payment that you prefer and we will provide details for the same. We will ship through FEDEX with web tracking support, the shipping charge is 35 U.S$ - this amount can cover upto 5 rings.