Gemstone Healing And Other Beliefs
The initial encounter of humans to crystals and gems was related to belief and metaphysical properties rather than, the desire to set or follow a fashion trend. For example, aquamarine the light blue variety of beryl was said to have the power to improve communication between people and improve relationships. Many people even today believe that, aquamarine gives strength and confidence to the wearer. Mythology claimed that, this gem had the highest impact when worn in water - sailors often carried an aquamarine went they went sailing on the dangerous seas. Many of you might request for an aquamarine ring, just to get some of the benefits associated with this gem. While we have no problems crafting a gold or silver aquamarine ring for you, it is important to understand that we do not claim any special powers for this or any other gemstone.
When we talk specifically about sickness healing, the issue takes on a more serious implication. You might have heard that carnelian is often referred to as the 'stone of the speaker'. There is no medical implication here, the belief was (and often is) that, wearing a carnelian helps eliminate stage fright. This improves the confidence of the speaker, and helps him or her concentrate on the speech or presentation. The belief is one of the oldest reigning claims and wearing a carnelian ring to gain confidence is common even today. But the scenario changes when we hear that, carnelian gems help relieve or even cure health problems related to the gall bladder. Imagine a patient neglecting medical advise and treatment and instead shopping for a carnelian gemstone, this could be dangerous and life threatening. We will therefore state that, relying on gemstone or crystal cures for your health problems can be extremely dangerous and should never be attempted.
Jade, the amazing gemstone is another stone that packs tremendous folklore and ancient belief. If you feel that, a jade ring will help you improve family relationships, there is a positive side to this. Wearing a claddagh jade ring, can give you and everyone at home, the motivation to work towards harmony and tranquility at home. But we were shocked to hear that some followers of crystal healing were recommending jade, to cure ailments related to the kidneys. If you do have a malfunction of your kidneys remember that, it is can critically affect your health - visit your doctor and follow professional advice, a gemstone is the last thing that you should be looking for. We sent out our team to do some research on the historic folklore related to jade, the results were interesting but equally misleading. It appears that the Portuguese, used the phrase piedre de ilharga, to describe jade (both nephrite and jadeite). Discussing this with a Portuguese scholar revealed that, the phrase actually meant 'stone of the loins' - this brought about claims that jade could cure kidney ailments.
Let us talk about opal, the gem with the amazing play of color. Through history, opal has earned some very contradictory 'powers' attributed to it. At one time it was referred to as a gemstone for good luck, Pliny the Roman scholar stated that in opal, you could see the color of every other gemstone. He was obviously referring to the colorful flashes that can be seen on precious opal. Just by way of information we might tell you that, not all varieties of opal show the play of color phenomenon. Our opal rings shown with white opal and fire opal gems, prove this point. You could wear an opal gem because it happens to be your (October) birthstone, you could choose it for it's beauty and rarity but, never hope to get the amazing medical benefits piled on this gem. Crystal healers might make you believe that opal is a whole medicine factory and hospital on it's own - give a deaf ear to that talk. Even as we write this report, someone somewhere, might be yearning for an opal gem to cure illness related to fevers, eye infections, spleen and pancreas! This kind of madness needs to stop, nothing but open communication and a caring attitude can help.
So what exactly are we saying, are gemstones useless, is all folklore rubbish - should we delete all historic records related to crystals and gemstones. Basically we recommend that you keep an open mind and give gemstones the credit that is due to them. Gems are beautiful, they are one of nature's wonderful creations, they are often very rare and sometimes serve as a good form of financial investment. People feel proud, pretty and stylish when they flaunt gemstone jewelry - nothing wrong with this. If you feel that wearing a black onyx will help you better cope with personal grief or that, carnelian can make you a confident speaker, wear the gems and use them as a motivation to improve and do better. But if you have a medically related problem, or even a severe bout of mental depression seeking professional medical advice is the best and only safe option.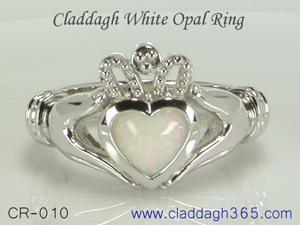 Claddagh365: We craft the best rendition of the historic claddagh ring in gold and 925 sterling silver. You choose the gemstone and ring size for your jewel, there is no limitation on gemstones as we source stones from mines spread across the globe. The claddagh ring is a jewel that was first made more than 4 centuries ago by an Irish slave named Robert Joyce. Reading the History Of The Claddagh, will reveal why it has today become one of the most respected jewels in history. Our design concept for this historic jewel is based on a thorough research project conducted by our experts, we studied the history, meaning and significance of the jewel from knowledgeable scholars. You can therefore rest assured that your Claddagh365 ring, retains all the features of the first ring made centuries ago. The same quality of craftsmanship and gemstone is provided for the gold and silver ring, you can therefore base your metal choice on your budget and personal preference.
The price table below will give you an idea of the pricing and other options for our claddagh rings.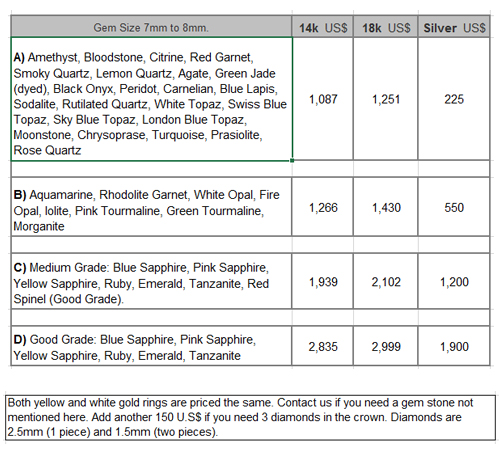 Our claddagh rings are crafted in gold or silver with the gemstone of your choice. Both metal options get the same attention to detail, craftsmanship and gem quality. The gems shown in the table and within our website, are not the only gems that we can set in your claddagh ring. Let us know if you require a gemstone not mentioned here. Our support team at sales@claddagh365.com will be glad to render any assistance that you might need.
Production is 4 to 5 weeks from the day that payment is received, payments are accepted through Paypal and Western Union. We do not recommend Western Union for first time buyers. Let us know your preferred payment mode and we will provide details for the same.
We also provide an option to etch a name or short note inside the band of the ring, let us know if you need such customization for your claddagh ring.