Aquamarine Properties And Benefits
FINE CUSTOM JEWELRY GOLD AND 925 SILVER WITH, DESIGN AND GEMS OF YOUR CHOICE
In ancient times gems and crystals were known and respected for their special or even magical properties. Since science had not yet developed to a stage where minerals could be chemically analyzed and accurately identified, people often relied on color, apparent inclusions and even location of the mine where the stone was mined to assign attributes to a stone. The metaphysical properties of Aquamarine the greenish-blue variety of beryl are many and varied, this is typical of a gem that has been known for a long time.
This gemstone was named by virtue of it's color, the Latin words aqua marina mean, sea water - and the name aquamarine was derived from those very words. Based on it's color, aquamarine was believed to have one important property, the gem could protect a person when sailing on the high seas. Sailors often carried an aquamarine crystal when embarking on a sea route. This belief along with another aquamarine property that relates to driving away fear and worry, gradually made people believe that any type of journey whether by sea or land, would be made safer by carrying an aquamarine along. In ancient times when metal forging processes were not advanced enough to inspire jewelry making, people would wrap or tie an aquamarine crystal and wear it as an amulet. You might come across metaphysical Aquamarine descriptions referring to it as the 'stone of courage', the above explanation will tell you why that is so.
Besides being a stone that promised a safe journey and imparted courage to the wearer, aquamarine crystals were also linked to true love and faithfulness. It was once again the cool, serene and soothing color of aquamarine that blessed it with these properties. This might have been a very ancient belief related to aquamarine but, it still does influence many aquamarine jewelry buys today. According an interesting property related to aquamarine, people expect the gemstone to help settle differences and mend tough situations brought about by domestic disputes and arguments. If you believe in the healing properties of aquamarine gems, you would relate well to what has just been mentioned in this paragraph.
As time went by, the metaphysical properties of crystals including aquamarine took on a more formal tone. Feng Shui, the system of chakras and even the concept of birthstones related to the special properties of gems. With it's origins rooted in the 12 gems set in Aaron's breastplate, the system of birthstones has remained popular until today. The month of March claims aquamarine the gemstone of love and courage, as it's birth stone. Feng Shui the ancient Chinese practice recommends ways to attract positive energies while, suggesting how to deflect the ill effects of negative energies. Locations and directions are important elements defined in feng shui. The feng shui related properties of aquamarine assign benefits based, on the direction in which the aquamarine stone or crystal is placed. To get the benefits of aquamarine properties related love and relationships, place aquamarine in the South-West direction Aquamarine crystals in any negative position, bring benefits related to courage and protection.
If you are interested or familiar with the centuries old Indian system of body Chakras, here is something related to the Chakras and aquamarine. In ancient times it was believed that the human body has 7 vital points, that channel essential energies through our body. Each point or chakra relates to an important nerve or organ or gland. The throat chakra is located at the base of the neck, it represents expression of thoughts and ideas through writings, speech or art. The ears, nose, eyes, throat, mouth, neck and thyroid gland were all linked with the throat chakra. Just like each of the other 6 chakras, the throat chakra has a few gems assigned to it. Lapis, turquoise and aquamarine are recommended for the throat chakra. It can be clearly observed here that, the stone assignment is based on color as the key. All the stones suitable for the throat chakra have an element of blue in them.
Some people look for illness healing benefits in crystals and gemstones, aquamarine has an assigned role here too. Bronchitis, cough and eye problems are said to get relief by keeping an aquamarine near the sick person. Headaches and migraines are supposed to be relieved through aquamarine treatments. It is probably the property of helping a person stay calm that empowers aquamarine with this attribute.
Claddagh365: We are the leading provider of fine custom jewelry in gold and 925 sterling silver. You can pick designs from our website and request for them to be made with the metal and gemstones of your choice. You need not restrict your gem selection to what you see on our website as, we can procure just about any gem from any part of the world for your jewelry. We also welcome your own design ideas and sketches to be custom made. Do get in touch with our expert team at sales@claddagh365.com with any questions or requirements that you might have.
Please note that the information compiled on this webpage is provided by way of information only. We do not claim any special powers for the gems or jewelry that we offer. For those of you who wish to practice crystal healing, do remember that there is no substitute for professional medical advice.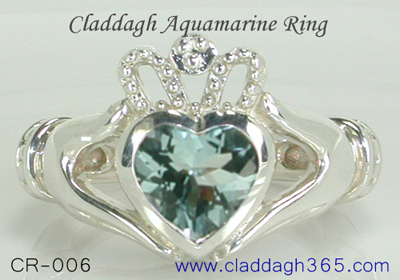 The claddagh aquamarine ring brings together a gorgeous gemstone with a tremendous history and tradition and undoubtedly, one of the most meaningful jewels of all times. The four century claddagh ring symbolizes love, togetherness and loyalty. Learn more about this historic jewel, the complete report is filed here.