Belly Rings To Office? Fine But Keep Them Out Of Sight.
CUSTOM JEWELRY FROM THAILAND, YOUR CHOICE OF DESIGN, GEMSTONES AND METAL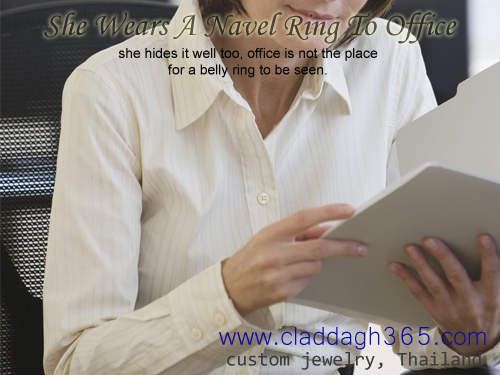 Can you wear a belly ring to office, after all the office dress scene has gone through some revolutionary changes in many organizations. To many of us it might seem like a stupid question, the answer would be a definite NO. But then there's nothing wrong in asking, does a navel ring qualify as a casual office wear accessory. In our humble opinion we would say that, etiquette need not keep you from wearing that gorgeous belly ring to work but, wait a moment. Just make sure that the jewel stays well covered, we do not know of many office dresses that would allow the midriff to peep through! If you plan to end your working day and slip into a more informal meeting or dinner date, find a way to squeeze in a quick dress change before getting into the evening celebrations. There is nothing wrong with belly rings but for some reason, this jewel has raised a few view points. Work or a formal occasion or even a formal place, can call for a double thought on the visibility of your navel ring. Most ladies who choose to decorate their midriff have learnt to ignore uncomfortable comments and stares. Once you decide to wear a navel ring and go through, the process of getting your navel pierced, you develop a certain kind of boldness. This is all fine but a degree of heed needs to be given to specific situations, that you might encounter in society. We would say, no navel rings at the workplace even if, you happen to be the owner of that place.
Here is another interesting example - you prepare for that all important romantic dinner date for the evening, slip on the short top, make sure that the glittering belly ring that you paid a 1,000$ for is clearly visible. You find him there dressed in suit, waiting to take you up the glass lift and into the candle lit restaurant. The plush place is filled to the brim with stylish ladies and well suited men, shimmering evening gowns and necks pampered with expensive south sea pearls. Would your boldness carry you through the evening if you came dressed in, those low waist faded jeans and a top that seems to fly above your waist. And don't forget that glittering belly ring that you so carefully wore to the evening. We don't know of any restaurant that bans guests from wearing belly rings, but it is really about feeling comfortable and confident. So the bottom line is that, belly rings are suitable for a more casual wear and one place where we love to see them is at the beach.
A belly ring should be comfortable to wear and easy to take off, so consider carrying it in your purse. And if you are likely to misplace the jewel, then wear it. But just make sure that you can cover it easily should the place or situation call for that to happen. And this will remain true even if, you pick one of the gorgeous gold belly rings from Claddagh365 - one that is crafted to perfection and encrusted with diamonds and precious gems of your choice.
Claddagh365: We craft fine jewelry in gold and silver with gemstones of your choice. You can pick the design from our website or send us your own design ideas to be custom made. While we have expertise in custom making all types of jewelry, we are recognized across the world as the best source for the historic claddagh ring. You can contact our team of experts at sales@claddagh365.com with any questions or requirements that you might have. Read the Claddagh Ring Story, if you wish to know more about one of the most meaningful jewels of all time.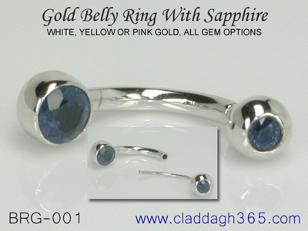 A statement that speaks luxury and style, a fine gold navel ring set with natural blue sapphires. Along with great looks this navel piercing ring boasts of a design that, ensures comfort and safety. The smooth rounded design concept for this ring ensure that, no sharp or pointed edges exist and this keeps you safe. Sapphire, rubies, tourmaline and aquamarine are gems that have good durability and are easy to maintain. And if you have an exclusive design concept that you wish to flaunt in your navel ring, send us the idea and we can custom make that jewel for you. Remember that, at Claddagh365 there never is any limitation on the gems that you can choose. Let us know which gem you wish to set in your belly ring and we will fulfill that request. Learn more about this gorgeous jewel ... here.