Black Onyx Cuff Links For Men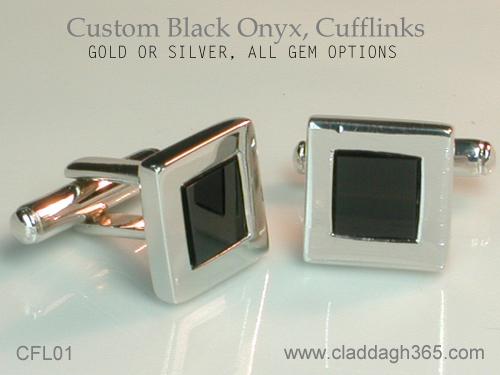 Cuff links were once considered to be an essential dress element for men who wore long sleeves shirts. Times changed and they seem to have disappeared from the scene. The last decade has seen a resurgence in the demand for men's cuff links and this time around, men aren't going to be satisfied with simple devices that hold the two sides of a cuff together. The CFL01 black onyx gem stone cuff links for men, gives you a peek into what men are really after. While surely hunting for quality and style, today's men seek to imprint a stamp of unique identity something that, distinguishes and differentiates them from the 'crowd'.
A broader acceptance of men's jewelry has meant that men have become more conscious and knowledgeable regarding what they wear. The demand for men's cuff links has revolved along the two most popular precious metals namely, gold and sterling silver. We custom make these onyx cuff links in gold or 925 sterling silver and ensure that, you get the same quality of material, craftsmanship and gems for both metal options. Besides precious metals, we have also seen the arrival of a trend where, natural gems are carefully picked by men for their cuff links. You might come across cheap stainless steel cuff links that, seem to look a lot like the CFL01 cuff links but, those cheap options rely more on black resin or other color pigments for the black effect in the center. On the other hand, our custom cuff links are set with handpicked and custom cut natural black onyx gemstones. We do not use glue for gem setting as we realize that, any type of glue has a fixed lifespan, the effect can then weaken and result in the gem coming off the mount. Some of the best craftsmen and artisans will craft each pair of cuff links, their commitment and dedication is invested into every single aspect of the production process.
The choice of dark colored gems for men's jewelry is well known, dark blue, dark brown and black are favorites. The interesting thing about black onyx is that, it looks awesome irrespective of the metal color against which it is contrasted. The black onyx gold cuff links can be ordered in 14k or 18k gold and you can pick, yellow, white or pink as the gold color option. A significant number of men's cuff link orders that we get each month have sterling silver as the metal option and this, is something that seems to be carrying from the metal preference for men's jewelry too. We do provide white rhodium, yellow gold or rose gold plating on silver cuff links as an option but, the important thing to note is that, the plating will come off after a while. If you plan to buy a pair of silver black onyx cuff links we would suggest that, you leave them un-plated. Tarnish will be easy to polish away and you can do the cleaning on your own. Un-plated silver cuff links can be polished clean with any reputed, silver polish lotion, fabric or spray. When you clean or polish your silver or gold men's onyx cuff links, it is important to give them a final rinse in clean and running water. This will take off any chemical residue or soap that might be stuck to the metal mount or the gemstone.
We designed these custom made cuff links to look good but, did not overlook the importance of durability. The design concept ensures that the cuff links get sufficient metal weight - you can thus rest assured that they do not deform or dent easily. By avoiding the use of glue and prongs to set the square black onyx gems in these cuff links, we have provided a firm and convenient gem setting. As mentioned earlier, glue can weaken over the time and result in loose gemstones. And prong settings tend to get stuck in fabric, pockets and other places - this can cause the prongs to snag and gradually open up. You then risk having a loose gem or a stone that has dropped off the mount. You might come across black onyx cuff links where, the stones are cut bulky and significantly protrude beyond the face of the cuff links. While this might give you the impression of wearing high carat (weight) gems, the protruding gems can easily hit against hard objects and surfaces and get damaged. The setting that we provide, ensures that the gem remains firmly mounted and that, you do not need to fuss and tire over taking acre of the cuff links.
Weight and Dimensions: The gold cuff links have a weight of around 12 to 15 grams. Since silver is basically lighter (less dense) as compared to gold, you can expect a weight of about 8 to 10 grams for the silver onyx cuff links. When you check the prices in the table, it is important to understand gem size specifications. Please note that some gems are mentioned with a size of 8mm square while others are square with a size of 7mm. You can email us with detailed requirements if the gemstone that you require is not in the list. The silver cuff links can be plated with white rhodium, yellow gold or pink gold but, please note that any plating done on silver will come off after a while.
Claddagh365: While we are known across the globe for our fine gold and 925 silver Claddagh Rings, we are also fully skilled and equipped to fulfill custom high end jewelry orders in gold, sterling silver or platinum. Our reach as far as gem procurement is concerned extends to every mining site on the planet and we can, craft your custom jewel with the gemstone of your choice. We welcome your own designs and images and will gladly work out a price quote and craft them for you.
Pricing And Metal Options For The Custom Cuff Links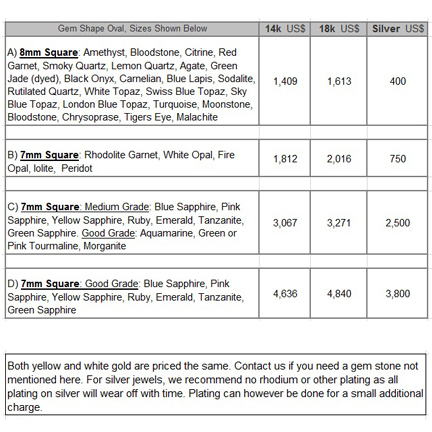 The black onyx gem options are mentioned in the gem group marked A). We can provide gems not shown or mentioned on our website too, so please contact us at sales@claddagh365.com with any requirements or questions that you might have. We can also custom make cuff links or any other jewel as per your design or image. You can email us images or sketches and mention dimensions, metal preference and gem selections - our experts will get back to you with details and specific price options.
Since all jewelry is fully custom made and every gem carefully selected and custom cut, production can take 4 to 5 weeks from the date that we receive payment and confirmation of the order. Shipping is through FEDEX with web tracking, the shipping charge will add another 35 U.S$ to the price quoted in the table.
Payment is accepted through Paypal and Western Union and we do not recommend that you pay through Western Union if you are a first time buyer with Claddagh365. Let us know which mode of payment you prefer and we will email details for the same. We encourage you to discuss all requirements and get all queries answered by our support experts before making a buying decision, a rush purchase made on an impulse works in neither your interest nor ours.