Claddagh Rings, Fire Opal Gemstone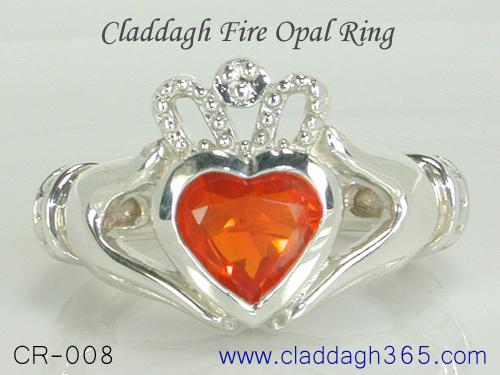 If you ever thought of wearing an opal claddagh ring, it might come as a surprise if we told you that the CR-008 ring shown above, was one of the options for a claddagh opal gemstone ring. Australia may rightly be referred to as the 'opal country' but, not all gorgeous opals are Aussie. The ring shown here is a fire opal gemstone claddagh ring, and is custom made by Claddagh365. Mexico has always been home to some of the finest fire opal gems, though Brazil has in recent years provided the gemstone world with some stunning fire opals too. The color of this gemstone always lies in the yellow-orange-reddish orange-red range. Interestingly, these are the colors that you would normally associate with heat and fire too. So this is what gives the gemstone it's name 'fire' opal. For those of you with some formal knowledge about gemstones, it is important not to associate the word 'fire' in this opal with the gemological term dispersion.
A fire opal claddagh ring has two interesting stories woven round it, one of these relates to the fascinating gemstone the second captures the touching story of the claddagh ring. Let's begin with the gemstone, this is a translucent to transparent type of opal gemstone. We already mentioned that the color of fire opal can range from yellow to red, this includes an orange and reddish orange shade too. The first location where fire opal was found is in Mexico, the gem is recovered from veins formed in dormant volcanoes. For many years, Mexico remained the only source for fire opal and the gem came to be known as Mexican fire opal. It was only about a decade or two ago that, fire opal made an appearance in some Brazilian agate mines. These gems were quite easily found in larger sizes, the color was impressive although some haze was often seen in them. While there are few other countries that hold small fire opal reserves, the volumes and quality does not come close to Brazil and Mexico.
If you order a gold or silver claddagh fire opal gemstone ring from us, the color of the gem will be as shown in the image. Let us know if you would like your opal ring to have a much paler orange or yellow gem, you could also request for a fire opal that has a predominantly red color. Keep in mind that as you move from the yellow orange to red color range, the gemstone does appear a bit cloudy. Our fire opal gems are natural and we do not, treat them in any way - this does means that we will find the best color fit for your request, one that is naturally possible. The gemstone in the fire opal claddagh ring is faceted, email us if you would prefer to have a smooth cabochon cut stone.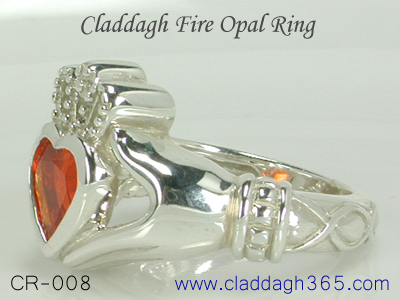 Let's now talk about the claddagh ring and the fascinating story behind the jewel, a story that unfolded almost four centuries ago. You can observe from the features of the claddagh fire opal ring that, the center of the jewel is shaped like a heart and denotes love. There is a crown perched on the heart and two hands extend to hold the heart. As you will read in a moment, the claddagh ring was made by an Irish slave to show his love and loyalty for his beloved. The hands symbolized togetherness and the crown showed his loyalty to his beloved. Robert Joyce was a simple fisherman who lived in a tiny fishing village in Ireland, the village was named Claddagh. One day, the boat in which Robert and his fellow fishermen were sailing was raided and ransacked by pirates. The captives including Robert were sold as slaves, the young man found himself toiling for a wealthy goldsmith. It was during those dark and depressing months and years that, Robert Joyce decided to make something for his beloved. He believed that doing this would keep him in a positive frame of mind, he dreamed that he would be a free man one day and join his beloved.
The 'thing' that Robert set out to make for his beloved was a ring, the jewel incorporated his true feelings for her. When the young slave was freed from slavery a few years later, he rushed to the Claddagh village and started looking for his beloved. He was absolutely delighted to find that she was waiting for him after all these years. He gave her the ring and the couple were soon married and led a peaceful and harmonious life, the ring came to be known as the claddagh ring. You will now agree that the fire opal claddagh ring is more than just, a heart ring. This jewel has tremendous meaning and is suitable for every occasion. It is amazing to see how a jewel with such a humble beginning, impressed millions of people across the globe. You can today proudly wear a claddagh ring as a wedding or engagement ring, it could also perfectly fit the requirement of a birthstone or valentine's ring. Opal is one of the birthstones for the month of October, you need not restrict your opal choice to just white opals. We receive a significant number of orders for claddagh rings to be gifted as promise rings. The ring is wonderful for self buy, it is even better to be gifted to someone you love.
You could order a gold or 925 silver claddagh ring with fire opal gemstone. 14k and 18k yellow, white or rose gold are the options for your claddagh gold ring. For the silver fire opal ring we would recommend that it be left un-plated. Such a ring would be easy to clean and polish if an when a tarnish appears on the jewel. On the other hand, a plated 925 silver claddagh ring might appear a lot brighter than an un-plated ring but, the plating can never last forever and will wear off after a while. We will leave the final decision on plating the silver ring to you, just let us know what you prefer. The ring is custom made by highly skilled artisans, this means that you can choose any ring size that you require. For the opal gem options, we provide white opal, pink opal and fire opal for you to choose from.
Claddagh365: We craft fine claddagh rings in gold and sterling silver with all gemstone options. A Thorough research into the history and tradition of the claddagh ring conducted by our team ensures that, our claddagh rings retain all the features of the first ring made about 4 centuries ago. Each ring is crafted by some of the best craftsmen in the trade, each gem is handpicked and closely inspected before being custom cut. The gemstone selection for your claddagh gemstone ring need not be limited to the options you see on our website, we can procure and custom cut just about any gemstone for you.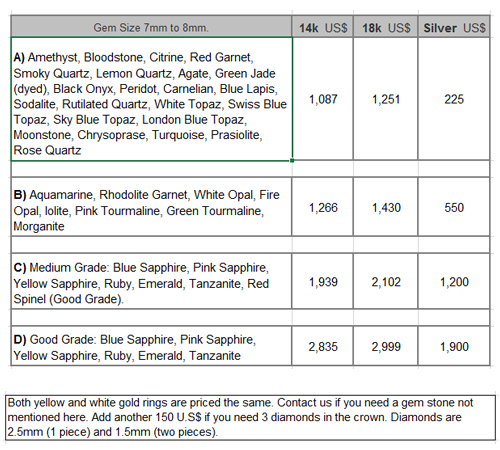 Pricing For The Fire Opal Ring

This gem option is priced in the (B) group of gemstones shown in the price table. We accept payment through Paypal and Western Union but, do not recommend Western Union for first time buyers. Production will be 4 weeks from the date of order confirmation and receipt of payment. Email us at sales@claddagh365.com with your gem preference, metal choice of gold or silver and also the ring size that you require.
Shipping is through FEDEX and the shipping charge is 35 U.S$ for upto 5 rings. Let us have your preferred mode of payment and we will provide details for the same.