Claddagh Rings With No Gemstone
ALL JEWELRY CUSTOM MADE IN GOLD OR SILVER, GEMS AND DESIGN OF YOUR CHOICE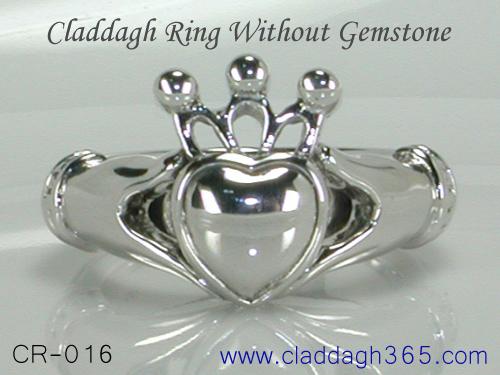 The meaning and significance of the claddagh ring lies in the features present in the namely, the hands, crown and heart. The concept of adding a center heart gemstone to the historic evolved much later. While some jewelry lovers preferred a gem based on their favorite color, others followed specific gems based on their metaphysical properties. This is exactly what we mean by saying that, a gemstone can enhance the meaning and beauty of the claddagh ring. The first claddagh ring was made about four centuries ago by a humble Irish fisherman turned slave - it was a simple jewel crafted by the young man while still under the harsh conditions of slavery. He hoped to translate his true love and feelings for his beloved through the features of the jewel. The young man was Robert Joyce and he came from the small Irish fishing village named Claddagh.
A team of experts from Claddagh365 spent several months researching the history, tradition and meaning of the claddagh ring. The findings from this research are compiled in the report titled Claddagh Meaning and we urge you to spend some time reading the touching story behind the jewel. One important fact that became clear from this research project is that, the ring made by Robert had no gemstone in the center. The entire ring was made from metal which means that, the center heart shape was represented in metal too. The tremendous interest generated by our claddagh gemstone ring, might make it seem strange to see the ring without a gem in the center but that was indeed how the original ring was crafted. We do get requests for plain claddagh rings without any gemstone and a small explanation is required here. When a buyer wishes to have a gold or silver claddagh ring with no gemstone, he or she could imply two possibilities. The first is that, we craft the ring with space left for the gem and the buyer later works with a local jeweler to set a gem that he or she already owns. If you wish to get a claddagh ring with no gem and set your own stone later, do email us and discuss your requirements. In this report we discuss the second possibility of a plain claddagh ring where, the design concept implies a full metal ring without any space to set a center gemstone.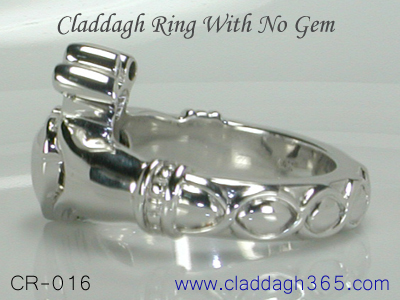 There are certainly some clear advantages of choosing a claddagh ring with no gem, here are some details. If you wish to wear this historic jewel with a concept that was applied to the first ring made by Robert Joyce, there is no question of a gemstone at all. While the absence of a gemstone in the plain claddagh ring takes off the stone cost component, it does add the cost of additional metal invested to make the heart. The price structure of the claddagh ring with a gem is quite obviously influenced by the gem selection and not all gems are expensive. So if you would personally like to wear your claddagh gold or 925 silver ring with a gem but, plan to keep the gem out for reasons of cost - discuss the issue with our support team, they might be able to suggest gem options that better suit your budget. Back to the advantages of wearing a plain claddagh ring with no gemstone. Every gem has some physical characteristics that need to be taken care of when the jewel is worn, stored or cleaned. Even an expensive gem like an emerald cannot be soaked in water for a long time, the exotic tanzanite should be kept away from physical shock and impact. This means that, a claddagh ring with no stone, would be much easier to maintain and clean. So if you lead a physically hectic life, wearing a plain claddagh ring will bring you the true meaning of the jewel without any fuss required for the gem.
If you are on a tight budget, consider a plain claddagh 925 silver ring keeping in mind that, the jewel will have the same level of significance irrespective of the metal or price tag. For the gold claddagh ring with no gemstone, we offer options for 10k, 14k and 18k gold. You can personalize your plain gold ring by choosing the gold color that you like, yellow, white and pink (rose). You could request for a white rhodium, yellow gold or rose gold plating on a silver claddagh ring with no stone but, we would recommend that you leave the silver ring un-plated. The fact that any plating done on silver will start coming off after a while will make it a bit troublesome, to clean or polish the jewel. On the other hand a plain silver ring that is not plated can be easily polished and cleaned at home.
Ring Details: We once had an interesting request for a claddagh ring with no gem, the lady requested for no heart gem in the center but for 3 small diamonds set in the crown - the piece did look truly extravagant and gorgeous and the additional cost was very moderate. The gold claddagh ring with no gemstone would have a weight of around 10 to 12 grams and the silver ring, would weigh around 8 to 10 grams. In cases where a large ring size calls for a higher metal weight, we will inform you of any price change before you confirm the order. Similarly, the requirement of a solid band with no scooping on the inside can also require additional metal investment.
Pricing:
The gold claddagh ring with no gemstone is priced at just 950 U.S$ in 14k white, yellow or pink gold. The same ring in 18k white, yellow or pink gold is priced at just 1,190 U.S$. The silver plain claddagh ring with no stone is priced at 200 U.S$. There is an additional shipping charge of 35 U.S$, we will ship through FEDEX with web tracking.
If you require to set three diamonds in the crown of your gold or silver plain claddagh ring, please add another 150 U.S$. The round diamonds will have a size of 2.5mm (center) and 1.5mm on either side.
Please note that the production time for your ring will take around 4 to 5 weeks from the date that we receive payment. We accept payments through Paypal and Western Union but, do not recommend Western Union for first time users. Let us know which mode of payment you prefer and we will provide details for the same. Do contact our support experts at sales@claddagh365.com if you have any questions or doubts.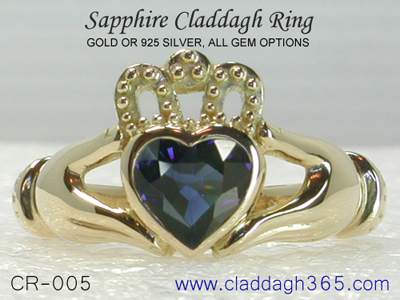 If you wish to get a gold or 925 silver claddagh ring with a gemstone you will be glad to know that, we provide fine craftsmanship and an unlimited choice of gemstones for both gold and silver rings. The image of the sapphire claddagh ring will give you an idea of what a claddagh ring with gemstone would look like.
When you pick a gemstone claddagh ring, the price of the ring will depend on the gemstone selected. You need not limit your gem selection to what is shown on our website as, we can procure and custom cut just about any gem that is found on the planet. You could pick the gem based on your favorite color or choose a birthstone or anniversary gemstone for the jewel. We procure all gems directly from mining sites across the globe and expert gem cutters custom cut every gem that we use. You can get complete details including pricing options for our gem stone claddagh rings here. You can discuss any issue related to gems or jewelry with our support team. Keep in mind that you will never be obliged to make a purchase from us so do, make good use of our expertise. Our team consists of experts in every aspect of gemstones and jewelry.
Claddagh365: We craft fine custom made jewelry in gold or 925 silver with the design and gemstone of your choice. Our craftsmen and artisans dedicate the same amount of skill and attention to both gold and silver jewelry. You can send us your own sketches or pick a design from our website, since each jewel is fully custom made all requests for design modifications can be accommodated.