Rings with a modestly sized format are versatile, they can also be comfortably for both formal and informal occasions. You might love loud statement chunky jewels but, there will be occasions when you wish to wear something more discrete. The CR075 sapphire and diamond ring is a jewel that packs elegance and style, without shouting across the room. Blue sapphire has always been one of the most desirable gemstones, at one time it was reserved solely for royals and aristocrats. You might be interested to know that, ruby and sapphire are close cousins - they both originate from the corundum mineral family.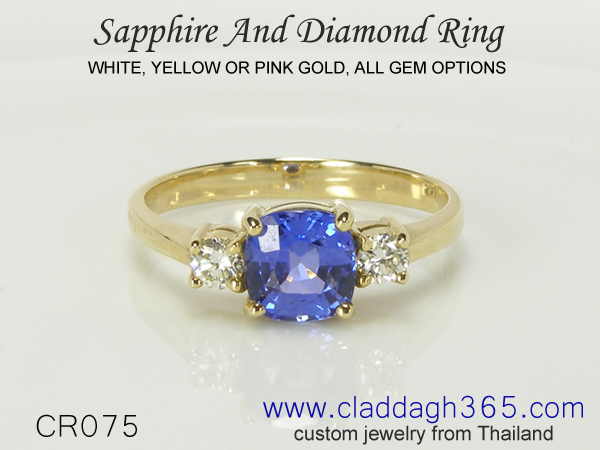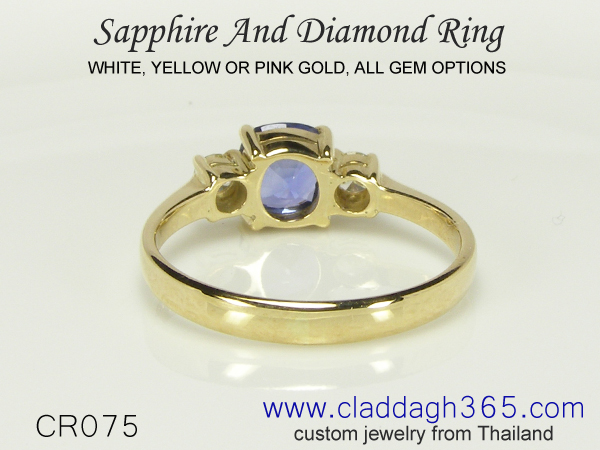 Sapphire symbolizes respect and sincerity, centuries ago gifting a sapphire gemstone meant that the giver trusted the receiver. The concept of sapphire engagement rings is not very new but, the British Royals kept the gemstone in the limelight on more than one occasion. Lady Diana got a spectacular sapphire diamond ring when she got engaged to Prince Charles, that marriage left much to be desired but the sapphire ring carried the spirit. Decades later, Prince Williams gifted a gorgeous diamond and blue sapphire engagement ring to his dearest, Kate Middleton. What is significant is that, the sapphire gemstone in this ring was taken from the famous ring worn by Lady Diana.
It is no secret that sapphires are expensive, the price per carat moves up even further as the gem size increases. Claddagh365 stylists had to work hard to finalize the specifications for the CR075 sapphire diamond ring. The objective was to deliver a ring that would satisfy the quality expectations for an engagement ring and yet, wear a reasonable price tag. Many of you would assign higher budgets for an engagement ring but, this surely does not mean that this ring is not up to the mark. We have provided superior quality standards without adding a big profit margin.
Features Of The CR075 Sapphire Diamond Ring:
Uniform quality standards maintained for the silver and gold sapphire ring.
The gold sapphire diamond ring has options for 14k and 18k gold.
You can choose from white, yellow or pink gold.
We would recommend that the silver sapphire ring be left unplated.
The center gem is a natural certified 6x6mm cushion cut blue sapphire.
A 2.5mm round diamond is set on either side of the sapphire gemstone.
You can choose a yellow, white, pink, green, yellow or blue sapphire.
We can accommodate requests for all gems and all ring sizes.
The design and gemstone shape and size can be personalized.
We provide a metal weight of 8 to 10 grams for this sapphire and diamond ring.
Gifting A Sapphire Ring: Few of us would not welcome a gorgeous sapphire ring and especially when, it is designed and crafted to Claddagh365 standards. One of the most popular gemstones for engagement rings happens to be the sapphire, the diamonds in the ring take the jewel to the next level. You could gift this sapphire and diamond ring to your mother, no one can ever be as special as mum. September is the lucky month on the birthstone charts to have sapphire as its birthstone. A sapphire gemstone ring would make a pretty gift for that special someone celebrating a September birthday. And if you are happily married for a while, you deserve to gift or wear a sapphire ring. The 5th and 45th wedding anniversaries are marked with sapphire, a ring is a convenient and elegant way to mark these special landmarks.
Claddagh365: Bringing together the best artisans and gem cutters in Thailand, we at Claddagh365 craft all types of fine jewelry in gold and 925 silver. You can pick any design from our websites and request for it to be made in silver or gold, there is no limitation on gem selection. Each jewel is fully custom made and this allows us to accommodate all design modifications. We can even make your sapphire diamond ring, with your design sketch or image. Our experts at sales@claddagh365.com will be glad to answer any questions that you might have. Our focus is on educating and informing prospective buyers, we do not get involved in high pressure sales talk. You can get all the information you need and then, work with a jeweler that you choose.
PRICING AND OPTIONS FOR THE CR075 RING