Custom Ring Multiple Gems
A large ring with multiple gemstones, a dazzling display of colorful sparkle. The CR076 ring from Claddagh365 is designed and crafted to last a lifetime. This is a classic ring that is inspired by the extravagant jewels worn by royals and aristocrats. A similar ring in ancient times, would have smooth (cabochon) cut gems and this is because, those were the days when cutting, faceting and polishing gemstones was still not developed. Some of the finest jewelry crafting talent in Thailand, works on each ring. No effort is spared to deliver a fine jewel that you will be proud to own and wear.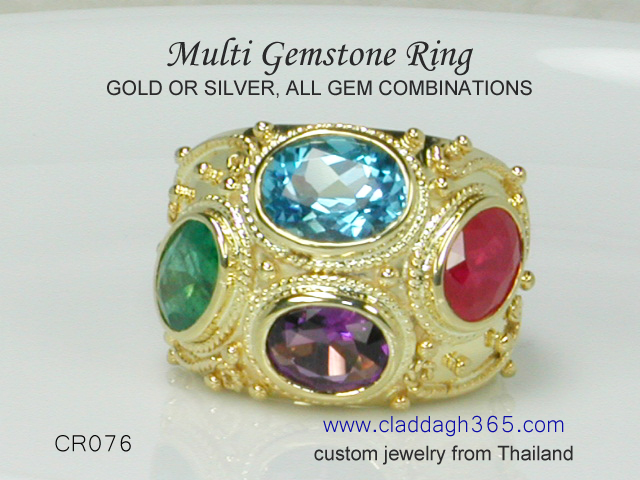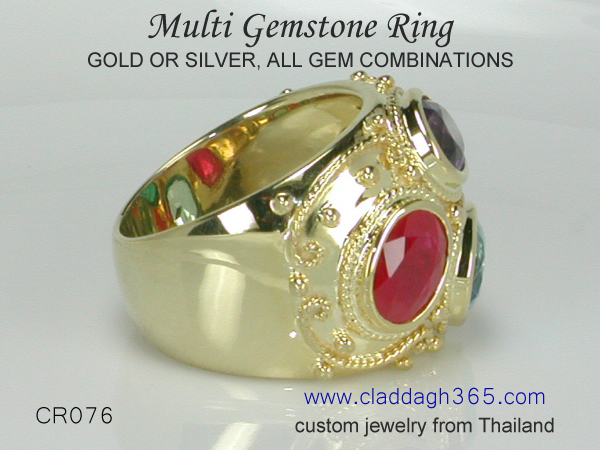 This big multi gemstone ring is crafted in gold or 925 silver, quality standards remain the same for both metal options. Each gemstone is custom cut and securely set with a bezel setting. For those of you who are not aware of what a 'bezel' setting means, here is a brief explanation. Most gems are set with prongs, these are small pins that hold the gemstone at a few points. The problem with prong settings is that, a major portion of the gemstone ring is left exposed. The prongs often stick in pockets and other places, this gradually lifts them up and loosens the gemstone. The four gems in this heavy gemstone ring, are set with a metal border fully covering the border of each stone. Experts regard this to be the most secure gem mounting, it also provides significant protection from side impact. So why do all jewelers not go for the bezel setting. The point is that, a neat and uniform bezel set requires highly skilled artisans. A bezel set also requires more metal weight. This is no problem in the case of Claddagh365 jewelry as, we generally provide 40-60% more metal weight as compared to other jewelers.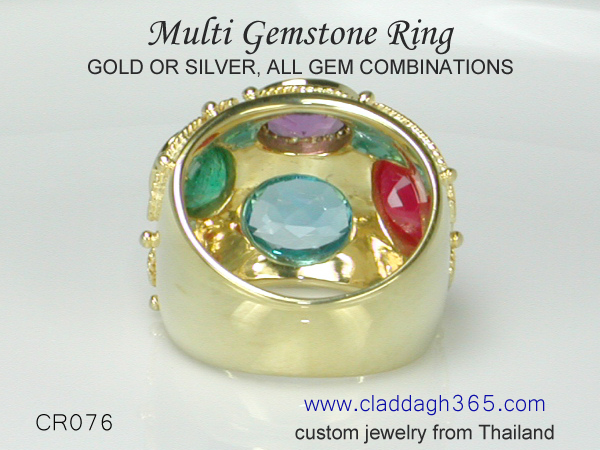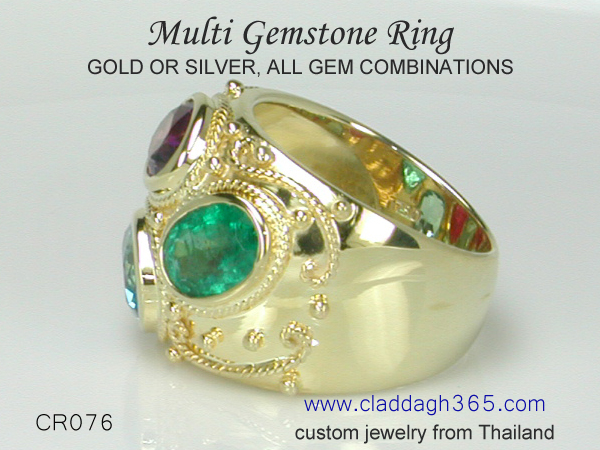 Here are some ideas to help you choose the gemstones for the CR076 ring. To begin with, we place absolutely no restrictions on your gem selection. You can pick any combination of gemstones and we will work out a specific price quote for the ring. The gemstone shapes and sizes can decided by you, do not limit your choice to what you see on our website. We have access to every single gem from any location on the planet. Most of us love to pick gems based on the colors that we like. You could also combine birthstones of family members in your heavy gemstone ring. If you choose gems by color, you should know that many gemstones might have the same base color. Use this to your advantage and pick more affordable or more durable gemstones. For example both red garnet and ruby are red but, rubies are many times more expensive as compared to garnet. Similarly emerald and green tourmaline are green, tourmaline is more affordable and also more sturdy than emerald. You can always contact the Claddagh support team and ask for advice and suggestions. We would suggest that you get all your questions and doubts cleared before, making a purchase.
Highlights Of The CR076 Ring:
Can be ordered with any combination of gemstones.
Gem sizes are 9x6mm and 8x6mm ovals, refer to the price table.
The shape and size of gemstones can be customized.
There is no limitation on gemstone selection.
Uniform quality standards for the gold and 925 silver ring.
Superior workmanship and natural gemstones for all rings.
Good metal weight of around 20-25 grams.
The head height of the ring is around 20-22mm.
The portion behind the finger is 7mm.
Custom made in all ring sizes.
Sturdy bezel setting provided for all gemstones.
The ring is designed to accommodate 4 gemstones.
The number of gems can be modified on request.
The gold ring can be ordered in 14k or 18k gold.
Choose from yellow, white or pink gold.
We would recommend no plating for the silver ring.
PRICING AND OPTIONS FOR THE CR076 RING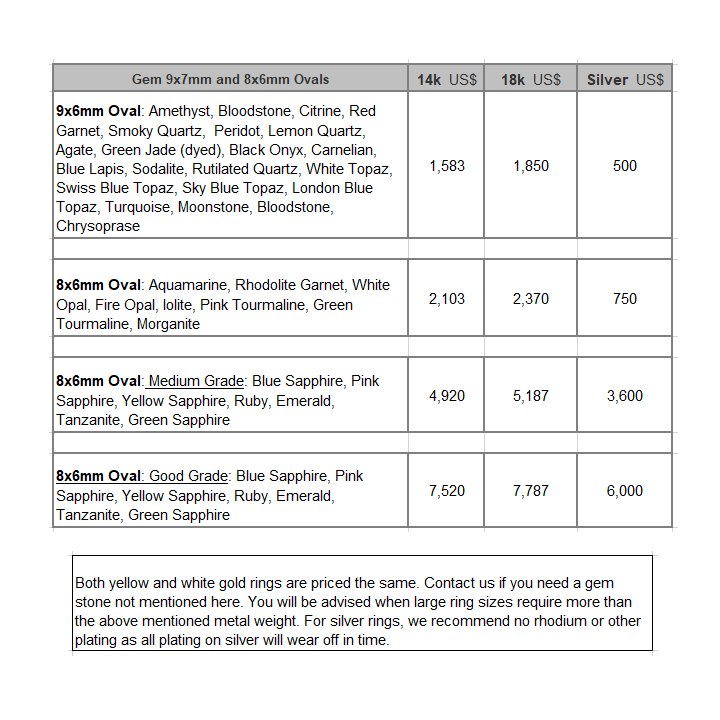 How To Buy: Before you decide to buy this big gemstone ring, make sure that you have all information and options clearly understood. Contact our experts at sales@claddagh365.com and let us know your requirements. The team will reply with suggestions and advice, no sales pressure here. You can request for design modifications or send us your own design images to be custom made. There is a production period of 4 to 6 weeks from the date of order confirmation and receipt of payment. We recommend Paypal for first time buyers, but can also accept Western Union as a mode of payment. You can let us know which mode of payment you prefer and we will provide details for the same.