Tanzanite Ring With Diamonds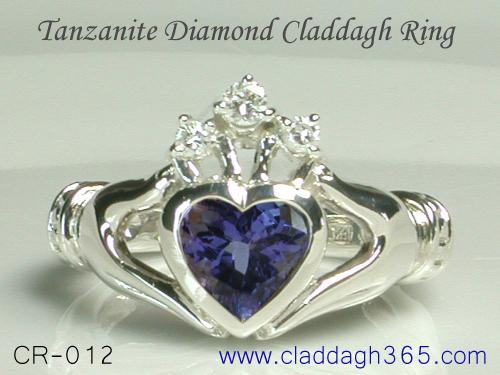 Tanzanite has written an amazing story for itself, it is hard to below that a gem that was first introduced to the world of gemstones just a few decades ago, has quickly become one of the most sought after gems. The CR-012 tanzanite diamond ring perfectly displays the exotic color and glamour of this African gem. Ever since it was first launched by the high profile jeweler Tiffanys, the gem has earned a reputation that few other gems can boast of. That however does not mean that, clever marketing alone brought the gem where it is today. Tanzanite in it's uncut form generally gives no indication of it's gorgeous violet-blue color. A critical heating operation in meticulously controlled conditions, turns the murky greenish-brown rough stone into the vivacious beauty that we all know about. In case you were not aware of an interesting fact, we can tell you that, tanzanite is mined in just one narrow stretch of land in Tanzania. No other source for gem quality tanzanite has ever been found either in Tanzania or any other place on our planet. Tanzanite is today officially designated as one of the options for a December birthstone.
A tanzanite ring with diamonds, combines two of the most dazzling stones of our time. When referring to tanzanite, we do not talk too much about the future because, experts agree that the tanzanite is rarer than a diamond. A small strip of land at the foot of Mount Kilimanjaro, is the source for every piece of tanzanite that is seen. On the other hand diamonds are found in at least a dozen nations and many of these nations, boast of more than one location where diamonds are mined. We do not mean to say that, diamonds are any less desirable or gorgeous as compared to tanzanite gems. Diamond is in a class of it's own, known for it's tremendous fire and glitter, it has for many centuries been a symbol of purity, truth and loyalty - it also meant style, status and royalty all through history. So this tanzanite diamond ring combines two gems that are valued for their respective features and traditions.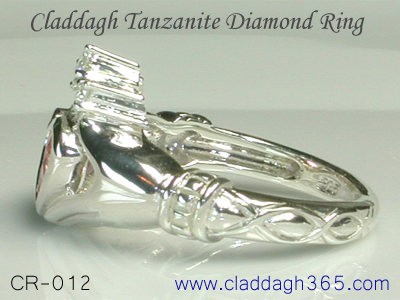 You might not expect to hear this from a jeweler but, we will be honest - the exotic beauty and mesmerizing color of tanzanite really needs no other gem or stone to highlight it's beauty. But then, you will continue to see the growing presence of tanzanite rings with diamonds in gold and silver, jewelry lovers always aim for the best glitter. A decade ago, you would never hear of a high end engagement or wedding ring with a colored gem - couples had a clear message when choosing their special rings, it had to be diamonds or nothing. Things have changed in recent years, people feel that weddings need not all be about white or pastel shades. And this yearning for color has not ended with wedding gowns and shoes, jewelry is taking on color too - colored gemstones have made it to the 'special event' jewelry category. When you talk about engagement rings with colored gems, you have a wide spectrum of gems to choose from. Gone are the days when the big 3 namely ruby, sapphire and emerald, grabbed a handsome market share. It may be true that other colored gems offer a wider range of price points but, young brides and grooms are also becoming more aware of gems that are beautiful, rarer and bestowed with tradition and folklore. Gems like tourmaline, tanzanite and even spessartite garnet are being increasingly seen in engagement and wedding jewelry.
The high respect for diamonds is something that cannot be erased or diminished, the centuries old stone is often considered to be absolutely necessary for an important jewel. So tanzanite diamond rings, signal the arrival of a bold trend where color rules, the diamonds in the ring remind us that we need not forget tradition just to follow a modern trend. The CR-012 tanzanite diamond claddagh ring, has a 7-8mm tanzanite heart gem in the center, the focus is on beauty, rarity and something truly exotic. The diamonds in the crown impart glitter and brilliance to the ring, they are not very big and therefore do not result in a steep upward price movement. You could say that a diamond tanzanite ring is invested with the best of both worlds - reasonable price and fabulous beauty.
It will come as a pleasant surprise to you to hear that, we provide the same quality of design, crafting skills and gemstones for the gold or 925 silver tanzanite and diamond ring. If you prefer to have the tanzanite gold ring we would like to mention that, white gold tanzanite diamond rings are growing increasingly popular especially, when it comes to tanzanite engagement rings. Having said that, it is necessary to understand that the choice of gold color is something quite personal - we therefore provide options for white, yellow and pink gold in 14k and 18k. We are often asked whether it is a good idea to plate a tanzanite silver ring. Please read this piece of information related to plating very carefully, you can always email our support team for any doubts. When you plate a 925 silver ring, the plating helps keep tarnish away but, the plating will come off after some time - a silver ring that has begun wearing off it's plating might not be very easy to clean or polish, it will at that point begin to tarnish. So the anti-tarnish effect imparted by a rhodium, gold or even platinum plating on silver is temporary. On the other hand, leaving your tanzanite sterling silver ring un-plated will result in the piece tarnishing but, cleaning and polishing the jewel will be a lot more easier and convenient. We would therefore suggest that your tanzanite diamond silver ring be left un-plated.
Claddagh365: Our claddagh rings hold all the features of the first ring made around 4 centuries. Our research team spent several months studying the history and meaning of the jewel. Findings from this study formed the basis for the design that we utilize for our claddagh rings. The CR-012 tanzanite diamond ring, is custom made in all ring sizes. We provide two gem grade options for the ring, the image is shown with a good grade tanzanite gemstone. Expect the medium grade tanzanite gem to have a slightly lighter color saturation. Our gem experts procure rough tanzanite directly from the Tanzanian mines, each piece is closely inspected before being custom cut and set in our rings. The Claddagh Story report would make an interesting read for those of you who are not familiar with the significance and story of the claddagh ring.
Below is the price table for our claddagh rings. Please read the tables related to the diamond option below the table. Tanzanite is available with two grade options, the gem is mentioned in the C) and D) gem groups. Please do not hesitate to email our team of experts at sales@claddagh365.com with any questions or doubts that you might have.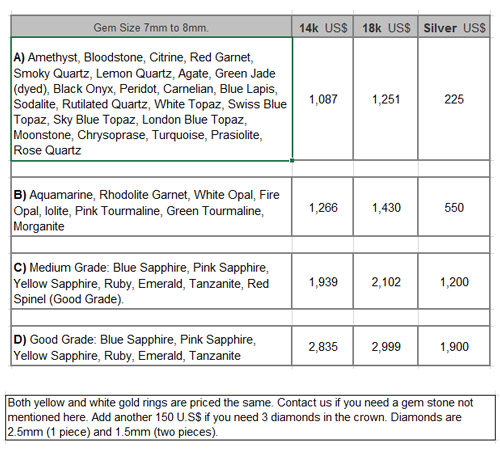 Since each claddagh ring is fully custom made, we require a 4 to 5 week production period from the date that we receive payment. Paypal and Western Union are the preferred mode for payment but, we do not recommend Western Union for first time buyers. You can let us know the payment mode that you would like to use and we will provide details for the same.
We will ship through FEDEX with web tracking and there is a 35 U.S$ shipping charge, this charge can cover upto fice rings. While we can offer other shipping options, we do believe that FEDEX is one option that is reliable and constantly trackable on the internet. Let us know if you have some other preference for shipping and we will discuss the possibility of using it for your shipment.