Claddagh Ring With Swiss Blue Topaz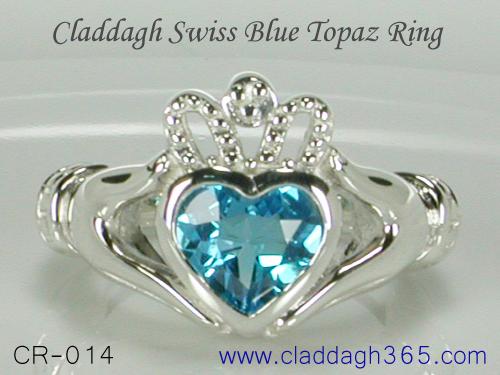 The popularity of blue gemstones never seems to weaken and in the world of natural blue gems, one blue gem stands apart in terms of beauty, durability and affordable price. Blue topaz offers not one but three absolutely mesmerizing shades of blue. The CR-014 topaz claddagh ring is presented here with a swiss blue topaz gem. The blue topaz gem range begins with the light blue (sky blue) topaz and jumps to the bright swiss blue topaz. You have been earlier introduced to the london blue topaz claddagh ring - the blue gem with an impressive saturated blue color. At Claddagh365 we follow stringent gem selection procedures to ensure that you get the best value for the money spent.
If you are like most gem lovers with a strong desire for blue gems, it is unlikely that the swiss blue topaz claddagh ring will disappoint you. While most of you would not need any introduction to blue topaz, the fascinating story behind the first claddagh ring that was made four centuries ago is bound to impress you. Heart shape rings have special meaning, they symbolize love and friendship - love need not always imply a matrimonial relationship. And when your heart ring is backed by the historic claddagh design concept, you just get that much more meaning and significance into the jewel. Our Claddagh Story report, will give you a detailed explanation of the claddagh ring but, if you are happy with a quick summary read it right here. Robert Joyce a humble fisherman is credited with making the first claddagh ring. The story takes us about four centuries back in time, the place was a small fishing village in Ireland named Claddagh. Those were the days when slavery was accepted and rampant. One day the boat in Robert went fishing was attacked by pirates, all those on board the boat were captured and sold as slaves. Robert was separated from his beloved who lived in the Claddagh village, he was forced to work for his master - a wealthy goldsmith. The mental strain in those depressing conditions, started to demoralize him. He kept dreaming for a while that, he would be a free man one day but, there seemed to be no logical explanation for such optimism. In sheer desperation, Robert decided to make something for his beloved, he told himself that he would gift it to her once he was out of slavery.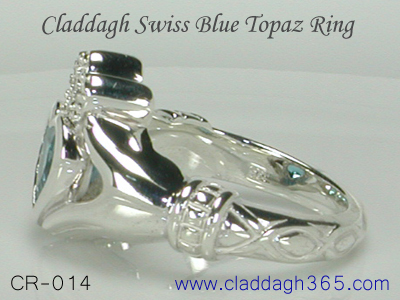 A few years later Robert Joyce saw his dream come true, he was freed from slavery and returned back to his small fishing village. He carried the gift that he had made and reached the village, he was in for a very pleasant surprise. He found that his beloved had waited for him all these years, she ran into his arms and he gave her the gift. The couple were soon married and lived happily ever after. The 'gift' that he had made for his beloved was a ring with some truly fascinating features. We need to keep in mind that Robert had no knowledge about jewelry designing, the features that he incorporated into this ring sought to translate his true feelings for his beloved. The ring was named the Claddagh Ring and depicted a heart with a crown being held by two hands. The claddagh ring is sometimes referred to as the hands and heart ring. The meaning of the features in the ring express his feelings - the heart symbolizes love, the crown signifies loyalty and the hands extend in friendship. After having read this touching story you will agree that, the swiss blue topaz claddagh ring shown here, has much more significance as compared to most heart rings. The touching story of the claddagh ring spread to every continent. True love and sacrifice are universal so, the ring became relevant to millions of people outside Ireland too.
The fascinating thing about your topaz claddagh ring is that, it is suitable for every occasion, you could even wear it as a dress accessory to work. We just mentioned that the deeper meaning of the claddagh ring implies, love, loyalty and friendship, the term 'love' calls for a little bit of explanation. Love as we all know is universal, a child loves mother, a mother loves her child, a man loves his girlfriend etc, the implication of love in the claddagh ring is not limited to matrimonial relationships. It is true that our fine claddagh rings are often worn as engagement and wedding rings but, you really need not wait for that big day to adorn your finger with this historic and meaningful jewel.
Choosing the metal option for your claddagh swiss blue topaz ring can be quite exciting. As far as we at Claddagh365 are concerned, we will be equally glad to craft a fine gold or silver claddagh ring for you. The exciting element of blue topaz is that, the gem is very moderately priced despite it's beauty, durability and the fact that our topaz gems are eye clean. This holds true of all three blue shades that blue topaz offers namely, sky blue, swiss blue and london blue. It is the general trend to have moderately priced gems set in silver and reserve gold and platinum for the more, pricey gemstones. Blue topaz is a rule breaker in this regard because, almost no other natural blue gem can match the clarity, color and hardness of blue topaz. What this means is that, you can conveniently pick gold or 925 silver as the metal of choice for your topaz claddagh ring. The gem will retain it's amazing beauty in white, yellow or pink metals so this means that - silver, yellow gold, white gold or pink gold are safe options.
Weight and Dimensions: It is true that our claddagh rings are invested with more metal weight as compared to what other jewelers offer, but there is a very logical explanation for this. A good metal weight is the foundation for durability and this, is true for all jewelry. Keeping this in mind, we assure a minimum gold weight of 10 to 12 grams for the claddagh gold ring. Since silver is technically lighter than gold (lower specific gravity), you can expect the silver claddagh ring to weigh around 8 to 10 grams. Keep in mind that each ring is fully custom made, so we might recommend a slight increase in metal weight for large ring sizes. The gemstone as shown in the price table, is 7-8mm and heart shape. Please note that the size can vary a bit but will always be in the size range of 7-8mm. The ring is available in all ring sizes, and with the gemstone of your choice.
Claddagh365: We craft all types of gold and silver jewelry as per your designs or ours. The meticulous attention to detail given by our extremely skilled artisans and gem cutters ensures that, you get the best jewel for the money that you pay. We have always been known for our expertise in gem sourcing with, most of the gems being procured directly from mining locations across the world. So when you order your custom jewelry from us, there is no need to restrict your gem selection to what you see or read on our website. Email our team at sales@claddagh365.com with any questions or requirements that you might have. You can also email us images or sketches of your design ideas that you wish to have custom made.
Pricing For The Claddagh Topaz Ring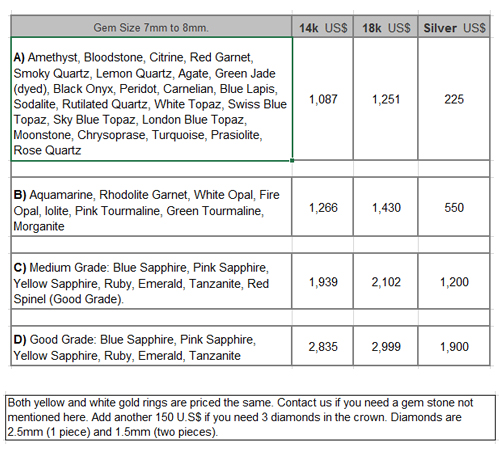 The blue topaz options for the claddagh ring can be seen in the table, check out the gem group marked A). Our general options for topaz are white topaz, swiss blue topaz, london blue topaz and sky blue topaz. You can email us at sales@claddagh365.com if you require a gem not mentioned in the table.
Production is 4 to 5 weeks from the date of that payment is received. Paypal and Western Union are the main modes of payment that we accept but, we do not recommend Western Union for first time buyers. Email us with details of your preferred mode of payment and we will respond with full details for the process.
We will ship through FEDEX with web tracking, there will be a shipping charge of 35 U.S$. Let us know if you prefer another mode of shipment and we can discuss the best process.