Claddagh Ring With Rutilated Quartz
Most of you would be aware of the meaning of the claddagh ring but, for those who are not here is a quick note. A more detailed explanation is published in the Claddagh Meaning Report. The claddagh ring was first made four centuries ago by a humble Irish slave. The young man named Robert Joyce was a fisherman by profession. The boat in which was sailing along with his friends, was once attacked by pirates. All those aboard were captured and sold as slaves. Robert was sold to a wealthy goldsmith and forced to learn the trade from his master. He made a ring during his tenure as a slave, he gave the ring to his beloved the day he was released from slavery. The ring came to be known as the claddagh ring. The hands, heart and crown are the main features in the ring that give it immense significance.
Claddagh365 dispatched a team of experts to Ireland to meet with scholars, historians and researchers. The idea was to understand the meaning and tradition of the claddagh ring. The CR200 claddagh ring shown on this web page is crafted with a rutilated quartz gemstone in the center. This amazing gem is as interesting and captivating as the claddagh ring.
Quartz is a fairly common gemstone, transparent and colorless quartz is generally referred to as white quartz. In its natural form, quartz take around 1-2 million years to be formed. The formation has to necessarily begin with liquid material that crystallizes over time. When we talk about rutilated quartz, we refer to two distinctly different natural elements - rutile and quartz. For the formation process, it is necessary for the rutile needles to have been formed when the quartz itself, is still in solution (liquid) form. To put it simply, the quartz get formed around the rutile needles.
Now back to the rutile quartz claddagh ring, you will notice that the needles in the stone are very fine. Left to themselves, these delicate needles could just blow away or even break with the force of the wind. By getting encapsulated within the white quartz, the needles will continue to maintain their pristine condition for decades and even for centuries. You could say that, the quartz lovingly embraces the rutile and will continue to do so for ever.
We can craft a gold or 925 silver claddagh ring for you with the rutilated quartz gem. You could rest assured that, no two rutilated qartz gems in the world would be identical. It is as if, each stone has its unique fingerprint. The rutile formations in quartz generally have a random orientation, which means that they can point in any direction. In a few rare cases, the needles are bunched together and point in the same direction. Any other interesting thing about these inclusions is that, they can be sparsely, moderately or densely scattered within the quartz.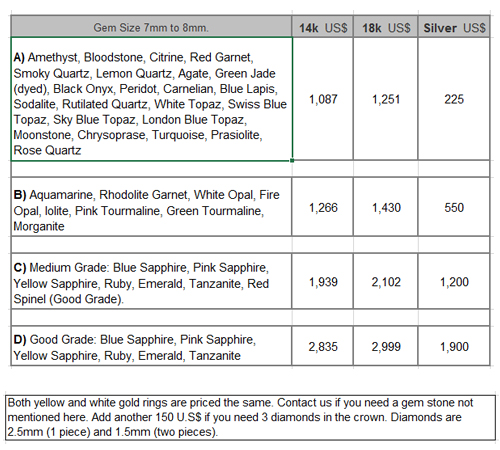 Now about the color of the color of the rutile in quartz, there are a few interesting variations here. Rutile as it exists in nature can often react with the elements or gases present in the environment around it. The gemstone in your silver or gold rutile quartz claddagh ring, could contain rutile that is golden yellow, brownish yellow or dark brown. The rutile color is often dependent on the exact location in the world where the specific gemstone is mined. When ordering your custom claddagh ring from Claddagh365, you can specify a rutile color choice and we will let you know if it is feasible to provide such a gem.
As knowledge about gemstones spreads, gems with unique characteristics are winning favor among jewelry buyers. Rutile quartz is an interesting gemstone and never ceases to amaze even the seasoned gemologist. So as you build your jewelry collection, make sure that you include rutile quartz in your jewels - just one claddagh rutile quartz ring could raise your style statement to the next level.
How To Buy: The claddagh ring is custom made in gold or 925 silver, there is no limitation on ring size or gemstone. The great thing about Claddagh365 rings is that, the quality standards for both metal options remain the same. We recommend that you do not rush to make a purchase, it would be better to discuss your requirements with our team of experts at sales@claddagh365.com and let them, come up with advice and suggestions. Prices are quoted for sterling silver, 14k and 18k rings, we can provide a price quote for a 10k gold ring if requested. Color is a big feature of jewelry today, we allow you to choose yellow, white or pink gold for your ring.
Each claddagh ring is fully custom made and we do not rely on read made molds and blocks. The lead time for production is 4 to 5 weeks from the date of order confirmation and receipt of payment. Our preferred mode of payment is Paypal but, we can also accept Western Union Money Transfers. Let us know which option you would like to use and we will provide details for the same.
Claddagh365: We provide superior custom made jewelry and ship across the globe. All the jewelry on our websites, can be ordered in gold or sterling silver and you choose the gemstone of your choice. We can also craft your custom jewel with a design provided by you. Our gemstone expertise remains unmatched and we can procure and custom cut, just about any gem from any corner of the planet. We utilize the services of the same highly skilled team to craft custom made jewelry in gold or 925 silver.