Emerald The Inside Story, Birthmarks And More
CUSTOM MADE HIGH END JEWELRY FROM THAILAND, IN GOLD OR STERLING SILVER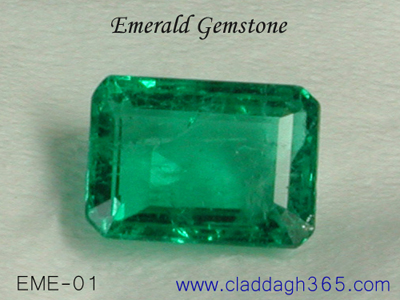 Undoubtedly the best known and most sought after natural green stone, emerald has been known to man for thousands of years. And yet if you consider that, any emerald that you would see today has taken a minimum of 1 to 20 million years to be formed, a few thousand years is merely like yesterday! In this report, we talk about the inside story of emeralds, nothing to do with mining conditions, environment or money laundering - just the romance and mystery of nature's most expensive green creation.
Look at an emerald gem and you will notice the fine cracks and natural inclusions in the stone. Though the convention in the world of gems is that, clarity rules, not even the most seasoned gem buyer would expect to find a natural emerald that is eye clean. Despite all these visible inclusions and fissures, emerald can often be priced in the same price category as the finest sapphires, rubies and diamonds. In the inside story, we talk about how those inclusions and blemishes came to be inside this green beauty. True lovers of emerald and people with a fairly good knowledge about gems and their formation, refer to these characteristics as 'birthmarks' of an emerald. To get a bit technical, these internal marks ensure that, no two emeralds on our planet can be identical. If you consider the term 'birthmarks' to be too sentimental, let's refer to them as the fingerprints of the gem.
Emeralds are rare because, the natural conditions required to form them involve permutations and combinations that are not commonly experienced in nature. Violent changes in the environment especially in pressure and temperature, takes it's toll as the beryl mineral slowly turns into an emerald. This is where all those inclusions and fissures occur, characteristics that are typical of natural emerald gemstones. It is interesting to note how important those features are to an emerald with this small note. Synthetic gems are made in laboratories and mimic the physical, chemical and optical properties of the natural gem that they represent. The first attempt at making synthetic or lab created emeralds, yielded stones that were nice and clean, after all they were made in a factory. Seeing the dull response to these super clean emerald stones, further research was conducted and the output was of great interest. A few lab created emerald manufacturers, managed to simulate the internal inclusions and cracks that can be seen in natural emeralds into, synthetic emerald gemstones. Think about this and you will realize how, very important the internal blemishes in emerald are to the stone.
Closely related to the fissures in natural emerald gems is the centuries old practice of, oiling the gemstone. It would not be wrong to say that, more than 90% of the emeralds that you come across will be treated with oils. The treatment involves soaking the emerald gem in natural oils which then, seep into the gemstone and fill the fine fissures. You might be surprised to learn that, even the priceless emeralds preserved in museums, are periodically re-oiled to improve their appearance and luster. This treatment for natural emeralds does call for some care when the stone is worn, stored or cleaned. Do read the subsequent paragraphs and understand the contents, few jewelers care to educate buyers regarding these important details.
We did mention above that, emerald belongs to the beryl mineral species - the same mineral that gives us beauties like aquamarine, morganite and bixbite. The gemstone has a hardness value of 7.5-8 on the Mohs scale which should imply that, it is sturdy enough to generally take care of itself. However, the internal fissures and inclusions which are (always) naturally present in an emerald, cause the gem to compromise a degree of durability. So you should keep the gem away from hitting against hard surfaces or objects. We also talked about the oils that are made to seep into the gem, these enhance the beauty of the emerald. Anything that would cause the oil in an emerald to dry or seep out of the gem would, make the stone a lot less pretty. Heat, prolonged soaking in water, strong detergents or solvents and ultrasonic cleaners are some of the things that you should avoid exposing an emerald gem to. When you store an emerald gem or a jewel set with the gemstone, make sure that the place where it is stored is not too warm or dry. You can discuss more details with your jeweler before or after making a purchase, and if your jeweler is not too keen to help you - you our welcome to contact the Claddagh365 expert team for suggestions and advice. Just keep in mind that, you need not buy anything from us to get the benefit of our expertise.
Claddagh365: We craft high end jewelry in gold or 925 silver, you choose the design and gemstones for your jewelry. You can select a design from our website or, send us your own design concept to be custom made. Since we can source any gemstone for you from across the globe, we do not place any limits on the gemstone that you can choose for your custom jewelry. Claddagh365 provides the same fine craftsmanship and handpicked gems for gold and silver jewelry. Do contact our team at sales@claddagh365.com if you have any queries or doubts, we will be glad to help you even if you plan tobuy nothing from us.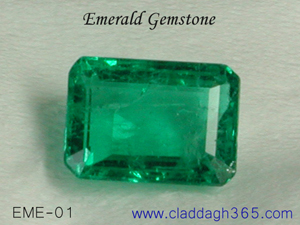 The EME-01 is a 9x7mm emerald gemstone. Though we are not too keen on selling loose gems, let us give you an idea of the price for the stone. The emerald is natural with good transparency and will definitely have some natural inclusions and fissures like all natural emerald gemstones do. Our graders would refer to it as a 'good' grade emerald gemstone. We can procure such an emerald gem for you for around 3,500 to 4,500 U.S$ .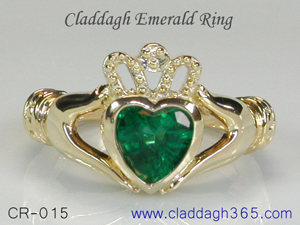 The CR-015 claddagh gem stone ring shows the historic four century old jewel, with a natural heart shape emerald gem. The claddagh ring is regarded as the most meaningful jewel in history. It is suited for all occasions casual and formal. Claddagh365 custom makes fine claddagh rings in gold or 925 sterling silver with the gemstone of your choice. We have gold and silver claddagh rings for ladies and men. Learn more about our claddagh rings ... here.