4 Engagement Ring Essentials
This report on engagement rings differs widely from the hundreds of engagement ring web pages that you will come across. While most of the information provided in engagement ring resources aims to bring bigger sales for jewelers, we have compiled this report in your interest. The information is general and also discusses some of the latest developments related to these special jewels. An engagement ring is a special jewel, it symbolizes true love between two individuals - it is given and accepted with love. Young to be bridegrooms often spend sleepless nights thinking about the 'best' engagement ring that they should choose for that special lady. It is not uncommon for them to try their best and then come up with a ring that she really does not like. And it is quite common for men to get into significant debt when buying this all important jewel. In this report we target 4 essential elements that you should keep in mind when shopping for an engagement ring.
Budget: We all work on budgets and financial estimates, even the richest man on this planet has an estimate for everything that needs to be bought and every investment that needs to be made. Decades ago, jewelers urged men to spend at least 2 monthly earnings, on the engagement ring. A few years ago, some jewelers seem to have taken pity on young couples, they recommended that at least, one month's earnings be spent on the ring. We would suggest that you spend just as much as you can conveniently manage. Engagements and weddings can cost a lot of money, emergencies could arise - it is better to be a bit conservative when choosing the jewel. Do not try to show that, the dollars that you spend on the engagement ring, are directly related to your love for her. The ring is symbolic, it is not an event, it is not the cause of the big occasion. If you are on a very tight budget, consider going for a simple silver ring, you can always make a more expensive purchase when you have settled down financially. How about a simple 200 U.S$ to 500 U.S$ engagement ring, then keep the big dollar purchase for the first or second anniversary. You can even push the more expensive ring to celebrate the arrival of your first baby.
Meaning: Let the talk and importance of of the engagement ring be grounded in reality, modestly priced jewel and an extravagant metal and stone beauty have the same meaning. How about choosing an engagement ring that, has a special meaning or story attached to it. Consider getting her a Claddagh Engagement Ring - a jewel that is highly respected across the globe and widely acclaimed as the most meaningful jewel in history. Adding her birthstone to a ring also shows that she is very special to you. Engravings and etchings inside the band of an engagement ring, can help keep memories and feelings fresh. And if both of you plan to wear an engagement ring, consider exchanging birthstones in the jewels. If you choose a special jewel like a claddagh ring for her, remember to tell her the touching Claddagh Story and how it symbolizes love, friendship and loyalty.
Gemstones: Clever marketing cliches have for many decades brainwashed people into believing that, diamonds are absolutely essential for a meaningful engagement ring. Themes like 'Diamonds Are Forever' and 'Diamonds Are A Girl's Best Friend' can still be heard and seen in many magazines and luxury advertisements. Today's bride is better informed, she is also more practical and understanding. The engagement ring need not be centered around a diamond, you can have small diamonds as accents or even leave diamonds completely out of the ring. There is one loud message when it comes to engagement rings today - Brides Want Color. Colored gemstones have never had it so good, they are today sought after even for special occasion jewels. The advent of engagement rings with colored gems works to your advantage, you have many more color options and price ranges to choose from. The Claddagh365 collection of custom claddagh rings in gold and 925 silver includes some pretty exotics like pink tourmaline, blue sapphire, tanzanite and opals. If you wish to embrace color for the special event and yet, long for that traditional glitter - consider the option where provide small diamonds in the crown of your claddagh ring.
Customization: Just as each one of us has some unique features, every relationship is unique and precious. It is therefore no surprise that couples are increasingly looking for specific features or elements to be incorporated into their engagement rings. The urge to pick an engagement ring from a ready made collection does not excite the young. A custom engagement ring should allow you to pick the design, metal, dimensions and gemstone. Customization can also be achieved by adding specific etchings and engravings to the ring. We once created an awesome claddagh engagement ring that, had two gemstones forming the center heart. Expert cutters cut half a heart from a gorgeous ruby (the July birthstone) and combined it with half a heart cut from blue sapphire (September birthstone). The craftsmen and artisans did the rest of the magic by, firmly setting the two stones next to each other to form the heart. When you go for a custom jewel, keep around 4 to 5 weeks for the production lead time - the jewel needs to be completely created and this takes time. Engagement rings need not be an urgent purchase because, you would normally know many months ahead - do not underestimate the importance of the ring and leave it for a last minute rush job.
Keep the above suggestions in mind when shopping for an engagement ring. Have sufficient time on your side and check out the possibility of including her ideas and thoughts in the selection process. Do not drift or be distracted with sales talk, check out multiple options and multiple jewelers. Our team will be glad to guide you even if, you do not wish to make the final purchase from us.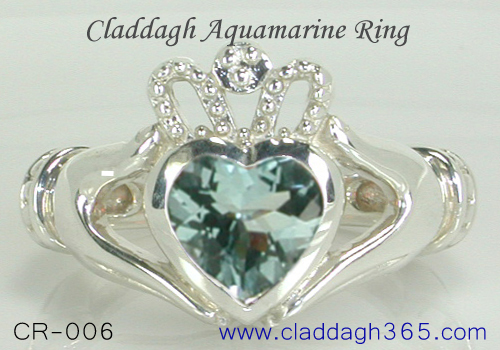 Claddagh365: We craft fine claddagh rings in gold and silver with the gemstone of your choice. This historic jewel was first made about 4 centuries ago and carries a touching story and tremendous meaning. You can read all about this amazing jewel in our Claddagh History report. While the claddagh ring can be worn for almost all occasions and even as a casual wear jewel, it is the deeper meaning of the ring that makes it perfect for an engagement or wedding ring.
The ring through it's very interesting features symbolizes, love, loyalty and friendship. These happen to be the three most essential characteristics for any relationship to survive and thrive. Few relationships are more significant than those brought about by an engagement or wedding. The CR-006 claddagh ring is shown with an aquamarine gem but, you could request for the gemstone of your choice. The possibility of picking a gold or silver claddagh ring ensures that a wide range of budgets can be accommodated. Our support experts at sales@claddagh365.com will be glad to help you with any requirements or questions that you might have. We urge you to draw on our expertise in gems and jewelry because, you will never be under an obligation to make a purchase from us.