Medicinal Properties Of Ginger
Ginger has been used in many Asian food dishes for a very long time. But the medicinal properties of this interesting stem have been known across the world for many centuries. If you wish to check the health benefits that ginger brings, we would suggest that you make a beginning with fresh ginger and not jump to ginger supplements. And remember that, nothing in this report or anywhere else should convince you to ignore professional medical advice. Do not decide to modify your doctor prescribed medication but, discuss these and other natural remedies with your doctor by all means.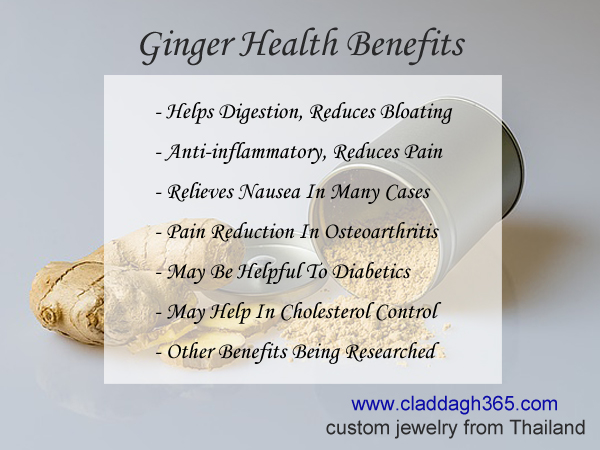 While ginger is often referred to as a 'root' it is in fact a stem of the Zingiber Officinale pant. Ginger is consumed in a variety of forms fresh ginger, dried ginger, ginger powder and even ginger paste are some of these. The ginger oils and pungent phenol compounds in ginger, are what make it a good flavoring agent. Cool refreshing drinks, hot spicy dishes, ginger biscuits and breads the list is never ending. Unknown to many of us, it is the medicinal properties of ginger that make us feel good.
Helps Digestion: It is not uncommon to experience a feeling of fullness and bloating long after having a meal. This is often the result of the stomach emptying too slowly, some physical movement after having a meal can help but, ginger can play a positive role too. Eating ginger in the food or sipping some ginger tea after a meal, can help speed up activity in the stomach. Incorporating ginger into your cooking process is the best option. But if you find it more convenient to drink some hot ginger tea, do not drink a cup full after a meal. The stomach and digestive system needs some time to work. Either sip just a few spoonfuls of the tea or, drink it an hour or two after the meal.
Muscle Pain: For those of us who exercise regularly, muscle pain and soreness is a frequented though unwanted occurrence. Eating a gram of two of ginger a day can reduce the development of muscle pain. Keep in mind that this is not a quick fix solution like a chemical based pain killer. Results could be seen in a week to ten days. Include ginger in your daily food plan and you are likely to experience, lesser muscle pains from exercise. Browse the net and get hold of some exciting recipes that feature ginger as one of their ingredients. With this effort you will not need to worry about taking ginger as a medication.
Osteoarthritis: This is a common condition where joints degenerate and become stiff and painful. Ginger has been tried both internally and topically to relieve some of the discomfort brought about by osteoarthritis and the results are promising. Taking fresh ginger extract does seem to reduce the pain in many cases. In patients where the condition was severe, conventional medications doses could be reduced if the treatment was combined with ginger. Another interesting finding was that a mixture of mastic, ginger, cinnamon and sesame oil could be applied externally to reduce stiffness and joint pains. It is not uncommon for pains like these to become chronic, patients are given strong prescription drugs to provide relief. Ginger including ginger tea is worth a try in such cases as, any reduction in the use of conventional pain killers is welcome.
Nausea: This is one of the areas where the health benefits of ginger are clearly researched and recorded. The ability of ginger to control nausea was known to people, long before science made any claims. People often keep a piece of ginger in their mouth then making a long road journey, this to relieve symptoms of motion sickness. Morning sickness is not a rare occurrence, it is more common among pregnant women. Ginger can be administered to control such nausea but, medical advise should be sought. Chemotherapy treatment for cancer patients does have some serious side effects, nausea and severe vomiting is one of them. Many medical centers have begun to use ginger in various forms, to reduce nausea in chemotherapy treated patients. People going through surgery commonly experience nausea after the surgery, ginger seems to relieve nausea in such situations.
Others: You will hear of many other health benefits of ginger, some of these relate to significant medical issues that need to be addressed by a professional doctor. While we will quickly mention some of those issues here, make sure that you do not try any medical treatments on your own. We will however encourage you to discuss information in this report, with your doctor. Claims that ginger can lower sugar and cholesterol levels in the blood are growing louder. The point is that disorders related to cholesterol and sugar, need to be given due medical attention promptly. Medication is required to control these important health markers in many cases. If you embark on a ginger consuming spree to cure these disorders, it is likely that the ginger would interact with your regular medications. Do not make any adjustments in your treatment plan without discussing the matter with your doctor.
Caution: The team at Claddagh365 compiled this information in the interest of the general public, we do not claim to be medical experts and do not have any business interest in the medical industry. There are some specific conditions under which, significant consumption of ginger should be brought to the attention of your medical adviser. Children, pregnant women, diabetics and patients taking any long term medications should talk to their doctor before, consuming ginger on a regular basis.