Ring For Men, Spectacular Spessartite
Not all garnets are red, a gem quality spessartite is at least a few hundred times rarer than a red garnet. This gemstone is a variety of garnet and looks its best, when it is formed with an orange color tone. If you love garnets and have a galaxy of red garnet rings in your collection, it is time that you invested in a sturdy men's spessartite ring. The MCR-020 was designed and crafted for the modern man, the jewel will keep pace with your hectic lifestyle and always underline your taste for quality and true value.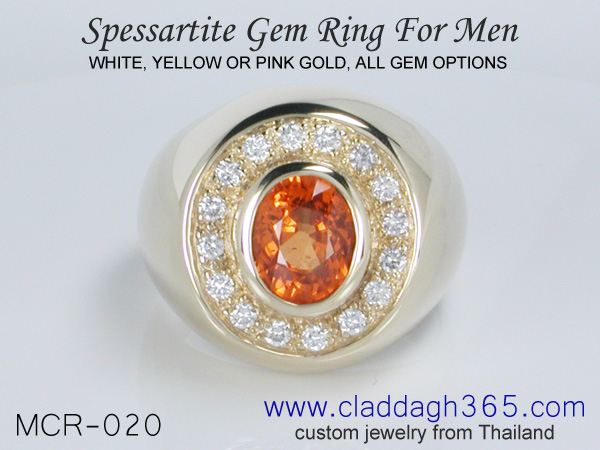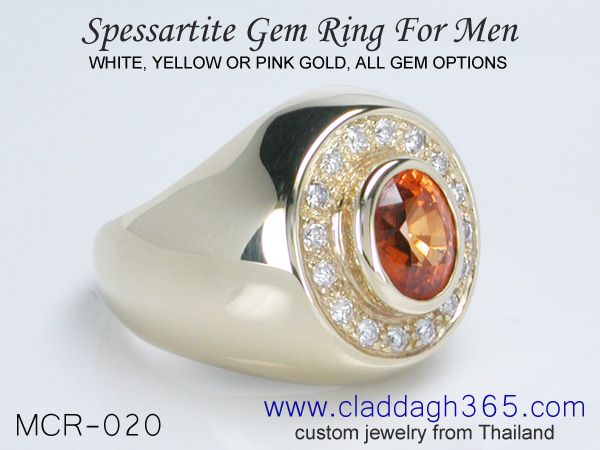 Wear the MCR-020 spessartite ring for men to the gold course or, flash it at an important business meet, the jewel will never appear out of place or outdated. Each ring is custom made by skilled artisans, attention is given to every single detail and quality standards are stringent. You could order a gold or sterling silver ring in the size required by you. A metal weight of around 20 to 25 grams ensures that, the ring retains shape and condition for a very long time. And if you need one of those really large 12+ ring sizes, we might recommend an additional metal weight to maintain durability.
We control the entire process related to gem procurement, beginning with picking the rough spessartite and ending with the final cut and polish. The ring in every men's spessartite ring is tested and cut to perfection, no treatment is applied and there is absolutely no chance of fakes and imitations entering the production line. We will gladly provide a gem authentication certificate for the gemstone in your ring. The ring as shown is set with a 9x7mm oval spessarite gem, you could request for a different gem shape or size and we will work a price quote for your requirement.
MRC-020 Ring Highlights:
The spessartite ring is crafted in gold or 925 silver, in all ring sizes.
Equal quality standards are maintained for both metals.
You can choose 14k or 18k white, yellow or pink gold for the gold ring.
The spessartite is 9x7mm oval, shape and size changes can be requested.
The gemstone is firmly set with a bezel setting, this protects the gem.
You could also order the same men's ring with your choice of gemstone.
The design elements can be modified, we can also work with your design.
The spessartite men's gold ring weighs around 20-25 grams.
The sterling silver men's ring weighs around 15-20 grams.
Larger ring sizes might require additional metal weight.
The center gem is surrounded by 2mm round diamonds.
Each ring is custom made by highly skilled artisans.
If you decide to go for the men's spessartite gem gold ring, give a thought to the gold color. Your ring should make a style statement that suits your overall personality. While picking 14k or 18k gold, you can specify white, yellow or rose gold. Remember that each ring that you add to your collection tells your story, don't be swayed by trends and fads. The jewel is crafted and configured to look good for both formal and informal wear.
Below is the price table for the MCR-0202 ring, you will find a wide range of gems to choose from. You can request for a gem not mentioned in the table, our support team will discuss details with you and work out a price quote based on your requirements.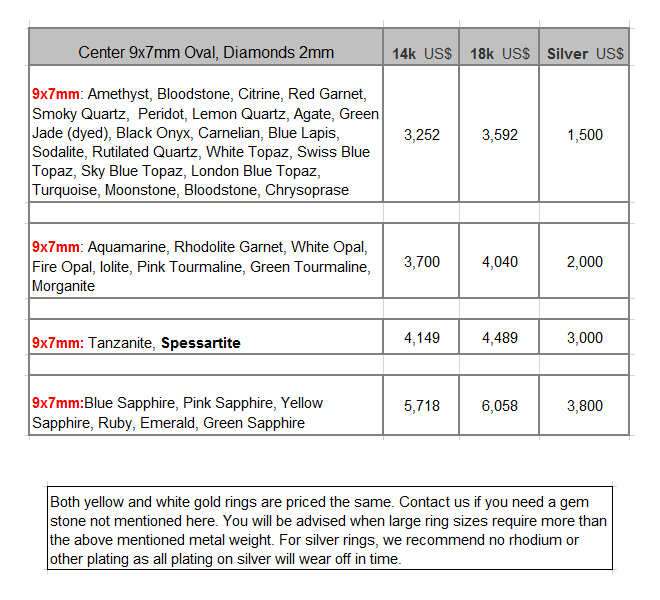 How To Buy: We are no hurry to push you into making a purchase. Discuss your requirements with our team at sales@claddagh365.com make sure that you have clear details and answers for all your questions. A well informed buying decision is good for you and us. Payment can be made through Paypal or direct bank transfer, we can also accept Western Union Transfers. We will strongly recommend Paypal for buyers who have never brought from us before. Let us know which mode of payment suits you and we will provide details for the same.
There is production lead time of 4 to 6 weeks from the date of order confirmation and receipt of payment. If you would like to have your spessartite men's ring for a specific occasion, please ensure that the order is placed sufficiently in advance. Each jewel is custom made by expert artisans, this is a time consuming process but, it is also the only way to make true high end jewels.