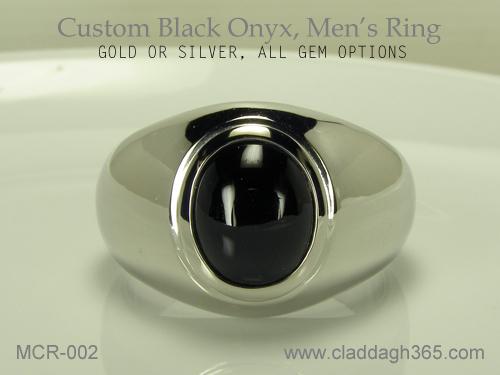 The fact that men are now growing increasingly interested in gems and jewelry is well known. The demand for men's rings is rising quickly and there are a few gems that dominate men's preferences. A men's black onyx ring is a popular jewel across nations and age groups. Black onyx has an impressive appearance especially when it is cut smooth (cabochon) without any facets. Light reflecting on the curved dark surface seems to enhance the style of this simple and yet, stylish gemstone. When it comes to the preference of men for black, it is not just black gems that dominate, black shoes, black cuff links and even black waist belts have for long been good sellers. Black is one color that creates a beautiful color contrast with a host of other colors. This also means that you can choose the metal color for your onyx ring based on your personal preference.
It has always been true that, many men prefer sterling silver as compared to gold and platinum. The lower price tag on silver as a precious metal might influence some buys but, 925 sterling silver does more to impress men. There is a confident and timeless appeal that silver imparts to any jewel that it adorns and for silver jewelry lovers, there really is no other metal that can render the same feeling. Fortunately, the affinity that men have for silver allows the creation of some sturdy and durable men's jewelry. The onyx men's ring shown here is set with large 12x10mm oval custom cut black onyx gem, this extravagant gem size is possible because of the moderate price of black onyx. The large gem dimensions obviously call for a large metal mount too and to maintain durability, you will need to invest a substantial metal weight into the jewel. We have not succumbed to the temptation of making a skinny light weight ring in the hope of, attracting a larger customer base with lower price points. The objective is to deliver a men's black onyx ring that is sturdy enough to last for years and decades. With this in mind, we have allocated a handsome weight of around 20 to 22 grams for the gold onyx ring and 15 to 18 grams for the men's 925 silver onyx ring. And if your men's ring has a large ring size requirement, we will evaluate the need to increase the metal weight to ensure durability. You will be informed if such a weight upgrade, entails an increase in price at the time of order confirmation.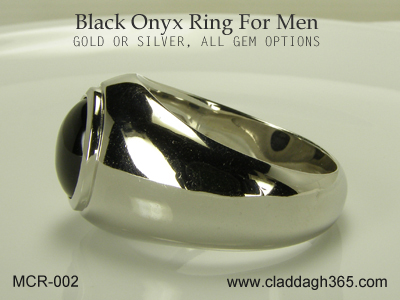 Each men's black onyx ring is crafted by skilled craftsmen and artisans, the jewels are not mass produced. The complete customization that we provide enables you to request for design modifications and personalized features like, etchings inside the band and also special requirements where the gem is expected to touch the finger skin from inside. The centuries old tradition of wearing gemstones was initiated by beliefs and folklore, the belief was that a gem could have some special properties and powers that could benefit the wearer. Black onyx was believed to calm the mind and nerves, something that would prove useful when a person was under severe strain or sorrow. If you follow the tradition of the 7 Chakras, onyx is recommended for the throat chakra. Thousands of years ago when the Chinese developed the practice of feng shui, they established the use of onyx into the system. Various cultures have attributed different benefits that can be derived from black onyx, and many of these are followed even today. Believers in gemstones agree that, the powers of the stone are enhanced when it touches the skin. This is something that needs to be incorporated into the jewel during the gem cutting and gem setting process. You will need to let us know if you wish to use this feature when ordering your men's onyx gemstone ring.
The metal choice for your onyx gem stone ring will depend mainly on your liking and your budget allocation. Men prefer gems that strike a deep contrast with the metal color in which they are mounted. When it comes to this requirement, no gem can do it better than black onyx, after all there is nothing darker than black! What this means is that a black onyx gemstone ring would look amazing in white, yellow or even pink metals. Don't be surprised if we mention pink (rose) gold for a men's ring, most of us look at pink as a color that is feminine and suitable only for ladies and girls. We have custom crafted some truly impressive men's pink (rose) gold rings with dark gems like deep blue sapphire, iolite and dark smoky quartz - the results were handsome and they had no hint of being dainty and feminine. At Claddagh365 we leave the choice of metal to you and you can pick, sterling silver, gold or platinum. Unlike most other jewelers we do not give second grade treatment to sterling silver just because, it is priced lower and gives us smaller dollar margins. Our craftsmen and gem cutters are trained to assign equal attention and skills when crafting jewelry irrespective of the metal selected. You will therefore get the same quality of worksmanship and gemstone for the gold, platinum or 925 silver onyx gem stone ring for men.
Here are some details about the gem selection and cutting for the MCR-002 onyx men's ring. To begin with, we procure rough onyx and do the custom cutting through highly skilled cutters. Each gem is custom cut which means that. we are constrained by any fixed inventory. As shown in the image, the gem has a smooth (cabochon) cut without facets. We are often asked whether, faceted gems can be provided for gold and silver onyx gem stone rings. Since we custom cut each gem, a faceted oval black onyx would be no problem but, here is an interesting piece of information. Faceted gems generally show marks related to wear and tear more clearly as compared to smooth cut stones. The lines that connect adjacent facets easily reveal signs of wear and tear. However if you still prefer to have a faceted onyx stone in your men's silver or gold ring, let us know and we will surely fulfill the requirement. If you see the image that shows the side profile of this onyx ring, you would notice that the gem does not protrude far beyond the surface of the ring. We once had a comment from a buyer who commented that, we were getting too stingy on cutting black onyx even though the gem was not really expensive. The response is far from what was on the buyer's mind and she did understand, after our explanation reached her. The point is that a high protruding gem is more likely to strike or be struck by hard objects and surfaces. This is the reason why we cut the onyx gem with a low profile, it is a feature that enhances durability of the gem and the ring.
Dimensions And Weight: The onyx gemstone in the ring is an oval 12x10mm gemstone, it will have a smooth cabochon cut and you can let us know if you prefer a faceted gem. Since all our jewelry is fully customized, this ring is available with other gem options too. Please review the price table on this page, you will notice that some of the gems are of size 12x10mm while others are 10x8mm. You can let us know if your man onyx ring needs a gem larger or smaller than what is mentioned here. The onyx gold ring has a weight of 20 to 22 grams and we will let you know if, more weight is required in case your ring size is very large. The silver ring would weigh around 15 to 18 grams. We do get requests from buyers for onyx pinky finger rings, if this is what you need we would suggest that you stay with an oval 8x6mm or 9x7mm gemstone. Our support team will discuss such requirements with you and work on a specific price quote.
Claddagh365: Besides custom crafting the finest rendition of the 4 century old claddagh ring, we at Claddagh365 custom make all types of jewelry, you can pick the design from our website and requests for modifications or go fully original and send us your designs in the form of images and sketches. Our support experts at sales@claddadgh365.com will be glad to help you with any information or advice that you might require. Our expertise in gem procurement and custom cutting allows us to source gem directly from the mines and we therefore, place no restriction on the gem that you can choose for your custom jewelry. Your gem selection can go beyond what you see and read on our website. All rings can be ordered with the ring size of your choice and metal options include silver, gold and platinum. For gold jewelry, you can choose from 14k and 18k gold and further specify your gold color preference as white, yellow or rose (pink) gold.
Pricing For The MCR-002 Mens Onyx Gemstone Ring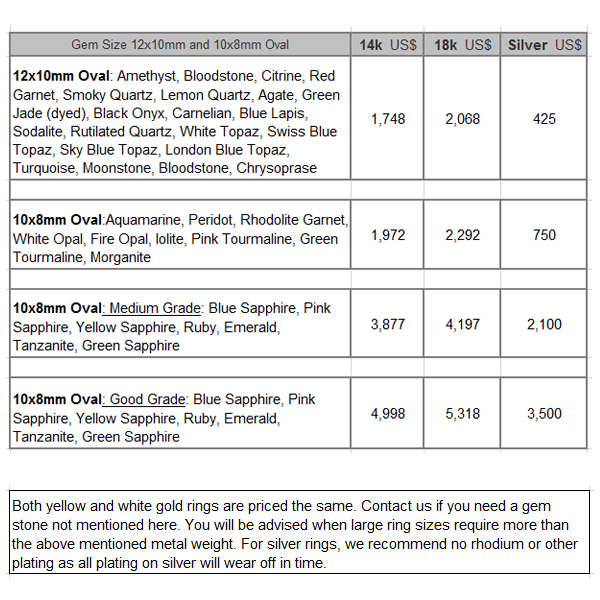 The black onyx gemstone is priced in the first group of gems shown in the price table. Let us know if you prefer a different gem size or a faceted stone instead of a smooth cabochon cut. Our support team at sales@claddagh365.com will be glad to help you with any information or advice that you need.
You can pick a gem not mentioned or shown on the website too, we will work on the details and email a specific price quote for your requirements. Please note that some of the gem groups are marked as size 10x8mm, the first group of gems is marked 12x10mm.
The production time is 4 to 5 weeks from the date that we receive payment. We accept payment through Paypal and Western Union but recommend, Paypal for first time buyers. Let us know which mode of payment you prefer and we will provide details for the same.
We will ship through FEDEX and provide you the tracking number the moment the item ships. There is an additional 35 U.S$ to be added to the above prices to cover shipping charges. Let us know if you prefer a mode of shipment other than FEDEX and we can discuss details for the same.